---
Yesterday we talked about my free report on "How to Conduct a Christmas Offering." Today I wanted to share with you the packets we created to promote our Christmas Offering.  I'm not sharing these documents because we got it 'perfect!'  By no means.  Instead, this document may help you with language and formating for your offering.
On Sunday I'm going to present the Christmas Offering in the middle of my sermon.  And as people leave they will receive a packet that includes:
6 x 9 Envelope which contains…
A Letter from me introducing the offering
A two page overview of the offering
A Q & A about the offering
and a Giving Envelope
During the week of November 9, everyone will receive this packet in the mail and it will also include a Christmas Offering Pen (a very fat pen that, hopefully, will make people want to open the envelope – after all, the packet is a waste if no one opens it).
OK, so here's the documents for you to download:
Christmas Offering Packet (Right Click to Download)

Christmas Offering Envelope (Right Click to Download)

If you have additional questions about Christmas Offerings, just use the Ask Nelson button on the right.
Oh, and for all the Baptists who read my blog: Happy Halloween!
Nelson
P.S. If you still haven't snagged your copy of the free "How to Conduct a Christmas Offering" report, click here.
Posted On: October 31, 2008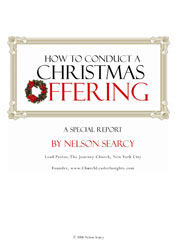 Last week I released my latest report entitled "How to Conduct A Christmas Offering." Its been the fastest downloaded report I've offered (over 1000 people in a few days!).  If you haven't snagged your copy yet, grab it now (its not too late to plan a Christmas Offering) – its FREE:
HOW TO CONDUCT A CHRISTMAS OFFERING FREE REPORT LINK CLICK HERE
If you've already downloaded the report (and assuming you found it helpful) will you send this link to a friend or let the pastors in your network or on your blog know about it? I want it to help as many people as possible.
We are rolling out our Christmas Offering this Sunday.  That's a little early for most churches but it ties in with my message this weekend.  You would be fine to roll out your offering on the Sunday before Thanksgiving or even December 7, depending on the amount you want to raise (start earlier if the amount is more than three or four times your regular weekly offering). Check out the free report for more details on the hows and, more importantly, the why's.
I'll try to post some of the documents we are using in our Christmas Offering tomorrow.
And let me be the first to say…Merry Christmas,
Nelson
P.S. I'm sure I didn't cover everything about Christmas Offerings in the report so if you have any questions, use the Ask Nelson button on the right!
Posted On: October 30, 2008
As promised, here's our Third Quarter Giving letter.  Right click below to download:
Main 2-Page Economic Hope Letter from me
Small Church Stat Insert from Kerrick
(Note: These may not be the final versions we actually mailed – they were proofed and designed on letterhead before the final two-color printing.  Thank God for proof readers!)
We sent the two letters above plus an auto-debit form and a giving envelope in a 6 x 9 Envelope with these words printed in blue on the front of the envelope:
An Important Economic Message from Pastor Nelson Searcy
plus your third quarter statement of giving
They started hitting over the weekend and the early reponse has been very positive.
Even though its late October, I don't think its too late for you to do a 3rd Quarter Giving letter. People are interested in the economy and your letter (like mine above) can provide hope.  Also, you can use a letter that hits in November  to promote your Christmas Offering – see my free report here – and you can mail it first class and use it to clean up your database (the post office will send you the new addresses if you pay first class postage).  Lyle Schaller has also argued for November giving letters.
Hope this helps!
Nelson
P.S. For more thoughts on Giving Letters and Stewardship Systems, check out my Stewardship Seminar by Clicking here.
Posted On: October 29, 2008
The Sunday Edition of The New York Times featured a story about church and technology.  Yours truly was quoted and The Journey was highlighted. While I might take exception with the statements that I quote the bible 'here and there' and only mention Jesus 'occasionally' in my preaching,  the
article was well done overall.  I learned a lot from what the other folks had to say.  Read the entire article by clicking here. I would be curious to hear your response.
On a side note, I rarely give press interviews even though we receive requests weekly.  My advisors suggested I comment on this article and, frankly, I'm glad I did.  Maybe in a future post I'll address the issue or working with the press.  This is definitely been a growth area for me.  But since I can see The NY Times building from my office window, its probably an issue that isn't going away any time soon.
If you have a moment, pray that God will use the article for His purposes.
Nelson
P.S. Yep, that's our own Jason Hatley on the big screen in the pic above from the Times article.
Posted On: October 28, 2008
Before I jump in on what's happening this week with me and Church Leader Insights, let me express my thanks to Jason Hatley for his blog posts last week on how the Pastor and Worship Pastor can work together.  He was our guest blogger as I was focused on putting the final touches on my next book.  OK, here's what may be of interest to you:
Monday – I'm in the office all day.  Will be working with our creative team to finalize the details for the later part of Financial Peace.  I will also be following up on yesterday's child dedication.
Tuesday- I've got to have my message manuscript done by the time I leave the office today.  Some people work best under pressure, I only work under pressure!
Wednesday – My normal Sabbath.  I think we are going apple picking.
Thursday- I'll be making some initial decisions today about my next Live Coaching Networks. Have you sent in your applications yet?  Learn more by clicking here. This is the earliest I've ever allowed anyone to apply (networks start in January) but there's been such high demand I had to increase the ramp up time.
Friday-  Happy Halloween!  I'll be dressed today as the pastor of a contemporary church – Journey Hoodie and Jeans!  I'll be doing all that while leading my NY Coaching Network.
Saturday – I'm having breakfast with Chris Brady, our church planter in San Francisco.  He's doing a great job in the downtown area of a very tough area!  Are you interested in partnering with us in San Francisco?  We need churches to send money, teams and prayers. Email me at nelson <at> churchleaderinsights.com for more info.
Have a great week!
Nelson
Posted On: October 27, 2008
Today I'm teaching live at The Journey-Brooklyn. We started this location back on Easter Sunday and this is my first time being there live (shame on me!).  My primary goal in visiting a location is to brag on the location pastor…and I'll be doing plenty of that today!
Manhattan and Jersey City will experience video teaaching.  Since our Manhattan location is almost always live, I'm always afraid that they will rebel against the video.  But it never happens. In fact, most people either don't realize its video because they watch the screens anyway or forget after about 3 minutes.  I believe its important for all our campuses to experience video teaching from time to time.
Oh, today is also Family Day at The Journey. We are hosting child dedications in all our locations (which always makes for a ton of guests) and then we have a fall festival this afternoon (rumor is that Elmo is showing up…my son, for one, hopes that rumor is true!).
Hope you have a great day at your church!
Nelson
Posted On: October 26, 2008
"We cannot do great deeds unless we're willing to do the small things
that make up the sum of greatness."
– Theodore Roosevelt, 26th President of the United States
Posted On: October 25, 2008
Jason Hatley, Pastor of Worship Arts at The Journey Church in NYC with Nelson Searcy is our guest blogger this week – today he wraps up his five part series:
Yesterday, we talked about the first two steps in how to create an Actively Engaged Pastor/Worship Pastor relationship, and today I will give the final two steps.
Step #3 – Over-communicate:  I'm not sure if that's a word, but I'm absolutely positive that it is a principle for radically improving the Pastor/ Worship Pastor relationship.  More than simply sharing facts, over-communication goes above and beyond to ensure that all the information that needs to be communicated is, in fact, communicated.
Much of the tension that occurs between pastors and worship pastors can be traced to not living out the Principle of Over-communication.  Pat MacMillan hit the point perfectly when he wrote, "The biggest problem with communication is the assumption that it has taken place."
To create a culture of over-communication, you must act:
•    Openly – create an environment of free-flowing communication.  Meetings and hallway conversations are a great start.
•    Initially – Be quick to share insight with the pastor / worship pastor.
•    Intentionally – If you ask, "Should I tell _________ about this?", then the answer is most likely "Yes!"
•    Honestly – give and receive feedback and ask for help when you need it.
Step #4 – Create Systems: The first three steps are vital to establishing an Actively Engaged relationship, but Step #4 is what will allow the relationship to stay strong, focused and effective over the long haul.
At The Journey we have a very detailed worship planning system that includes a one-year preaching calendar; a series of regular meetings that keep us focused on the future; static deadlines for Sunday that everyone must meet each week (see The Thursday Midnight Rule podcast); and a process for evaluating and improving services each and every week.
What are your systems for worship planning?
How many of those elements do you already have in place, and how are you doing with them?
Anyone can do almost anything for a season, and many Pastors / Worship Pastors can get ahead and plan this way for awhile, but it takes Systems to keep you there in the long run.
So, to create an Actively Engaged Pastor/Worship Pastor relationship, you need all four steps.  Decide this week to meet with your pastor or worship pastor to begin the process, and watch not only the relationship grow, watch your services improve and your stress level go down as well!
Thanks for allowing me to be a part of your ministry this week!  Nelson will return with his regular posts starting tomorrow.
Jason
PS:  Check out the Free Webinar I am doing for Worship Leaders on Thursday, October 30.  Learn how to overcome the Top 3 challenges that every worship leader faces in this 2-hour event.  For more info or to register visit www.WorshipLeaderInsights.com/events.
While you are there, be sure to sign-up for my free monthly newsletter!
Posted On: October 24, 2008
I just posted the latest Coaching Applications for my next live Senior Pastor Coaching Networks. Both will start in January.  One network is at our office here in NYC and the other one will be in the Tampa/St Petersburg area.
Here's the link to more info and the applications
I know I'll get a ton of emails asking me to do a network out west.  I'm honored!  I hope you'll do what dozens of other pastors have done and that is fly to either NYC or Tampa.  I'm just not able to add any other live networks at this time.  Plus the extra 'balcony time' will actually increase the impact of the network (but more on that in a future post.
For a bit more on why I do coaching, click here.
If you have any questions about the networks, just let me know.  You can email me or use the Ask Nelson button on the right.
Nelson
P.S. We have also posted new applications for Church Planter Tele-Coaching (starting Dec 2008) and Worship Leader Tele-Coaching (starting early 09).  Just click here for more info.
Posted On: October 23, 2008
Jason Hatley, founder of Worship Leader Insights, continues his guest blogging series today:
Now that you've identified where you are from yesterday's post, let's dive into how to get to the place you want to be in the Pastor/Worship Pastor planning relationship.
There are 4 Steps to Active Engagement.  We will cover the first two today.
Step #1 – Commitment: the first step to Active Engagement is commitment.  Commitment (when it comes to the Pastor/Worship Pastor planning relationship) is the sum of Trust and Flexibility.  (C = T+F)
Do I trust this person enough to receive their ideas?  Am I flexible enough to lay my ideas aside and go with their idea?
In an Actively Engaged relationship, there is give and take on both sides.  If the message needs more time, I am willing to cut a song.  If there is a creative element that will really highlight the theme of the day, the Pastor is willing to make room for it in his message, and even teach in a way that sets it up.
This is just one aspect of the Trust+Flexibility equation, but this can be applied to almost any decision making process in the church.
Step #2 – Clarify Roles:  In his book, The Performance Factor, Pat MacMillan states, "You must have role clarity, or you will have role confusion."
Understanding the role that each of you play in the relationship is paramount, because the understanding of each others roles shapes your expectations of one another.
In The Journey's worship planning process, Nelson's role is leading the teaching team which sets the direction for the day.  My role is leading our creative team to work hand in hand with our teaching team to produce creative elements that will enhance the main theme.  I also lead the worship planning meetings (more on that tomorrow!).
Because I know what to expect from Nelson, and he knows what to expect from me, there is no tension over misplaced expectations or lack of clarity.
In tomorrow's post, I will discuss the final two steps to an Actively Engaged Pastor/Worship Pastor relationship.
Jason
PS:  Check out the Free Webinar I am doing for Worship Leaders on Thursday, October 30.  Learn how to overcome the Top 3 challenges that every worship leader faces in this 2-hour event.  For more infom or to register, visit www.WorshipLeaderInsights.com/events.
While you are there, be sure to sign-up for my free monthly newsletter!
Posted On: October 23, 2008
More Free Stuff...
Search The Blog
Looking for a particular subject? Please enter the keywords in below and press the search button to find what you are looking for...
---
Free E-Newsletter Sign-up
Nelson's Monthly E-Newsletter
The Church Leader Insights bi-weekly publication sent via email focuses on effective leadership, church growth, church planting, evangelism and much more.
---
Blog Categories
---
---