---
In case you haven't heard, Church Leader Insights is currently running a HUGE Easter Sale!
You can pick up dozens of resources at up to 50% OFF, including many of our most popular downloads and CD Sets!
This sale ends on Monday, April 5 (the day after Easter), so don't delay!
Here's the link:
Church Leader Insights BIG Easter Sale!
P.S. Look closely and you'll see a number of Sermon Series and Seminars at a "lower than ever" investment – don't miss the Big Easter Sale!

Posted On: March 31, 2010
I'm always on the lookout for solid teaching about Stewardship and I recently came across a great series of messages from Willow Creek called "In God We Trust."
It's a three message series, and it's great to hear such solid content from the likes of Andy Stanley and Bill Hybels.  I recommend you carve out a little time, follow the link below and listen (or watch) to this series:
Thanks to the gang at Willow for more great stuff!
P.S. If you realize that stewardship is discipleship and you're ready to get serious with your church's Stewardship System, check out my most comprehensive resource on the subject, The Stewardship Intensive.
P.P.S. If you're ready to teach your people what the Bible has to say about money, consider investing in the Stewardship Sermon Series.

Posted On: March 30, 2010
Posted On: March 27, 2010
When Kerrick and I wrote Launch a couple of years ago, our goal was to share the process that we saw God bless at The Journey and in countless new churches around the country – it's a book full of lessons learned.
Some of the best Church Planting lessons are learned in the form of the mistakes made along the way. To that end, it's prudent to listen as people share what they've learned in their journey of starting a new church.
Here's a re-print of a recent post from Shaun King, church planter & Pastor of Courageous Church in Atlanta, where he shares just that:
Every day I get people to ask me for secrets and tips and pointers for things that I've done well as a church planter and pastor of Courageous Church.  My wife and I giggle because so many people treat us like we're experts, but we usually feel like bumbling, idiotic amateurs most of the time!  Don't get me wrong, we've done some things well and the grace of God has really been on us during these first three months, but I've made a ton of mistakes! A TON!

If you are as bull-headed as I am, you church planting types will probably makes these exact same mistakes in spite of my warnings because church planters are notorious for having to learn from mistakes they were warned against (and for reinventing the wheel), but you won't be able to say that I didn't try to help save your sorry butt some heartache.

10. I completely, totally, absolutely (did I say completely) overestimated how much money we would be raising from week to week.  50% of the people that are a part of our church are unemployed.  A huge percentage of the employed adults that attend are either in a financial crisis or are a bit skeptical about giving to churches.  We're working on solutions for all of these things, but I made many decisions based on these estimates and soon found myself in a bit of a leadership crisis without the financial resources to support the decisions I made.

9. While I would give our team a big 'ol A+ for creating buzz and momentum leading up to our Grand Opening on January 11th, I channeled nearly 100% our early attention to creating this buzz and gave almost no attention to putting in place the programs, systems and structures that would keep our momentum going. While I am glad that we had a huge grand opening, I regret not putting in place simple things like information cards, follow up emails, a clearly defined system for baptism or membership/partnership, etc.

8. I was told by a few gazillion people that launching and pastoring this church would be like working two full-time jobs.  I thought that was stupid.  Turns out I was a bit stupid!  I did not properly plan for just how much time and effort it would take to plant and lead this awesome community.

7. I made a few really bad hires and put some people into leadership positions that I would not wish on my worst enemies.  Because we are a brand new community, we just didn't have time to get to know some people that we put a lot of trust into.  This is very, very tricky.  From this point forward, I will make sure that we are very, very picky and much more intrusive before we make any hires.

6. I underestimated the need for office space.  I have heard a lot of different opinions on this and regularly read that it is not advisable to jump right into having an office, but we need it.  With a family of 6 in a small urban townhouse, my home is a terrible makeshift office space.   We will still make use of public space, our house, other homes, etc., but a dedicated office space is pretty essential in my opinion.

5. I really regret not having a very clear, well conceived definition of what it means to be a member/partner of our church.  Some of this really stems from my own personal hangups on the idea of membership.  However, I am thinking that I through out the baby with the bathwater on this and we are now working hard to define what this means in our context.

4. We spent way too much money on our first Sunday morning facility.  Nobody in the world could have convinced me of this. Nobody.  Even though we have some very legitimate reasons for creating poor projections for our income, I still think that our first facility simply cost too much money.  If we were raising more money maybe I would be thinking differently, but I doubt it.  With all of this said, it was really the only choice that opened up for us in January and we had to do what we had to do.

3. We didn't launch with a functional assimilation system that would really channel excited attenders into committed volunteers.  We are just now starting to get this together, but I think we burned out a few volunteers in the process.

2. We weren't courageous enough and being courageous is essential to who we are as a community.  Atlanta really doesn't need another church doing the same old stuff that reach old people.  When we started to have some stress and systems challenges after our launch, I started to fall back on default church mode and lost touch a bit with the unique call that God has for us. I feel strongly that SERVOLUTION helped us get our mojo back!

1. I wasted way too much time either thinking about & engaging my critics.  This not only got me distracted from the work of God, but really put me in an unhealthy place emotionally.  I think I was surprised that the public criticisms started so soon and regret even caring in the first place.

—

I hope you can learn something from these mistakes!  I've made more than these and will definitely make more in the future.  The key, in my opinion, is not to make the same stinking mistakes over and over again.  My hope is that making these public will cause me to fix these and move on!
These are some great thoughts from Shaun.
Are you a church planter who has learned a thing or two along the way?  Click the "Ask Nelson" button on the right side of this blog and share some of your lessons learned – I'd love to read them!
P.S. If you're starting a new church, I'd like to give you Over $85.00 in Church Planting Resources for FREE – Click Here to Download Yours Now.
Posted On: March 26, 2010
One of the greatest benefits of using technology to equip church leaders is that distances that were insurmountable just a few years ago are crossed instantaneously today via the internet.
The Church Leader Insights Family has been growing more and more internationally over the last couple of years.
It's exciting to see how the systems and principles that we teach are being used to make a Kingdom impact far beyond North America.
I received an email earlier this week from Edward Wells, Tele-Coaching Participant and Senior Pastor of Church Alive (if you don't read German, you might use Google Translate to view Edward's site) in Switzerland, sharing his Easter Postcard.
Check it out:
Will you join me in praying for God to move in a mighty way in all of our churches this Easter – all over the world?
I'm praying that this Easter will be an example of what God will do when we cooperate with Him to go all out to reach the people of our communities for Jesus!
P.S. Are you ready to help your Easter guests become a part of your church, long-term?
Today and tomorrow only, you can order my bestselling resource, The Assimilation Seminar for $27.00 Off – Click here to Download Your Copy Immediately.
Posted On: March 25, 2010
Today I'm answering another one of the most common questions from last week's Fusion Webinar.
This is a great time to make changes to your church's Assimilation System, just in time to follow up on all of your Easter guests.
Here's today's question:
Q: Why do you receive the offering at the end of the service?

A: I think I touched on this one in the webinar, but we get this question a lot.  The primary motivator for receiving the offering at the end of the service (after the message) has more to do with Assimilation than it does with Stewardship.

The percentage of people who complete and turn in Connection Cards is dramatically increased when they're collected at the same time as the offering.

Keep in mind that in addition to the vital contact information on the front, each week's Connection Card contains "Next Steps" that connect with the day's message and a place to share prayer requests.

These Next Steps and Prayer Requests don't get filled out until during the message, so we don't want to collect them until the end of the service.

For more information on how preaching for next steps ties in with the other elements of worship, check out this post that Coaching Alumni Travis Johnson wrote for me a while back.

I hope that helps!
Easter is only 11 days away – is your church ready to welcome the first time guests that are coming your way?

P.S. For the most advanced Assimilation training available, consider immediately downloading The Assimilation Intensive.
Posted On: March 24, 2010
I'm answering another one of the most common questions today from last week's Fusion Webinar.
Now is one of the most fruitful times of the year to tweak  your church's Assimilation System - to connect all of your upcoming Easter guests to your church in the coming weeks and months.
Here's today's question:
Q: What's the difference between using your style of connection card and the perforated, "tear-off" communication cards?

A: I discourage the use of the perforated cards, and here are a few of the reasons why:

They're entirely too small for people to comfortably fill them out – especially the physical and email address sections
They are typically printing on very lightweight paper that's hard to complete in one's lap during the service
It's tough to cleanly tear out the card without ripping it

Each of these issues may sound petty, but any one of them provide an excuse for a first time guest at your church to stop filling in their information (and if you don't have their contact information, you can't follow up with them)..
Easter is only 12 days away – are you prepared to be a good steward of the first time guests (gifts) that God sends to your church?

P.S. If you're looking for a primer to improve your church's Assimilation, you can immediately download The Assimilation Seminar.
Posted On: March 23, 2010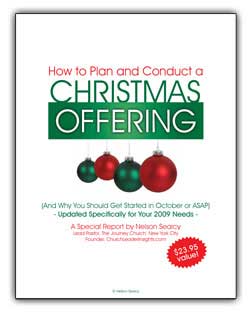 I know we're about as far away from Christmas as you can get, but I've been wanting to share some of the great testimonies that many of you have been sending in about how God used your Christmas Offering to bless your church and fund more ministry in 2010.
Here's a recent report from Ryan Heller, a New York Coaching Network Alumni and Lead Pastor of The Edge Church in Aurora, Colorado.  It goes to show that the Christmas Offering works — even in a brand new church:
Hey Nelson,

I wanted to give you a good report on our special offering.  A few months ago I participated in your free training session on how to conduct a special Christmas offering.

I was a little apprehensive to try to raise the extra money because our church was only one month old and we had a small launch team.  However, I decided to go for it.  We were not able to do all the promotional things I would have liked but we did send out an info packet telling everyone why the offering was important.

Our goal was to raise $3,500 and as of last Sunday we had raised $3,800.  I can't wait to give the church a good report on Sunday.  Also during this time the attendance of our church almost doubled.  We are now preparing to add a second service on Easter.

Thanks for all your encouragement and assistance in raising funds for the kingdom.

Ryan Heller
Lead Pastor
The Edge Church
That's great news Ryan – keep on making an impact for the Kingdom in Colorado!
P.S. If you're looking to ramp up your Stewardship System to turn first time givers into extravagant givers and fund God's vision for your church, check out The Stewardship Seminar.
Posted On: March 22, 2010

"Character isn't something you were born with and can't change, like your fingerprints. It's something you weren't born with and must take responsibility for forming."
— Jim Rohn: Entrepreneur, Author and Speaker
Posted On: March 20, 2010
I want to thank all of you who joined me for The Fusion Webinar on Tuesday.
We had a great turnout and it was a privilege to teach so many of you the Assimilation principles that have helped thousands of churches over the last few years.
You sent in a number of questions after the webinar, and I wanted to take a moment today and next week to answer a few of the more common questions:
Q: When you say "I send every first time guest a handwritten note," do you seriously mean you write each note personally, or does your team handle this and sign your name?

A: Great question.  It is greatly beneficial for the lead pastor (or whichever pastor taught that week) to hold those cards each week, to read the names of the first time guests and pray for them by name.

However, I must say that with 70+ first-time guests each week at The Journey, I have had to back off on writing each and every note myself.  I have a team that helps me complete them these days, but I still make it a point to write a few of them personally and pray over all the names each week.
Whether you were on The Fusion Webinar this week or not, let me encourage you to take some time today (and over the next couple of weeks) to tweak and improve your church's Assimilation System.
Easter is only 18 days away and God will likely trust you with more First Time Guests that day than any other day this year.
Be sure that you're doing everything you possibly can to prove faithful!
P.S. If you're looking for the ultimate Assimilation training (far beyond the basics), check out The Assimilation Intensive Workshop.
Posted On: March 19, 2010
More Free Stuff...
Search The Blog
Looking for a particular subject? Please enter the keywords in below and press the search button to find what you are looking for...
---
Free E-Newsletter Sign-up
Nelson's Monthly E-Newsletter
The Church Leader Insights bi-weekly publication sent via email focuses on effective leadership, church growth, church planting, evangelism and much more.
---
Blog Categories
---
---