---

"Much of the stress that people feel doesn't come from having too much to do. It comes from not finishing what they've started."
— David Allen – Management Consultant, Trainer, and Author
Posted On: April 30, 2011
I just found out that Jason Hatley (Pastor of Worship Arts at The Journey and Founder of WorshipLeaderInsights.com) is hosting a FREE Webinar designed for BOTH Pastors and Worship Leaders in just a few days (next Tuesday and Thursday).

You're invited to Register Now for the The Top 3 Worship Planning Mistakes Webinar.
Two Dates to Choose from:
Tuesday, May 3 OR Thursday, May 5
2:00pm – 3:15pm Eastern
1:00pm – 2:15pm Central
12:00pm – 1:15pm Mountain
11:00am – 12:15pm Pacific
And it's FREE!
This is an ideal training experience for both Pastors and Worship Pastors to attend together.
Do you feel stress in planning your services?
Do you struggle to plan your service more than one week in advance?
Do you feel underprepared for Sunday because the service came together too last minute?
You will discover how to overcome the Top 3 Mistakes that are keeping you from making your worship services the very best they can be in this new 75-minute webinar with Jason Hatley!
Here's what you and your Worship Pastor can expect to learn:
How to identify the TOP 3 OBSTACLES that are keeping you from planning the worship services you want to have in your church.
How to work together with your Pastor / Worship Leader to create powerful worship experiences.
How to break the week-to-week mindset and begin creating "WOW" moments in worship
The Paradigm Shift that will TRANSFORM how you plan worship services.
How to overcome procrastination and eliminate the stress of last minute planning!
And much more!
And Pastor, even if you can't make it, be sure to forward this to your Worship Pastor (it will be worth their time!).
Space is limited so Register Now.
Posted On: April 29, 2011
Hope you're enjoying this new series of posts about what I read besides books.
You can read Post 1 and Post 2 - and here is today's "non-book" reading selection:
WALL STREET JOURNAL SATURDAY EDITION
The weekend edition of the Wall Street Journal is a recent addition to my reading palette but I'm loving it!
The daily edition of the Journal has never been my cup of tea but the weekend edition is right on.
I honestly think the weekend edition was started by Rupert Murdoch (owner of The WSJ, Fox News, etc) to put the Sunday NY Times out of business but, nonetheless, it's shaped up to be a great effort.
The weekly summary of world and national news is the best I've found.
The occasional Magazine insert (why isn't it there every week?) is top shelf and the book section, although smaller than the NY Times, is the best I've seen.
And the editorials and columnists always offer a unique (normally conservative) view of the world.
I get home delivery and look forward to it every Saturday morning.

Check back next week for the next selection…
Posted On: April 28, 2011
Wanted to put a date on your radar screen today and give you the chance to Save $20.00 on an upcoming church finance webinar.
You're invited to Register Now for the "Improve the Financial Fitness of Your Church" Webinar – taking place on Tuesday, May 10th from 2:00 – 3:15pm (Eastern).
If you register before THIS FRIDAY, April 29 – you'll get the Super Early Bird registration rate and Save $20.00!
I've said it before and I'll say it again – everyone needs a coach.
Steve Stroope has been one of my coaches over the past few years.  Steve is the Lead Pastor of Lakepointe Church in Rockwall, TX.  Among other things, Steve is an expert when it comes to church finances and building campaigns.
I've "twisted his arm" to get him to join me for this webinar and I know it will be helpful to you.
In this webinar, here's what I'll be asking Steve about:
* How to motivate new people to give
* How to preach on money (so that people listen and respond)
* How to get an accurate picture of your stewardship fitness
* How to cast vision so that people want to give (it's easier than you think)
* How to use membership and small groups to cultivate givers
* How to cultivate key givers
* How to meet with key givers (and why you should start doing this asap)
* How to maximize the five different pockets of giving
* How to raise the stewardship level of your church year after year
* How to connect 'regular' stewardship with a capital campaign
. . .Plus the three key stewardship roles of the senior pastor
Like all of our Webinar Training Opportunities, the best part of all this is that you (and your finance team) can join Steve and me for this training from the comfort of your office or home on Tuesday.
For all the details and to Register Now, click the link below:
"IMPROVE THE FINANCIAL FITNESS
OF YOUR CHURCH" WEBINAR
with Steve Stroope & Nelson Searcy
Tuesday, May 10
2:00pm – 3:15pm (Eastern)
1:00pm – 2:15pm (Central)
12:00pm – 1:15pm (Mountain)
11:00am – 12:15pm (Pacific)
P.S. The Super Early Bird rate goes up after THIS FRIDAY, April 29 – Register Today!

Posted On: April 27, 2011
Jason Hatley here – Pastor of Worship Arts at The Journey and Founder of WorshipLeaderInsights.com – Nelson asked me to share some thoughts on the Pastor – Worship Pastor Relationship. Here's the first of a two-part series of posts – this one is directed to the Worship Pastors:
If you have been around Worship Leader Insights for awhile you've heard me say that the most important relationship inside the church is the relationship between the Pastor and Worship Pastor. (Pick up the FREE REPORT if you want to hear more on that).
There's good reason for this . . . the pastor and worship pastor have the most influence on the worship service, you are the two most visible leaders in the church, and you both provide leadership to key people in the church.
So the health of the Pastor / Worship Pastor relationship really speaks to the health of the worship service itself.
This relationship is vitally important, but there is a catch… a paradox in fact. You see, it is the most important relationship in the church, but is also the relationship that tends to have the most tension. In fact, one of the major factors keeping many churches from reaching their full redemptive potential is that the relationship between the Pastor and Worship Pastor isn't working.
Now you may both like each other and get along well, but I'm not talking about that. I'm talking about how you "work together". There is a lot of misunderstanding about exactly what each person in the relationship is responsible to the other person for. So over the next two weeks, we're going to take a look at what the Pastor needs from the Worship Pastor and vice versa.
Let's start with 3 Things that YOUR Pastor Needs from You (the Worship Pastor).
#1 – Support Your Pastor's Vision – The #1 thing your pastor needs from you as a worship pastor is support of his vision for leading the church. God gave the responsibility of the overall leadership of the church to the Pastor. Our role as worship pastors is to carry the flag for our pastors. To pray for them, to speak well of them, to publicly support them. You may have disagreements behind closed doors (that's natural), but when the door opens you 100% support the leadership, vision and decision of your Pastor.
This is an area where I have honestly heard from many worship pastors that they struggle with. They feel their pastor isn't clear in his vision (we'll talk about that more next week). They feel stuck because they can't get ahead in their current structure.
Let me lay a challenge at your feet: Things may not be perfect (they never will), but don't just put this on your pastor. Remember there are two people in the relationship. Do everything that you can to succeed in your role, and go to work on the relationship.
#2 – Excel in Your Area – The best gift you can give your pastor is the peace of mind that you are leading your area well. When things are going well in your area you free him up to keep his eyes on other important leadership matters in the church. The Pastor should never take his eyes off your area because it is so important to the health of your services, but when you are leading with excellence he won't have to give undue energy to
fixing things that aren't quite working.
#3 – Evaluate and Improve Constantly - The #1 way to make your services better week-to-week AND make yourself completely irreplaceable is to develop the skill of evaluating and constantly improving yourself, your team, and your services.
On Sunday keep a list of things that are working and things that aren't working. Make evaluation part of your weekly worship planning meeting. Assign responsibility to fix whatever is wrong and try to do it as quickly as possible.
By simply "reviewing the tapes" of Sunday, you can improve your service 1%-2% this week. Over the course of the next 6-12 months, you will have increased your service effectiveness by 100%!
So how are you doing? Rate yourself 1 – 5 (1 being not very well, 5 being very well) on how you are doing in each of these 3 areas. Take some time this week to discuss with your pastor what you can do to improve and continue to provide what he needs.
And next week, we'll talk about 3 Things Worship Pastors need from the Pastor.
PS: These are just 3 of the 10 Responsibilities that Every Worship Pastor has to the Pastor. I teach all 10 of these (PLUS MUCH MORE) in the Worship Pastor Tele-Coaching Network.
The next coaching network begins in just 3 weeks on Friday, May 13. There are still a few slots available and you can have one if you apply today.
I want you to join with me and 25 other Worship Leaders from around the country for a 12-month hands-on coaching program where you will learn the EXACT systems that we have developed at The Journey for you can:
Develop a personal growth plan that will help you lead at an optimum level
Work with the Lead Pastor to fulfill your calling, and give him everything he needs
Plan months (even a year) in advance and create more impactful services than ever before, all while reducing your weekly stress
DOUBLE the number of people serving on your worship team
Invest wisely in the Sunday service (including deciding whether to pay) and teach good stewardship to your Worship Team
Create a culture of excellence for yourself and your volunteers
Ensure that every Sunday service is successfully planned for and executed
And much more!
There's no travel expense or time away from the office. Just a proven training experience that has helped over 150 Worship Pastors lead their teams at the next level.
Is the network right for you?  You will have to decide for yourself.  But don't wait . . . The network begins in less than 3 weeks!
Learn more and Apply Today to ensure you receive a spot.
Posted On: April 26, 2011
I hope you're busy today following up on all of your new believers and first time guests from yesterday!
Two items for you on this Easter Monday:
1 – Thank you to all of you who prayed for The Journey's services at all of our campuses yesterday!
We saw record attendance at ALL locations (including 599 at our two-and-a-half month old Boca Raton, Florida, location).
Go God!
2 – You've got less than 48 hours to take advantage of the Church Leader Insights Easter Sale.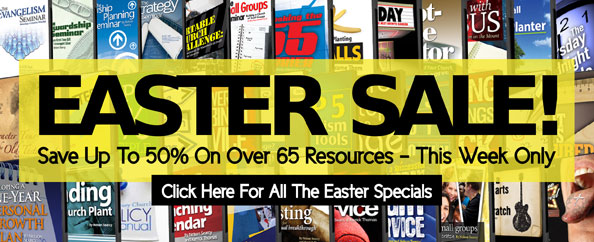 Click the link below to see all the special opportunities to save up to 50% on Over 65 of our practical training resources.
CLI Easter Sale – Save Up To 50%!
Posted On: April 25, 2011
Just a quick Saturday post to wish you and your family a BIG Happy Easter!
I truly believe this could be the best Easter ever – and I wish God's best for you and your church tomorrow!
If you have a moment – please say a prayer for me and all of our services here at The Journey (in NYC, San Francisco and South Florida).
We're trying something brand new tomorrow at our South Florida campus – we have hired a professional "sign spinner" to stand at the busy intersection near our meeting location with this sign (in the pic to the right) and point people down the road to our Easter service.
I'll try to remember to let you know if it works out well…
Thank you for keeping up on the blog and for being a part of the Church Leader Insights family!
Your friend,
Nelson and the CLI Team (Scott, Cristina, Tommy, Brendan, Jimmy and Vinny)
P.S. Don't miss out on the up to 50% Off of over 65 Resources in the big CLI Easter Sale – Click Here to see all the available resources!
Posted On: April 23, 2011
Last Thursday I kicked off a new series of posts in response to people asking what I read (besides books) from week to week.
You can read the first post here, and today's "non-book" reading selection is:
The USA TODAY
I love this newspaper!
As I suggest in my "How to Read More" Webinar, I don't give a lot of time to reading the daily newpapers – a quick scan is fine.
With the USA Today, you can scan all the sections and pick out one or two focus articles in 15 minutes or less.
My favorite editions are the Thursday edition because of the focus on books and the Fri/Sat/Sun edition because of the expanded focus on culture.
But more times than not, there's something I find helpful, interesting, file-worthy almost every day.
If nothing else, the survey boxes and research reports that make up the 'at a glance section' give flavor to my preaching.
No newspaper gives a better snapshot of what the USA is thinking than this one.
Check back next week for the next selection…
Posted On: April 21, 2011
I just found out that the Church Leader Insights blog (yep, this one you're reading right now) made the list of the Top 200 Church Leader Blogs by Kent Shaffer!
In fact, we ranked a very respectable #103 on the list.
So I want to say a big THANK YOU to all of you who read the blog regularly and helped us make the list.
Communicating regularly with you through this blog is one of my favorite methods for sharing new learnings and hopefully helping to achieve our goal: to maximize the effectiveness of you and your church!
P.S. Speaking of maximizing your effectiveness – you can find over 65 of my most popular resources available for up to 50% Off this week only in the Church Leader Insights Easter Sale!  Click here to see all the specials.
With all the excitement of Holy Week and Easter Sunday approaching, it's easy to overlook a powerful opportunity to express gratefulness.
Each year, The Journey sends Easter gifts to various people who aren't "officially" a part of the church, but are important to what we do.
Meeting in rented facilities, this often means sending/delivering a gift to the custodians at the schools where we meet, key administrators, even particularly helpful vendors.
You would be amazed at what a "Wow!" it is for people who don't expect it (they're just "doing their job") – not to mention it's an easy way to share God's love and generosity.
For you, it could be the person who cuts the grass at the church, your delivery person, or just about anyone who goes above and beyond.
I encourage you to make a list, ask your staff, and express your gratefulness during this Easter season!
BTW – if you're wondering what to give to all these people… cash is always a good choice
P.S. If you're looking to secure dozens of practical resources to grow your leadership and your church, don't miss the Church Leader Insights Easter Sale going on now.  Click here to choose from Over 65 resources for Up To 50% Off!
Posted On: April 19, 2011
More Free Stuff...
Search The Blog
Looking for a particular subject? Please enter the keywords in below and press the search button to find what you are looking for...
---
Free E-Newsletter Sign-up
Nelson's Monthly E-Newsletter
The Church Leader Insights bi-weekly publication sent via email focuses on effective leadership, church growth, church planting, evangelism and much more.
---
Blog Categories
---
---