---
I gave you a heads-up a couple of weeks ago that NOW IS THE TIME to Apply for my new Senior Pastor Tele-Coaching Network…
TODAY is your last chance to apply and receive the Super Early Bird Rate (a savings of $600.00) and Over $1475.00 in Additional Bonus Resources!
Yep – we have to receive your application TODAY (Tuesday, May 31) and, if accepted, you'll lock in the lowest available rate AND receive your Bonuses…
Plus, you'll receive all this as a part of the network:
Monthly hands-on coaching from me.
A proven coaching process that leads to growth and health.
Over $1679 in FREE resources from Church Leader Insights PLUS special discounts on any new resources.
Unlimited email access to me and my CLI team.
A monthly coaching environment where everyone is focused on a Kingdom agenda.
MP3s of each session for your review. NOTE: Even if you miss the exact date, you can listen to the network at your leisure.
FREE attendance at all live or web CLI training events during your network.
Private call-in times with me to have your specific questions answered in more detail.
A private day-long meeting with me, exclusively for tele-coaching participants (location to be determined).
The chance to grow and take your church to the next level.
Plus much, much more!
Read about the bonuses below or click this link to Apply Now:
www.ChurchLeaderInsights.com/telecoaching
Apply TODAY and Receive over $1,475.00 in Bonus Resources!
The Breaking Growth Barriers Workshop AND Planning Worship Services for Life Transformation ($998 Value)
Free Webinar Passes for all CLI Webinars between now and August (up to $147 Value)
$100.00 VISA Gift Card from Nelson for you and your spouse
Free Dinner for you and your spouse with Nelson and the CLI Team on the night before the February 2012 Live Event ($150 Value)
$1479.95 Value – Just for beating the rush!
If you're ready to take your leadership and your church to the next level, click the link below to Apply Now:
One of the decisions I made early on in my ministry was that I would do everything possible to cooperate with God to become the best preacher I could be.
And I"m still committed to constant improvement.  With that in mind, I read a great article recently by Tyler Scarlett, Pastor of Forest (Virginia) Baptist Church, and I want to share it with you today:
The Ten Commandments of Preaching
by Tyler Scarlett

When it comes to preaching and teaching the Bible, we all fall short. Who hasn't quoted the wrong reference or (worse) read the wrong passage of Scripture altogether? Who hasn't, in the heat of the moment, accidentally gotten tie-tongued and credited Paul with the words of Peter? You may even find yourself creating a homiletical mountain out of an exegetical molehill.

Everyone makes mistakes, but for all the mistakes preachers can (and do) make, here are 10 that we should do our best to avoid at all costs.

1. Thou shalt not put words in God's mouth.

God is more than capable of saying what He means and meaning what He says. He doesn't need our help to add to or take away from His Word. We have no business saying God said something He didn't say. That's why we must handle the Word of truth accurately (1 Tim. 3:15). If you've ever been misquoted (in conversation or a newspaper), you know how frustrating that experience is. Imagine how the God of the universe must feel when one of His messengers misquotes Him. We need to be sure to get the message right!

2. Thou shalt prepare and preach every message as though it were thy last.

Even if it is only to a small Sunday night crowd, the preacher never should take his or her responsibility lightly. Why? Because it very well may be the last sermon you ever preach or the last sermon someone listening ever hears. Furthermore, we don't know what God's Spirit has been doing behind the scenes. A rebellious teenager or wayward spouse may be on the verge of repenting and trusting Christ. The listener's need is urgent, therefore the preaching should be urgent.Preaching is not a playground for frivolous fun,but a battlefield for gutsy warfare. It is where the very issues of life and death, heaven and hell, hang in the balance. As the great Puritan theologian and preacher Richard Baxter once eloquently said, "I'll preach as though I ne'er should preach again, and as a dying man to dying men." We should seek to do the same.

3. Thou shalt not present the Word of God in a boring and non-compelling manner.

Newsflash: If people are falling asleep during your sermon, it's not God's fault. If God's Word is sufficient to transform lives, isn't it also sufficient to keep people's attention? Don't get in the way of the transforming power of God's Word by letting it become boring. To preach and teach the Bible in a boring and unpersuasive manner is, I believe, a sin.This is not to say every preacher has to be dynamic, witty, and entertaining. It does mean, however, that every preacher should see him or herself as God's messenger and spokesman for that moment. He or she must plead passionately and desperately with those listening to hear and heed God's Word.

4. Thou always shalt point to Christ in thy message.

Seeing that Jesus Christ is the focal point of every passage, it stands to reason that He should, therefore, be the focal point of every sermon. As Dennis Johnson writes, "Whatever our biblical text and theme, if we want to impart God's life-giving wisdom in its exposition, we can do nothing other than proclaim Christ."

The most humbling experience of my seminary years was related to this. In one of my preaching classes, I had to give several sermons in front of my peers and professor. The first sermon I preached was well-received and complimented. So, after the second sermon (from the Old Testament), I sat down arrogantly waiting to hear "the showers of blessings" and compliments about how well I had done.  My professor, Greg Heisler from Southeastern Seminary, said, "Tyler, that message was passionate and challenging…but you made one huge mistake." He continued, "You could have preached that message in a Jewish synagogue or a Muslim mosque and [the congregation] could have said 'Amen!' to everything you said. You never once mentioned Christ in your entire message." He left me with this challenge: "You need to be sure that every time you preach—even from the Old Testament—that if a Jew or Muslim were in the audience [he or she] would feel extremely uncomfortable."Remember, we are not simply theistic preachers; we are to be distinctly Christian preachers.

5. Thou shalt edify thy hearers to faith and obedience.

It's like the old hymn: "Trust and obey, for there's no other way to be happy in Jesus but to trust and obey." Regardless of the passage, the goal of every sermon should be to remind people that whatever the issue or doctrine at hand God and His Word are reliable. When God gave the Ten Commandments, He didn't begin by barking orders at the Israelites. In fact, the Ten Commandments don't start with commands. They begin with the reassuring words, "I am the Lord your God who brought you up out of the land of Egypt…" (Ex. 20:1). In other words, God reminded them: "You can trust Me; that's why you should obey Me."The real motivation for Christian living is not, "I have to obey God," but it is, "Given everything I know to be true about Him, why wouldn't I obey God?" A good sermon will help people to think and live that way.

6. Thou shalt not be one kind of person and another kind of preacher.

This is the Dr. Jekyll/Mr. Hyde syndrome of preaching. On the one hand, this means you can't live like the devil Monday through Saturday and expect to preach with the tongue of an angel on Sunday. Paul told Timothy: "Therefore, if anyone cleanses himself from these [sinful] things, he will be a vessel for honor, sanctified, useful to the Master, prepared for every good work" (2 Tim. 2:21). Every preacher must seek to be a "clean vessel" which is "useful to the Master."This also means you shouldn't try to be someone else in the pulpit. As Phillips Brooks once said, "Preaching is truth through personality." God only made one Charles Spurgeon, one Adrian Rogers, one John MacArthur, and one John Piper. Don't try to imitate other preachers; be yourself.

Listening to such great preachers is like watching a grand Fourth of July fireworks display. You sit back, relax, watch and "Ooo" and "Ahh" with everyone else. You should be amazed at it and enjoy it, but you shouldn't go home and try to duplicate it in your backyard. You can't. There's no sense in trying. The same is true with preaching. When you preach, be yourself.

7. Thou shalt not open a commentary until thou hast read the passage 100 times.

This may be a bit of an exaggeration, but it's an important reminder. Which would you rather eat:  Grandma's made-from-scratch, warm, fluffy biscuits or a frozen biscuit that's been nuked in the microwave? Reheated food is never as good or fresh. The same is true with sermons.The biggest temptation, I think, for the current generation of preachers is to jump directly into the commentaries or click over to the sermon Web sites without thoroughly meditating on the passage first for him or herself. As Robert Smith once commented: There are far too many preachers who preach only from the neck up. The truth is most powerful when it is from the lips of a person whose heart and mind have marinated extensively on God's Word.

8. Honor thy context above all else, so that it may go well with thee in thy message.

The battle cry of the soldiers of the Texas Revolution was "Remember the Alamo!" The battle cry for today's preachers should be "Remember, context is king!" I often tell people they don't need to know Greek and Hebrew to teach the Bible well, but they must know the context well.The role of context in preaching and teaching cannot be underestimated or over stressed. Without context, I could preach a sermon that said, "and [Judas] went away and hanged himself" and the Lord Jesus said, "Go and do the same." While there may not be anyone promoting suicide from the pulpit, if we don't pay close attention to context, the result may be spiritual suicide. Don't ever lose the context.

9. Thou shalt make the point of the text the point of the message.

The title of John Stott's timeless book says it all: Between Two Worlds. The preacher of the Word of God finds him or herself with one foot in the biblical world and one foot in the modern world. It falls upon the preacher to straddle these two with balance. Don't ever forget that what God said 2,000 or 3,000 years ago is exactly the same message people need to hear today.Some will argue, "Yeah, but what about all the history, culture, and differences in language from biblical to modern times? My people don't understand all that stuff." Well, guess what? You should teach it to them.Don't dumb-down the Bible; smarten-up the people. The Bible is the most relevant thing in the universe because God is the most relevant Being in the universe.

10. Thou shalt preach and teach doctrine above all else.

Many churches are weak and lifeless because they have spiritual anemia. What they lack is doctrinal iron in their bloodstreams. All week long, people hear messages from other people.  "What people need," as Robert McCracken once said, "is to hear a word beyond themselves."  Doctrine  feeds the soul. It reassures the faithless. It matures the child. It's what keeps churches healthy and alive. Without it, pastors speak without preaching, and churches sing without worshiping. Preach doctrinally rich sermons!The great problem in today's pulpits is not a lack of preaching, but an abundance of dreadful preaching. This is largely because many preachers are not as careful and mindful of the task as they should be. Not only does the church need us preachers to keep these Ten Commandments, but more importantly God and His Word deserve the effort required.
This is a great list.  Would you add anything?  Feel free to share your thoughts in the comments below.
P.S. If you're passionate about being a good steward of your pulpit (or stage), I'd like to give you a FREE Copy of my new E-Book, "Double the Effectiveness of Your Preaching" – CLICK HERE to Download Now!

"To solve any problem, here are three questions to ask yourself:
First, what could I do?
Second, what could I read?
Third, who could I ask?"
– Jim Rohn, Motivational speaker, author
For the last several weeks, I've been sharing some selections of what I read, besides books.
You can read Posts 1 – 5 here.
And here is today's "non-book" reading selection:
FAST COMPANY
It ain't what it once was but its still pretty good.
When it first appeared back in the late 1990′s, I wrote a column about it for a now defunct Christian publication saying it was the "only magazine I underlined."
I'm not doing much underlining in the magazine these days but it's worth a monthly scan and . . . about every few months a 'tear this out and save it' article appears.
More than enough useful content to justify the annual subscription.
I also find the magazine's web site to be helpful too.
Church isn't a business… that's true!  But churches can learn from business – this magazine helps.
Check back next week for the next selection…
In my latest book recommendation video, I share a book with you called Leading with Confidence by Bobb Biehl. You will learn the questions to ask of yourself to keep improving your leadership skills and stay on track, even during tough times.
Here's the video:
This Month's Book Recommendation:

P.S. Have you read a book recently that you think I would enjoy?
I'd love to hear your feedback — you can send it using the "Ask Nelson" button at the top of this blog.
One of the best parts of leading Coaching Networks is that I get to learn from what the other Pastors in the network are learning.
Recently I received a thought-provoking email from Mike Sorcinelli, a member of my Senior Pastor Tele-Coaching Network and Lead Pastor of New Day Church in Springfield, Massachusetts.
He had just finished reading one of the books assigned in the network, called Be Our Guest, which identifies the needs, wants, stereotypes and emotions of the customers of various organizations (incidentally, this book has some good insights if you're upgrading your Assimilation System).
Mike gave me permission to share, so here's part of the email he sent me….
What are the needs, wants, stereotypes and emotions of guests coming to our church?

Here's the list I've been working on (I'm also having everyone on my team answer the same question):

Needs: salvation, community
Wants: easy to find, clean bathrooms, friendly welcoming people, practical message, inspiring worship, great kids ministries
Stereotypes: church is boring, facilities are 20-30 years out of date, irrelevant to my life, suits and dresses
Emotions: anxiety for first time guests, excitement for regular attenders

Mike Sorcinelli
Lead Pastor
www.newdaychurch.cc
That's a great list, Mike!
Have you ever taken the time to carefully consider the mindset of the people you're trying to reach?
What would you add to Mike's list?
P.S. If you're ready to take your church's Assimilation System to the next level – to make sure that you're a good steward of every single guest God sends your way – check out The Assimilation Intensive Workshop.
This comprehensive resource will teach you to help people move from First Time Guests to Fully Committed Members of your church.  Click Here to Download Immediately.
P.P.S. Are you ready to grow your leadership and your church like never before?
My new Senior Pastor Tele-Coaching Network begins on Thursday, August 25, and if you Apply Before NEXT Tuesday, May 31, you will Receive Over $1,475.00 in Additional Super Early Bird Bonuses.
If you read this blog regularly, you know that the reason I keep leading Coaching Networks is because I'm addicted to the results.
After coaching over 1,200 Senior Pastors, it never gets old hearing about how God is working in churches all over the U.S. and beyond – old churches, new churches, large churches, small churches, city churches, rural churches, etc.
Here's one such encouraging email I received recently from Ken Hoelscher, Senior Pastor Tele-Coaching Participant and Lead Pastor of Carmel Mountain Church, a new church in San Diego, California:
Hey Nelson,

Just a quick update on what has been happening at CMC.

We have doubled in the last 60 days! The direct mail advertising has been working, however the results are still lower than I would like to see. If we can improve our results we'll be growing even faster!

Our assimilation rate is good – we are retaining about 68% of the people who visit. We have really good services and a great Sunday experience.  We are looking to add another service and we may just not go back, we will see how the next couple of months go.

We will try to keep growing through the summer with various events and outreaches, with the goal of starting a third service on our one-year anniversary on 9/18.

This is all good news…

We're working now to double our volunteer teams so we can move to two services. This is a good problem for sure.

I wanted to give you a heads-up on how things have been going around here.

It has been exciting!

Ken Hoelscher
Lead Pastor, Carmel Mountain Church
San Diego, CA
WOW – Keep up the good work Ken!
How about you, Pastor? What's your plan to maximize your leadership and grow your church?
My next Senior Pastor Tele-Coaching Network begins on Thursday, August 25, and if you Apply Before May 31 (next Tuesday), you'll Receive Over $1,475.00 in Additional Super Early Bird Bonuses.
Click the link below for more info and to Apply Now:

"A life spent making mistakes is not only more honorable, but more useful than a life spent doing nothing."
- George Bernard Shaw
A common cause of stress among church staff members is the role of staff spouses.
Some churches hire a staff member with the unspoken expectation that they're hiring two people (husband and wife) – the key word being "unspoken."
I'll share how we handle staff spouse expectations at The Journey in a moment, and whether you agree with our approach or not, please take this advice:
The key to avoiding issues with spouses (like so much else on a church staff) is 100% crystal clear communication from the beginning.
In other words, no matter what you expect from the spouses of your staff, they need to know that before they're hired.
That being said, here's how we handle it:
We interview the spouse during the hiring process and make sure they understand the expectations of their spouse.  We don't do job descriptions, we do expectation lists (see The Staffing Workshop for examples).
We take a laissez-faire approach to the spouse. He or she can be as involved or not involved as they want.
We expect the spouse to fulfill the requirements of membership (see the appendix of my book Fusion for our members covenant – attend, serve, give, etc.)
This means that we don't expect the spouse to be at all church events, with their staff spouse every time the doors open or to act like a paid staff member (with no pay).
We expect the spouse to be a fully contributing member – some will be more involved, some less involved depending on their own personality.
And as I mentioned before – be sure that you're 100% clear up front.
P.S. For nearly six hours of practical, comprehensive teaching on all aspects of church staff, check out The Staffing Workshop (Available for Immediate Download).
It's hard to believe, but Church Leader Insights is Seven Years Old this week!
When I stayed up all night burning 4 CD's to distribute to the attendees of my church planting session at Rick Warren's May conference back in 2004, I could have never imagined that today we would be impacting over 50,000+ pastors each month through the ministry of CLI.
With that in mind, I have two reasons for today's post…
#1 – To say THANK YOU for being a part of the Church Leader Insights family!
It's humbling and exciting to see what God continues to do through this ministry – and I'm pumped about what He has in store for the future.
#2 – To let you know that you can Save 50% on some of our Most Powerful Resources (some that have never been discounted before!) between now and Friday in the  Church Leader Insights 7th Anniversary Sale.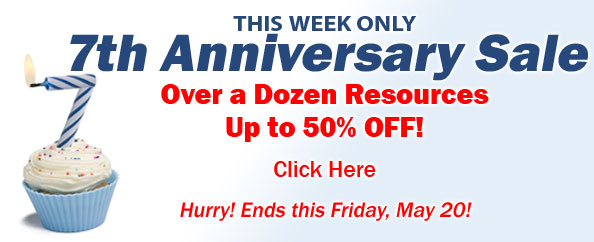 Click the link below to  save up to 50% on Over a Dozen Proven Resources (some of which have NEVER been discounted before!):
CLI 7th Anniversary Sale – Save Up To 50%!
Hurry, Ends Friday, May 20 at 11:59pm Eastern
More Free Stuff...
Search The Blog
Looking for a particular subject? Please enter the keywords in below and press the search button to find what you are looking for...
---
Free E-Newsletter Sign-up
Nelson's Monthly E-Newsletter
The Church Leader Insights bi-weekly publication sent via email focuses on effective leadership, church growth, church planting, evangelism and much more.
---
Blog Categories
---
---