---
If you read this blog on a regular basis, you already know that I love the Assimilation System.
It's the system that helps get new people connected and it just so happens to be the quickest system to help grow your church.
My Community Pastor at The Journey and VP of Training at Church Leader Insights, Tommy Duke, is leading a brand new, six-month Assimilation Tele-Coaching Network and I recorded the video below to tell you more about it and how it can help you grow your church (click the image below to watch the video):
This network starts on Tuesday, October 18, and if you're looking for a great way to dig deep and maximize your Assimilation system to grow your church and make more disciples, I highly recommend it.
Click the link below for more info and to watch the video:
Posted On: September 29, 2011
It turned Fall this week . . . not here in South Florida where it's still blazing hot, but nonetheless Fall began on September 23 for almost everyone else in the Northern Hemisphere.
This is Jason Hatley, Pastor of Worship Arts at The Journey and it's hard to believe, but the changing of the season from summer to Fall reminds us that this year is 75% done.
Seems like just yesterday I was ringing in the New Year and asking God to do more in me and through me this year than ever before. I bet you were, too.  Now here we are with just a few months left in 2011.
This is the time of year when you and I need to do TWO VERY IMPORTANT THINGS:
#1 – Evaluate how the year has gone so far.
You know . . . the average person doesn't take time to reflect on how their year has gone. They just keep their head down, keep working and hope it all works out in the end.
But you and I both know that if you do what the average person does, you'll get average results. So in order to see extraordinary things happen in our lives and ministries, we have to do extra-ordinary things. One of those is taking an honest look at how things have gone so far.
My year has been marked by quite a few remarkable moments . . . not the least of which was my daughter accepting Christ and being baptized (see the picture below – I'm so proud)!
But there are still some things left on my "to get done" list for this year as well. Some goals that I haven't quite reached. Some plans that haven't quite materialized, but I have taken on some new challenges, grown a ton and I'm confident I'll finish the year strong.
How about you?
How's it going so far this year? Have you had some great celebrations of what God has done in your church this year? Have you met your goals? Do you have some things left undone?
Have you grown, overcome some nagging challenges, and are confident in your next 3 months of ministry?
Now is the time to make course corrections to ensure you finish the year strong.
Next . . .
#2 – Look ahead to the New Year
It may seem a little early to look ahead to next year . . . after all, football season just started and it's not even Christmas yet, but let me share with you an important lesson that I've learned in ministry.
"If you keep doing what you've always done, you will keep getting what you've always gotten."
No, it's not scripture, but I believe it's true nonetheless. Let me explain.
Not only does the average person not evaluate where they've been, they don't take the time to decide where they want to go next either. That's a terrible place to be in ministry . . . doomed to repeat the same frustrations and mistakes over and over.
For you and I to grow in the next 12 months there are some things that we need to change, learn, read, pray through, step up to, and find the courage to face.
What are those things for you?
As you look forward to this point next year, do you want to be the worship leader who looks back on the last 12 months and realizes you're still dealing with the same challenges?
Or do you want to be the worship leader who looks back and sees that you have:
Taken your spiritual life, family and friendships to a new level?
Become less stressed and more creative in your worship planning process?
Increased the number of volunteers on your team by 50%, 75%, or even 100%?
Doubled your effectiveness, getting more done and giving you more time for family, time off and advance planning?
Challenged your team members to a deeper level of commitment to Christ, the church and their serving roles on Sunday?
I'll take Option #2!
And I would like to help your worship pastor do the same through my new Worship Pastor Tele-Coaching network, which begins in just 18 days on Friday, October 14.
This is my last Tele-Coaching network for the year, and I would like to invite your worship pastor to be a part of this fun, practical, and ministry-shifting coaching opportunity.
In the coaching network we will take the 7 Challenges that I teach in my resources, webinars, blogs, and free report and over the course of a year I will walk your worship pastor through how to implement the most important elements of each of those systems including:
The Personal Challenge – How to develop personal leadership growth habits that help you lead yourself and your team at an optimum level
The Pastor Challenge – How to achieve clarity and a develop a strong working relationship with the Lead Pastor
The Planning Challenge – How to plan your services months in advance, and create more impactful services than ever before.
The People Challenge – How to double your Worship Team volunteers and strengthen their commitment to the church through a proven audition system that leads to growth and health.
And much more!
In the network we take it step-by-step and I walk along side of your worship pastor for a year helping you implement these systems and helping you grow in your leadership.
And the best part is you can try it absolutely RISK-FREE through the end of 2011.
As with anything in life that has value, there is an investment to be part of the network. It's $287 per month which (when you add it all up) is about what you will pay to send 3-4 of your key team members to a worship conference next year by the time you pay registration, flight, hotel, and food.
Here's the difference…
In the Coaching Network you get a 90-day 100% money-back guarantee. If at any point prior to the 4th session of the network you decide it's not for you, I will refund every dime you invested, PLUS you can keep any of the resources I've given away up until then. I've never gotten my money back from a conference that I didn't like or wasn't able to attend.
You get a FULL YEAR of hands on ministry training in the coaching network, not 3 days of crash course ideas with no path for implementation
In the network you receive over $1400 in free ministry and personal growth resources FREE. Try walking out of the resource center at the next big conference with that and see what they say.
In the network you receive an mp3 of every session, so even if you miss one, you have all of the content.
You will complete the network with a personal library of over 60 hours worth of worship ministry leadership resources and personal development insights.
I have a degree in Sacred Music, and I can guarantee you that what you will learn in this network is the 'practical, will work tomorrow' stuff they don't teach in college or seminary!
I hope you will be a part of this new Tele-Coaching network, but you MUST APPLY SOON.
The network is nearly full and I don't want your worship pastor to miss out on this opportunity.
To apply, simply go to www.worshipleaderinsights.com/coaching and complete the online application. Or you can download an application from there and email or fax it in.
It's that simple!
Your partner in ministry,
PS – My new Tele-Coaching network begins in just over 2 weeks . . . now is the time to apply. I hope your worship pastor will be a part of the upcoming Network.
To learn more, view worship leader testimonies and apply today, visit www.worshipleaderinsights.com/coaching.
Posted On: September 28, 2011
This week my two newest books will be officially released on Amazon.com. It's hard to believe – these will make my eighth and ninth books! My mother is very proud!
To celebrate, if you pre-order both books before this Friday, September 30, I'll give you over $285.00 in bonuses!
You see, Amazon.com is the 'big dog' in the book world. Day One sales are very important in the Amazon world. These books officially release this Saturday, October 1, and all "pre-release" sales factor into the Day One figures.
Simply put, my new books will be recommended more, receive higher placement from Amazon, and be featured more prominently if this week's sales are high.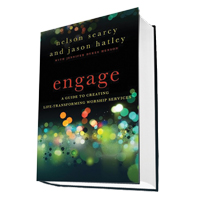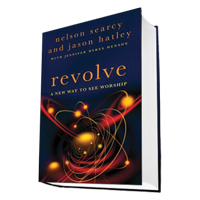 I'm getting ahead of myself though, here are my two latest books on Worship:
1) Engage: A Guide to Creating Life-Transforming Worship Services
(specifically written for Senior Pastors and Worship Leaders)
2) Revolve: A New Way to See Worship
(written for everyone)
Since I can't give you a free copy of each (my publisher didn't like that idea), I'd like to give you over FOUR TIMES your investment back in Church Leader Insights resources when you pick up these books from Amazon.com this week!
If you pick up both of these books before THIS Friday, September 30 (for only $10.19 and $6.99, respectively), you'll receive a $60.00 Church Leader Insights gift certificate, a FREE copy of my "Planning a One Year Preaching Calendar" resource, and additional discounts on worship planning resources.
These new books will help you dramatically upgrade your worship planning system (which I lay out in step by step detail) while helping you develop a fuller and healthier understanding of worship among the people of your church.
When you pick up both Engage and Revolve this week, you'll receive these bonuses:
A Church Leader Insights gift certificate for $60.00! 
- Good on any of my non-book resources
Planning a One Year Preaching Calendar (Yours FREE – $29.95 Value)
- 75-minute Audio Training Resource
Additional $200.00 gift certificate for my "Planning Worship Services for Life Transformation" resource
- A Complete, Six-Hour Training Resource
So, are you ready to pick up the books and receive all these bonuses?
Follow these 4 steps before end of day THIS FRIDAY, September 30…
HERE IS YOUR SIMPLE "A B C D" PROCESS TO GET THE BOOKS AND THE BONUSES (IN LESS THAN 5 MINUTES):
A. Go to Amazon.com and buy the ENGAGE book here:
B. Go to Amazon.com and buy the REVOLVE book here:
C. Check your email for your Amazon receipt. When you have it, then…
D. Go to the following website and enter your info and Amazon Order Number:
That's it!  We will then email you with instructions for all your bonuses.
Yes, I'm a little biased, but I believe that these books and the implementation of the ideas I'll teach you in them are powerful opportunities to upgrade the value and celebration of Worship in your church!.
Thank you… thank you… thank you in advance for ordering the books and for telling your friends about them!
Nelson
P.S. If for some reason the links don't work, simply go to www.amazon.com and type in "Engage Nelson Searcy" and "Revolve Nelson Searcy" and buy the books directly from that page. If you have any questions, just call us at 1-800-264-5129 (if the phone is busy, please keep calling).
P.P.S. Can you help me get the word out? Share this opportunity with your friends and followers on Facebook and Twitter. Click here to Tweet this opportunity now!
Posted On: September 27, 2011
Sermon prep, Sunday follow-up, staff meetings, prayer requests, communication with the congregation, worship planning….
These are just a few of the items on your weekly to-do list that probably keep you from staying up to date on the latest changes in IRS tax laws.
And with the complexity of the typical pastor salary package and ministry expenses, it's no wonder why many pastors get nervous – even afraid – around tax time.
Not me! (at least not anymore)
Several years ago I begin working with Steve Merriman and the team at Clergy Advantage on my salary, housing allowance, retirement and tax documents. They've been amazing to work with.
The team there eats, sleeps and breathes clergy tax law, so I don't have to try and keep  up with all the changes.
They even handled everything for me when I was audited back in 2006 (you can read about that here).
I'm writing today because Clergy Advantage is offering a FREE Webinar next week called:
Don't Let Ministry Expenses Eat Your Lunch.
Set Up a Hassle Free Accountable Plan.
I highly recommend that you sign up and carve out an hour on one of the dates below to make sure you're being a good steward of your finances.  Not only will they make sure you're not in danger, but also that you're not missing out on any potential benefits or deductions.
Here are all the details:
Every minister and church treasurer or finance committee MUST understand why and how an Accountable Plan is the ONLY way to account for Ministry Expenses.  Ministers are extremely vulnerable to IRS audit in several areas.   If you're like most, you're leaving a lot of money on the table at meal times and when entertaining.

Properly account for all ministry expenses including car mileage, travel, meals and entertainment:

• Increase your Take Home Pay
• Get Tremendous Tax Savings
• Reduce Audit Risk
• Spend NOTHING to implement a plan
• Maintain it Easily

So what is an Accountable Plan? Trust us, it's NOT as scary as it sounds. It's actually  a lot more frightening NOT to have one.  Simply put, it makes you accountable to the church for your expenses rather than the IRS.  In so doing, it completely removes those expenses from the tax return providing all the benefits listed above.

Not only all that, but it's NOT Complicated if you follow our extremely easy design.  We've done the work for you now you can experience the rewards of our labors.

Discover how easy it is for your church treasurer to maintain and how much better this will work for you.

This is so important that we're waiving the usual $99 fee and are making it available at NO  CHARGE. It's free, easy and painless, (we promise).  There's no reason to put it off any longer.  Register below and see how easy it is to get your house in order and start saving.

Register for a session now by clicking a date below:
Mon, Oct 3, 2011 9:00 AM – 10:00 AM MDT
Tue, Oct 4, 2011 10:00 AM – 11:00 AM MDT
Thu, Oct 6, 2011 1:00 PM – 2:00 PM MDT
Tue, Oct 11, 2011 10:00 AM – 11:00 AM MDT
Thu, Oct 13, 2011 1:00 PM – 2:00 PM MDT
Tue, Oct 18, 2011 10:00 AM – 11:00 AM MDT
Thu, Oct 20, 2011 1:00 PM – 2:00 PM MDT
Tue, Oct 25, 2011 10:00 AM – 11:00 AM MDT
Thu, Oct 27, 2011 1:00 PM – 2:00 PM MDT

Once registered you will receive an email confirming your registration
with information you need to join the Webinar.
P.S. No matter what, you should definitely contact Clergy Advantage to discuss how they can help you save more money and stay above reproach with your taxes.
Here's their website:
Posted On: September 26, 2011

"Tomorrow is the most important thing in life. Comes in to us at midnight very clean. It's perfect when it arrives and it puts itself in our hands, and hopes we've learned something from yesterday."
– John Wayne, Actor
Posted On: September 24, 2011
I have been absolutely blown away by the feedback I've been getting since I released my new "Maximizing Baptism Seminar" resource – truly amazing!
I just got an email update (and a great video) from a brand new church in the Philippines – Community for Christ Davao – and wanted to share it today:
As promised, here is the video link in YouTube for the 1st baptism at Community for Christ Davao on July 17, 2011.

There were 6 young men who publicly confessed their faith in Jesus. Most of them came from broken homes and none of them have families with Christian background.

All glory to God!

Our official launch date will be this weekend and we have 300+ people who confirmed their attendance. Please pray for us.

We will keep you posted.

-Kathie
And here's the video she sent:
Awesome – keep up the great Kingdom work in the Philippines!
P.S. Are you ready to MAXIMIZE BAPTISM at your church?
Download "The Maximizing Baptism Seminar" THIS WEEK (before end of day Friday, September 23) and you'll receive Over $99.00 in Bonus Resources, including:
Overcoming the Barriers to Baptism ($19.95 Value)
The Big Day ($29.95 Value)
The Decision Dilemma ($19.95 Value)
Fasting For Spiritual Breakthrough ($29.95 Value)
Click Here to Read More and Download Now with Over $99.00 in Bonuses!
Posted On: September 21, 2011
It's Jason Hatley, Pastor of Worship Arts @ The Journey and I want to shoot straight with you . . . I don't like it when someone tells me that I'm making a mistake.
Call it foolish pride I suppose. Can you relate?
After all, no one's perfect and I know I make mistakes (just ask my wife and she'll tell you all about it
.
But, usually after I get over my bruised ego and damaged pride and I realize that the person telling me about a mistake I'm making really has my best interest at heart, my grumblings are replaced with gratitude. After all, I've been in ministry long enough to know that I don't know it all and I need people to help along the way.
What if I told you that you are making a BIG mistake in your worship planning that was keeping you from:
    Creating more powerful experiences in your weekly worship service
    Relieving some unnecessary (and unhealthy) stress in your ministry and personal life
    Involving more volunteers in the creative process for planning your services
    Developing the kind of worship planning relationship that you would like to have with your pastor
Even if you didn't like me telling you that, after the initial shock wore off would you be willing to sit down with me to talk about these issues and some strategic lessons I've learned in a decade of ministry to overcome them?
That's exactly what I would like to do on the Top 3 Worship Planning Mistakes webinar coming up TOMORROW, September 21 at 2:00pm EDT.
Chances are I haven't had the opportunity to attend your church, but after having coached nearly 200 churches, and taught and resourced thousands more in the last 5 years, I've found that there are 3 common mistakes in the worship planning process and that most churches are making at least one of them (if not all three).
Plus – I've made some of these same mistakes in the past, too (I told you I'm not perfect – ha!)
In this new 75-minute webinar, I want to help you not only identify these 3 mistakes, but I also want to give you some proven practices for how you can overcome them.
I know your time is valuable and I believe this webinar could be a HUGE help to your worship planning process. So what do you say . . . will you join me?
There are two dates to choose from (I want to give you every opportunity to be a part of this FREE training):
TOMORROW – Wednesday, September 21
    2:00pm – 3:15pm Eastern
    1:00pm – 2:15pm Central
    12:00pm – 1:15pm Mountain
    11:00am – 12:15pm Pacific
We're about 24-hours away from this one, so click here to register now -
Sign me up for Wednesday, September 21 at 2:00pm EDT 
OR . . .
NEXT WEEK – Tuesday, September 27
If you can't arrange your schedule to join me tomorrow, then make plans to be a part of this webinar next Tuesday, September 27 (same time . . . 2pm EDT).
Sign me up for the Tuesday, September 27 webinar at 2:00pm EST
Here's what I want to talk with you about in our time together:
    How to identify the TOP 3 MISTAKES that are keeping you from planning the worship services you want to have in your church.
    How to work together with your Pastor / Worship Leader to create powerful worship experiences every week.
    How to break the week-to-week mindset and begin creating "WOW" moments in worship
    The Paradigm Shift that will TRANSFORM how you plan worship services.
    How to overcome procrastination and eliminate the stress of last minute planning!
    And much more!
It's easy to be involved . . .
#1 – Register for the webinar that works best for your schedule by clicking on one of the links below. It will take about 30 seconds to complete the registration form on my webiste.
#2 – You will receive a confirmation email from me with a link to where the webinar will be hosted.
#3 – All you will need for the webinar is a computer and a phone line. You will be on the webinar with a group of other Pastors and Worship Pastors from around the country. On this webinar, you will listen by phone as I teach, but you will also be able to see my notes on your computer screen. Pretty cool!
Oh . . . and by the way – The Top 3 Worship Planning Mistakes webinar is designed for both Worship Pastors and Sr. Pastors.
Space is limited so please, register today at the link below:

Sign me up for Wednesday, September 21 at 2:00pm EST 
Sign me up for Tuesday, September 27 at 2:00pm EST
I hope to see you there!
Your partner in ministry,
PS – My new Worship Pastor Tele-Coaching network begins in less than 30 days and I've heard from many of you that you missed out on the Early Bird Registration bonuses that expired last week.
Honestly . . . the worship leaders who join my Coaching Networks tell me that the real bonus is what they become during the network.  I received this personal note from a worship leader who completed the network this week:
"Thanks for a great year in the network. I've been changed because of your commitment to invest in others. Not only are you helping people in the network, but also the people that are touched as the disciplines and practices flow down the ranks into homes and ministries. I have really been blessed to be a part of it. There are new ventures I'm heading into that I know without a doubt will be successful because of what I've learned. THANK YOU!"
I can't tell you how humbled and grateful I felt to receive that note.  Testimonies like this are EXACTLY why I am launching a brand new Tele-Coaching Network in less than 30 days
.
I simply love the
RESULTS
!
Your worship leader could experience the same life change in the Worship Leader Coaching Network, too.   Find out how (and listen to other testimonies) online at http://www.worshipleaderinsights.com/coaching
Posted On: September 20, 2011
Are you called to minister to children and their families in South Florida?
The Journey – Boca is the latest location of The Journey Church, founded by Nelson Searcy in 2002 in New York City.  The Boca location started in February 2011 and is growing rapidly.  The position of part-time Children's Pastor is currently available.
The Journey consistently has 200-300 adults and between 30 and 50 children attending weekend services, and expects continued growth.
Are you passionate about helping children learn about Jesus, connecting families to the life of the church, and assembling & growing a caring team of volunteers?
Are you intrigued by the idea of creating the "best hour of a child's week" each Sunday?
Can you recruit, train and develop a team of volunteers to show God's love on a weekly basis to an ever-expanding group of children?
Are you interested in helping a new, growing church continue to grow?
Do you have a high view of "serving as part of discipleship" and do you have a strong desire to reach unchurched families?
This is not a pastoral care position, but an equipping position to make a difference in the lives of the children and families that God is sending to The Journey.
Responsibilities:
Leadership, growth and innovation of The Journey Kidz ministry – including everything from curriculum and teaching to safety and security to volunteer recruitment and training.
Requires the ability to effectively lead a team and to raise up new volunteers at a rapid rate.  Solid organizational, administrative, and communication skills are a must.
Must be extremely hard-working and demonstrate a "whatever it takes" attitude to get things done with excellence.
Other desired characteristics include strong interpersonal skills; growing leader; team builder; sense of humor; risk-taker (seminary not required).
JOB REQUIREMENTS:
A solid calling to vocational ministry
The ability to manage a large and growing children's ministry system
A passion for the Bible and innovation
An ability to teach, lead classes and lead meetings (volunteers/staff)
A team player
A positive attitude
A familiarity with The Purpose Driven Church Model
A risk taker
Experience with and passion for children and family ministry
A drive for evangelism and reaching the unchurched
A high commitment to the local church
Non-charismatic
Only resumes accompanied with a COVER LETTER will be considered. 
The cover letter should be personalized for this position and should answer 3 questions:
(1) Why you are interested in this position?
(2) Why you would feel comfortable transitioning into this role and leading Journey Kidz to the next level?
(3) And what about you makes you stand out from other candidates for this position?
Compensation: $18,000 – $20,000/year salary
Please send cover letters and resumes to tommy <at> bocajourney.com.
Posted On: September 19, 2011
"As we advance in life, we acquire a keener sense of the value of time.  Nothing else, indeed, seems of any consequence; and we become misers in this respect."
- William Hazlitt, British Writer
P.S. To make the most of your time, check out Time Management for Busy Pastors.
Posted On: September 17, 2011
"Man, this is organized!"
This is Jason Hatley, Pastor of Worship Arts at The Journey Church and those are the words of a guest worship leader that I recently asked to lead at The Journey.  And Senior Pastor, before you tune out, let me assure you that today's blog is for you, too so keep reading . . .
After joining us for load-in, set-up, our timed sound checks, focus time, and cue-to-cue he told me backstage that it was one of the most organized and efficient Sunday morning run-throughs he had experienced. And because the level of stress was low, everyone on the team was able to focus on their role as lead worshippers that morning.
I'll be honest . . . it made me proud of our church. We have incredible volunteers who work hard and our system for staying on track and reducing the stress of Sunday had struck him as something out of the ordinary.
I tell you that to tell you this . . . Awhile back I had the opportunity to be a guest worship leader at a friend's church. Unfortunately, I didn't walk away with the same feeling. All the volunteers were great, the church was great. But that Sunday morning was stressful and you could see it on everyone's face. The service went fine, but it took a lot of energy to pull all the last minute details together in the minutes before the service.  Have you been there before?  Was I leading at your church
It got me thinking . . . why the distinct difference in experiences? It wasn't the hearts of the volunteers. They both had hearts of gold. It wasn't the equipment.  Both churches had the equipment needed for excellent services.  It wasn't even the Pastor or the Worship Pastor.
As I dug deeper into it the answer finally emerged. The difference wasn't in what was happening on Sunday, but in what had happened long before we got to Sunday.
The difference was in how we saw the worship planning process.
Believe it or not, the experiences would have been much more alike if it hadn't been for 3 BIG differences in the worship planning process.
Unfortunately, I see these 3 differences in many of the churches that I talk with and coach. These differences are really not differences of philosophy, but rather simple (but costly) mistakes that can be corrected quickly.
There's more to it than what I can explain in this blog post, and that's why I want to invite you and your Pastor / Worship Pastor to join me for a FREE webinar on Wednesday, September 21 OR Tuesday, September 27 where I will not only reveal these 3 mistakes, but also teach you how to avoid them in your worship planning process.
Here's a sample of what I want to share with you:
How to identify the TOP 3 OBSTACLES that are keeping you from planning the worship services you want to have in your church.
How to work together with your Pastor / Worship Leader to create powerful worship experiences every week.
How to break the week-to-week mindset and begin creating "WOW" moments in worship
The Paradigm Shift that will TRANSFORM how you plan worship services.
How to overcome procrastination and eliminate the stress of last minute planning!
And much more!
In this new 75-minute webinar you will discover how to overcome the Top 3 Mistakes that are keeping you from making your worship services the very best they can be.
Here are the details:
TWO DATES TO CHOOSE FROM:
Wednesday, September 21 OR Tuesday, September 27
* 2:00pm – 3:15pm Eastern
* 1:00pm – 2:15pm Central
* 12:00pm – 1:15pm Mountain
* 11:00am – 12:15pm Pacific
This new webinar is designed for both worship pastors and pastors.  Space is limited so please, register today at the link below:

Sign me up for Wednesday, September 21 at 2:00pm EST

Sign me up for Tuesday, September 27 at 2:00pm EST
The webinar is only about 75 minutes and you will walk away with some practical ideas for how to maximize your worship planning process this week. I hope to see you there.
Your partner in ministry,
PS – Today is the last day to take advantage of over $373.00 in free Early Bird Bonuses for my new Tele-Coaching Network.  To have your worship pastor apply for my new network, visit www.worshipleaderinsights.com/coaching today!
Posted On: September 15, 2011
More Free Stuff...
Search The Blog
Looking for a particular subject? Please enter the keywords in below and press the search button to find what you are looking for...
---
Free E-Newsletter Sign-up
Nelson's Monthly E-Newsletter
The Church Leader Insights bi-weekly publication sent via email focuses on effective leadership, church growth, church planting, evangelism and much more.
---
Blog Categories
---
---