---
I was out with an old friend for dinner a couple of nights ago and you wouldn't believe who I ran into…
Yep – Jolly Old St. Nick and the Mrs.!
They were just out roaming the streets without a care in the world.  And they say we pastors have it easy only working one day a week
I put in a good word for all my blog readers to be moved off the naughty list (you know who you are).
Seriously though, I hope you, your family and your church have a Merry and Christ-filled Christmas!
Nelson
P.S. If you have a moment, please pray for our South Florida location as we're holding outdoor Christmas Eve services tomorrow and Saturday in a popular city park.  Thanks!
Posted On: December 22, 2011
'The change came a long way back – but at first it didn't show.
The manner remains intact for some time after the morale cracks.'
F Scott Fitzgerald, 'Tender is the Night'
Posted On: December 17, 2011
With the end of 2011 just days away, many pastors and worship leaders are already turning the calendar in their minds to 2012. Good idea, right?
Wrong!
Let me explain . . . There's nothing wrong with looking ahead, but the problem is that many may be forgetting one of the most important year-end rituals — wrapping up this year before you move on to the next. That's right . . . like any good worship service it's not over until it's been properly evaluated and debriefed.
One of the things that I do each year is a year-end evaluation. It's an incredibly powerful process and I want to share part of it with you today.
You see there is a leadership principle that far too many people practice these days — the Principle of Reflection.
John Maxwell says that, "The greatest enemy of good thinking is busyness." That's certainly true this time of year. We become so busy moving on that we neglect to take time to think, reflect, and evaluate how things went this year, and what can learn from that to make next year better.
So as we head down the homestretch of 2011, I want to share with you a few of the questions that I use to reflect on this year.
There are about 16 questions in all, and in my coaching networks this past week I shared almost every one and took each of the worship pastors in the network through this process of year-end review.
I don't have time to do that here, so over the course of the next few weeks I'm going to share with you three of these questions to get you started.
But first, let me tell you why this is important to you specifically.
First of all, it will remind you of what God has done in my life this year. Like the Israelites, you and I need to be reminded of all that God has done for us so we can be grateful and remain faithful.
It will also give you a clear picture of where you are and how far you've come in the last year. How did you do at overcoming your biggest challenges this past year, and how is God growing you?
One of the great tragedies of life would be to reach the end of a year, look back and realize you are the same person today that you were a year ago. A year wasted, fighting the same battles, dealing with the same struggles. Like Sisyphus, the king from Greek mythology who was punished by being compelled to roll an immense boulder up a hill, only to watch it roll down again, and to repeat this for eternity.
That's not what you want, not what I want, and certainly not what God wants.
So, before this year is over, let's see what we can learn from it. Here's the first question . . .
#1 – What are my current responsibilities at the church at the end of this year? (Be as specific as possible)
At first glance, this may look like either an unimportant question, or one that you already know the answer to, but stick with me a minute here.
If you had 10 minutes right now, could you write down on paper everything that you do to serve your church and lead your ministry? Not "broad job titles" but specifics. Most of us haven't thought about this since we were first hired and given a job description.
But if your ministry is anything like mine, your role has changed. In fact it's constantly changing. Responsibilities you once had have been given to someone else. You have new responsibilities and projects to lead.
If you don't take (at least) an annual account of exactly what you do . . . and I mean exactly . . . then you will never be able to:
• Raise up other leaders to take over your least important tasks so you can do what's most crucial and only you can do.
• Know exactly what you're responsible for.
• Be able to have accountability in your ministry, either between you and your pastor, or you and your volunteer leaders and staff.
The list I made when I did my year-end review last week was nearly 2 pages long. I bet yours is, too. So . . . just exactly what is it that you're on staff at your church to do . . . and are you doing it?
Make a list and consider that question. By doing so you will start 2012 with more clarity and understanding of how to make the biggest contribution to the kingdom, and not just float through another year.
Next week we'll cover the second question. Until then . . . you've got work to do
Your partner in ministry,
PS – You heard me mention above how I lead my coaching network through each aspect of this review earlier this week? That's exactly the one-on-one coaching that I would love to give to you and your ministry in 2012.
My new coaching network begins in March, and it will fill up. So if you're looking for an opportunity to take yourself and your worship ministry to the next level in 2012, I would ask you to prayerfully consider this network. Now is the perfect time to apply because the Super Early Bird deadline is coming up quick (December 31st).
Right now you can receive the Super Early Bird rate and additional bonus resources ($772.00 value) when you're accepted.
Learn more at http://www.worshipleaderinsights.com/coaching
Posted On: December 16, 2011
As you may know, one of the hallmarks of my Assimilation System – for integrating newcomers into the life of your church – is the weekly use of a Connection Card.  This is an information card that is filled out each week by everyone in attendance and includes contact info on one side and next steps and sign-ups on the other side.
As you might expect, one of the questions that church leaders often ask me is about what we do with all those cards after they're turned in.  Well that's a great question!
In a time where people are hesitant to share their personal information, it is important for you to not only protect their information, but also to communicate that it will not be shared with anyone else. The only way to successful accomplish that is to shred them at some point.
At The Journey, we archive the cards for three months (you never know when you need to double check and email or phone number) and then we have them shred. Taking the simple step of shredding the connection card ensures that your First Time Guests, Regular Attenders, and Members can have confidence that you'll never be the source of their identity theft!
Posted On: December 15, 2011
Yesterday over 350 Senior Pastors called in for my 2011 Wrap Up and Ramp Up Conference Call where I shared the year-end questions that I've compiled and developed (and personally use each year) to "wrap-up" one year and "ramp-up" for the next.
This has historically been a session reserved ONLY for my coaching network participants – and I've received a great deal of positive feedback from them over the years – but this year I opened it up for a select group of other Senior Pastors to participate and the response was tremendous.
I received such a good response in fact that I've decided to offer a FREE REPLAY of the call for the next three days.
Click the link below to log in and listen to the recording of the 2011 Wrap Up & Ramp Up Call:
http://www.churchleaderinsights.com/index.php/free-stuff/year-end-call
But don't put it off too long – this replay page is only available through Friday.
The call was almost exactly one hour long and I hope you'll carve out that time to make an investment in your own personal growth and development.
By doing so, you will allow me to help you look back over all that God has done in 2011 and prepare for and dream about all that He can and will do in 2012!
P.S. Feel free to share this call replay link with anyone else that you think might find it helpful.  Here's the link again:
http://www.churchleaderinsights.com/index.php/free-stuff/year-end-call
Posted On: December 14, 2011
Can you join me TOMORROW at 2pm Eastern for a 60-minute conference call?
It's a brand new, Senior Pastors-only training called the "2011 Wrap-up and Ramp-up Call," where I'll lead you through the year-end questions that I personally use to "wrap-up" one year and "ramp-up" for the next.
In the past, I've only offered these questions to those in my coaching networks – and I've received a great deal of positive feedback – but this year I'm opening it up for a select group of other Senior Pastors to participate.
In fact, these questions (which I've been using and fine-tuning for years personally) will help you revolutionize the way you approach 2012… at least that's what my coaching participants have told me in past years.
This is a FREE call, but you do need to reserve your spot (we only have a limited number of lines on the conference call).
Don't wait if you're interested – we have only sent a couple of emails about this call, and it's filling up fast.  We'll take down the registration page when it's full, so if the link below works there's room for you.
Please see the P.S. below for more details or follow this link to register now:
http://www.churchleaderinsights.com/index.php/free-stuff/year-end-call
Hope to talk with you tomorrow,
Nelson
P.S. Here are all the details that the team put together:
2011 WRAP-UP & RAMP-UP CONFERENCE CALL with Nelson Searcy

** NEW for Senior Pastors Only **

Would you like to finish 2011 on a high note and launch into 2012 with momentum?
Let Nelson Searcy talk you through the questions that will help you end 2011 and begin 2012 stronger than ever!
TUESDAY, DECEMBER 13, 2011
2:00pm – 3:00pm Eastern
1:00pm – 2:00pm Central
12:00pm – 1:00pm Mountain
11:00am – 12:00pm Pacific
We talked Nelson into opening up this year-end call to a select group of Senior Pastors (it's normally reserved for Coaching participants)
On this one-hour call, Nelson will ask you:
- The questions that will help you wrap up 2011 on a high note and ramp up for 2012
- The personal questions that no one ever asks you as a pastor (spiritual, relational and financial)
- Questions to help you evaluate your most important relationships, including…
- The marital questions that your spouse desperately wishes you would ask yourself
- The insightful and reflective questions that will take your leadership to the next level in 2012 (both personally and in your church)
- Questions to help you make 2012 less stressful than 2011 has been (and help you identify what's stressing you out in the future)
- And more!
Get the game-changing questions to revolutionize how you approach 2012!
Who Should Attend?
This webinar is for Senior Pastors who are serious about making a bigger impact in 2012 than they did in 2011.
REGISTER NOW AT:
http://www.churchleaderinsights.com/index.php/free-stuff/year-end-call
Posted On: December 12, 2011
Posted On: December 10, 2011
Jason Hatley here, Pastor of Worship Arts at The Journey Church, with a quick (but very important) question for you . . .
How's your Christmas season going?
No . . . I'm not talking about services or Christmas planning. I'm talking about you. How is YOUR Christmas season going?
For all of us in ministry Christmas can be a huge season of opportunity as God works through our churches to change lives in our communities. But don't forget that God wants to work in your life this Christmas, too.
I shared an Oswald Chambers quote with my coaching network recently that has really been challenging me personally.
He wrote . . .
"Many today are spending and being spent in their work for Jesus Christ but they do not walk with him."
I think the truth of that quote rings especially true this time of year. So let me ask you . . . what are you doing to experience Christ this Christmas?
Here are a couple quick ideas (things that I'm personally doing this year) that will hopefully be starting point for you . . .
#1 – Christmas Quiet Time - Each December I freshen up my personal Bible study and prayer with a Christmas focused quiet time. This is something I've done for years now, and thanks to online sites like www.YouVersion.com Christmas Bible studies are easier than ever to find. This year I've been doing a devotional on the Christmas story and how it interacts with my favorite Christmas carols as part of my quiet time. Not only am I studying the Christmas story, but I'm also getting new perspective on many of the songs that we are incorporating into our worship service.

#2 – Involve your family and friends - One of the best ways to experience Christmas personally this year is alongside your family and friends. At the Hatley house, my wife and I have been playing with our kids and their nativity set, allowing our 5-year old Abigail to tell the Christmas story as we play.
My wife has also created an advent calendar for our family (have I mentioned how awesome my wife is) and each day the kids get to uncover that day's surprise. Some are fun family things like go to a Christmas pageant, and some are as simple as pieces of candy with special Christmas messages on them (guess which one is my favorite – ha!). Either way, experiencing Christmas with family and friends helps make the holidays more personal.
#3 – Pray for your unchurched friends - Want to take your Christmas experience to the next level this year? Pray for and invite your unchurched friends and neighbors to church this season. Christmas is a time when those around us are spiritually open and seeking to experience God. Pray for them and look for opportunities to share the true hope of Christmas with them. It may well be a Christmas that they (and you) never forget!
So this Christmas, while I know we're all busy with the important work of ministry, don't forget the personal experience of knowing and loving the baby in the manger that would become our Messiah on the cross, and our risen Lord on the third day!
Merry Christmas!
PS – Have you heard about my NEW Worship Leader Tele-coaching Network? The Super Early Bird deadline is coming up quick (December 31st).
Right now you can receive the Super Early Bird rate and additional bonus resources ($772.00 value) that you receive when you're accepted.  Go to www.worshipleaderinsights.com/coaching to learn more and apply today!
Posted On: December 08, 2011
I've written before about how I believe church membership is Biblical AND practical.  Unfortunately lots of churches do a poor job of raising its value to the people who attend each week.
In fact, I often get emails from pastors who are struggling to get people to go through their membership class and take that next step of commitment to a spiritual family.
Here's one simple secret that will help you get more of your regular attenders to attend your membership class and cross the line to become members – but don't tell anyone…
Promote multiple classes at the same time 
That's it!  All it takes is a little pre-planning – instead of listing one membership class on the calendar… list two.  And then adjust the way you promote the class.Here are the magic words:
Can I sign you up for the December or February class?
OK, so maybe I'm not sharing state secrets here, but you'll be amazed at how many more people over time will go through your membership classes by making this simple change.
And just think – the more people who go through membership class, the more people will be stepping up their accountability, spiritual growth and commitment to your church!
P.S. If you'd like to pick up everything that we use at The Journey to plan, prepare, promote,implement, and follow up on Membership Classes, check out The Maximizing Membership Package.
Posted On: December 07, 2011
I'd like to invite you to join me THIS WEEK for one of three FREE Senior Pastor Events I'm leading in the great state of Texas:
Dallas/Fort Worth Area  – TOMORROW (Wednesday, December 7)
Austin Area - Thursday, December 8
Houston Area  – Friday, December 9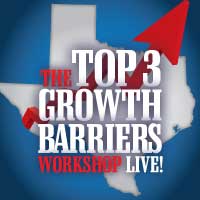 We have a great group of Senior Pastors signed up for all three events, but we still have space available for a few more.
So, will you…
#1 – Join me for one of these events?
#2 – Help me get the word out?
I hope so, as I'll be teaching you:
What is keeping your church from growing the way God desires
How to identify and break the three most common barriers blocking your church's growth
Pouring the foundation for solid growth in the future
Specific coaching on these growth barriers
The tools you need to break through these barriers
Plus much more!
CLICK HERE to Sign-Up Now for one of these  Top 3 Growth Barriers LIVE Event for Senior Pastors in the Lone Star State!
Posted On: December 06, 2011
More Free Stuff...
Search The Blog
Looking for a particular subject? Please enter the keywords in below and press the search button to find what you are looking for...
---
Free E-Newsletter Sign-up
Nelson's Monthly E-Newsletter
The Church Leader Insights bi-weekly publication sent via email focuses on effective leadership, church growth, church planting, evangelism and much more.
---
Blog Categories
---
---