---
You want to hire the right people? Simply write your position descriptions to attract the right person and repel the wrong hire.
One vitally important item that I talk about with staffing is to be abundantly clear about who you want to hire for a position AND who you don't want to hire.
This means that not only do you have to know who you're looking for, but the ads and job listings you write must spell out your expectations so clearly that the wrong candidates won't even bother applying.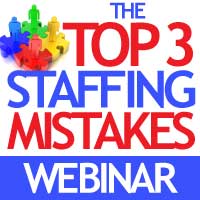 As Jason Hatley (Pastor of Worship Arts at The Journey and Founder of Worship Leader Insights) was looking to recruit some new band members recently, he put this principle into practice with this statement:
This is not a "thrown together, disorganized, cheap gear, let's wing it and see what happens" kind of gig. Attention to detail, personal preparation and a commitment to excellence are a must. Great venue, great gear, great Church!
My hope today is that this little snippet will help you visualize the concept of being clear who you want (and don't want).
Think about it – if you're not a serious musician who's willing to put in the hard work to be a part of this team… you won't apply!
And isn't that the point of recruiting – to find the right person?
So here's the principle:
Write your position descriptions or paid ads so you attract who you want and repel who you don't want
Who are you looking for?  Now, how do you plan to find them?
Nelson
P.S. For even more information on church staffing – covering Recruiting, Hiring, Managing, and "De-hiring" – check out the Staffing Webinar that is taking place Six times over the next 3 days! 
It is a NEW 75-minute webinar. Together, we will walk through each of the three most common mistakes, what you can do this week to correct them, and how to ensure that you're doing everything you can to cooperate with God to lead your staff and grow your church.
There are a limited number of spots available for each webinar. It's FREE to participate but you must RSVP at this link below:
Posted On: April 24, 2012
0 Comments
Add Comment
More Free Stuff...
Receive Nelson Searcy's FREE "Healthy Systems, Healthy Church" E-book ($23.95 value)!
Just complete the form below and you will receive your free copy:
God designed all the parts of the body - both the church body and the physical body - to work together,
allowing us to fulfill God's purposes and plans on this earth. And both of those respective bodies function best through well-developed systems.
Nelson Searcy's revised Healthy Systems, Healthy Church E-Book has been updated to include diagnostic questions for you to determine the current health of your church's systems and practical help as you lead your church to greater health and effectiveness. Just complete the form above to receive your FREE copy!
---
Search The Blog
Looking for a particular subject? Please enter the keywords in below and press the search button to find what you are looking for...
---
Blog Categories
---
---