---
I'm going to be busy this week leading 8 of my Top 3 Growth Barriers Webinars –  FREE for Senior Pastors!
To that end, I'll probably remain silent on the blog for the rest of the week.
I hope you'll join me on one of these identical online trainings because I know that as much as you want your church to grow, God wants it to grow even more than you do.
Will you invest 75 minutes to join me for one of these upcoming webinars to see what God can accomplish as we work on your church together?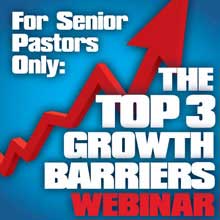 On the webinar you'll learn:
How to identify what is keeping your church from growing the way God desires
How to identify the #1 barrier that holds back your church (it's not what you think!)
Your unique role as the Senior Pastor in removing these barriers forever (it's not as hard as you've been led to believe)
Specific "nuts and bolts" next steps to remove each barrier
How to cooperate with God to experience His blessing in your church
Plus much more
This is one of my most impactful webinars and I want to challenge you to make it a priority.
Sign-up here for the day/time that's most convenient for you:
http://www.churchleaderinsights.com/index.php/free-stuff/top-3-growth-barriers
TODAY (Tuesday, July 31):
11:00am – 12:15pm Eastern
2:00pm – 3:15pm Eastern
7:00pm – 8:15pm Eastern
TOMORROW (Wednesday, August 1):
11:00am – 12:15pm Eastern
2:00pm – 3:15pm Eastern
7:00pm – 8:15pm Eastern
THURSDAY, August 2:
11:00am – 12:15pm Eastern
2:00pm – 3:15pm Eastern
Hope you'll pray for me, and especially for all the pastors who'll attend this week's webinars.
And I hope to see you there!
Nelson
P.S. Here's the link again to sign up and reserve your spot now:
http://www.churchleaderinsights.com/index.php/free-stuff/top-3-growth-barriers
One week from today is my anniversary – 18 years! Wow!
It's a big date that I have set on my calendar each year.
In fact, I've had reminders set on my calendar one month out, two weeks out, one week out, etc (yep, I have a 'reminder' system for my anniversary date – ha!).
Why all the reminders for my anniversary? Well, because I missed it once, on year number five (ouch – talk about painful!) and I won't ever do that again!
There's always pain when we miss out on key dates.
That's why I'm emailing you now – because TOMORROW is a key date for you…
Tomorrow is the Early Bird Application Deadline for my new Senior Pastor Tele-Coaching Network and Your Last Chance to Save $600.00 and Receive Over $645.00 in Additional Bonuses!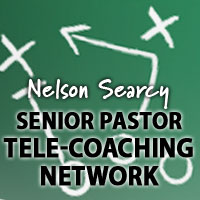 Did you know: After one year in my Senior Pastor Tele-Coaching Network, the average participant church has experienced a 30% increase in their weekend worship attendance and a 25% increase in their weekly offerings!
On a personal level, the average pastor in my network experiences a renewed focus, passion and excitement because they have clear systems in place to lead their church and to maximize their own personal leadership.
To take it one step further – the average pastor's spouse in my network (yes, I hear from them all the time) is encouraged and thankful to "have their old husband back" and to "have them actually be home when they're at home."
They can actually enjoy key dates like anniversaries and Valentine's Days without having to talk about the church (or worse – what life would be like without it).
You too can experience this kind of growth and excitement! And if you agree with me that the Church can and should be making a bigger impact in our world, I believe that you're a good candidate for this new network.
Click the link below to Read All About this New Network and Apply Now (to avoid the pain of missing out on early bird status):
www.ChurchLeaderInsights.com/telecoaching
P.S. Please pray for Kelley (my wife) for putting up with me for 18 years
Now, off to buy her present! 18th anniversary – I can't recall; is the appropriate gift "paper" or "plastic"…
It is wise to direct your anger towards problems — not people; to focus your energies on answers — not excuses.
William Arthur Ward
American Author, Educator, and Motivational Speaker 
From time to time, I enjoy bringing in a guest to share with you on the blog – especially when they can bring you something new or different than what my personal experience allows for.
To that end, I've asked Don Ross to share some posts on Church Revitalization (or Turn-Around Churches). Don is an Advanced Coaching Alum, Renegade Pastor and the Lead Pastor of Creekside Church in the Seattle, Washington, area.
Hope you find this helpful:
Our Critical Internal Turnaround - By Dr. Donald E. Ross

When Howard Shultz first posed the idea of a restaurant that served only coffee, people laughed.  Now, forty years later, no one is laughing except those who bought stock early on.
Founders of the photo-sharing app "Instagram" saw their company grow in two years to the point Facebook offered $1 Billion for it.
Both of these companies, and many more, have something in common with a pastor seeking to lead a turnaround church and see the decline reversed.
Here it is… the dream was internal before it was external.  The late Steven Covey told us in the Seven Habits that everything is created twice, first in our mind, then with our hands.
But since we are not focused on the business world, let's go to our founder, who has been helping pastor-types like us lead churches, break barriers and reverse decline for twenty centuries.
Jesus said it this way, "The good man brings good things out of the good stored up in him…".  Matt 12:35.
Simply put, if you are leading a turnaround church and attempting to reverse decline, you must have something good inside you in order to give anything good to those around you.
Your church needs to have a turnaround in your heart, before you will see anything of a turnaround on a Sunday in your church.
Hebrews 11:1 is so powerful for those of us serving in declining churches, because it is focused on "substance" and "evidence" that is not seen, but is just as real.  This is internal evidence of a turnaround.
You have to believe God is doing a work when you don't see it with your eyes.  You have to believe God's plan is effective, even when there is little tangible evidence to support your believe.
This is the internal turnaround that MUST happen in every pastor's heart before it can happen in your church.
What ever problem you are facing, that problem is more about you and Jesus than you and the problem.  These are spiritual battles that are won in your heart first.  Internal victories always precede external victories.
So, rather than fighting your board, or searching for a new strategy, maybe you need to make an appointment with our founder and C.E.O. and get some personal coaching from Jesus.  After all, Jesus has been leading the ultimate turnaround of the universe for over 2000 years and He knows how to get this done.
A few minutes alone with Him will ignite an internal turnaround in you, and that will spread to others, because Jesus loves to give life to dead things, and that life is always contagious.  His line is open now.
For information on the Turn Around Church Coaching Network, see www.turnaroundchurch.org
P.S. Are you ready to take your church to the next level? Don Ross is an alumni of my Tele-Coaching Network where the average church will experience a 25-35% increase in their attendance and their giving within the first 12 months of joining my coaching network.
Join with a group of Pastors who are seeing God do great things in their church. Apply today to lock in the Early Bird Pricing and receive bonuses resources worth over $645.00.
Click here to learn more and apply online today for my new Senior Pastor Tele-Coaching Network
Between now and this Friday, July 27, I'd like to give you one of my bestselling "Breaking Growth Barriers" resources absolutely FREE ($29.95 Value)!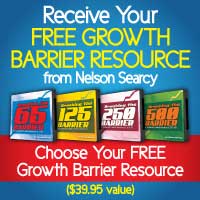 As a fellow Senior Pastor, I realize that reaching more people and growing a church can be overwhelming. Combine that with the fact that churches all seem to face specific barriers along the way that threaten their ability to reach more people for Christ, and it's a recipe for frustration.
Not reaching new people week after week, month after month, even year after year is disheartening to even the most Kingdom-minded pastors!
I want to you break through your current growth barrier this fall! Select from one of four resources this week (choose the resource that is one step above your current weekly ADULT attendance):
Breaking the 65 Barrier
Breaking the 125 Barrier
Breaking the 250 Barrier
Breaking the 500 Barrier
To choose your FREE resource, click the link below:
http://www.churchleaderinsights.com/index.php/free-stuff/growth-barriers-giveaway
Go ahead and download yours today- it ends this Friday, July 27!
Here's why I'm doing this… basically three reasons:
1- I WANT TO HELP YOU BREAK YOUR NEXT GROWTH BARRIER THIS FALL.
I've seen a tremendous response to recent webinars, live events and new resources, and I'm sensing that more senior pastors are ready to go to lead their churches to the next level than ever before.
2- I'D LIKE YOU TO JOIN ME FOR A FREE "BREAKING THE TOP 3 GROWTH BARRIERS" WEBINAR NEXT WEEK.
I'll be leading these webinars next Tuesday, Wednesday and Thursday, to help you identify and break each of the three most common barriers churches face in trying to reach more people. You'll have an opportunity to sign up immediately as you download your FREE resource.
3- A KEY THEME OF MY NEW SENIOR PASTOR TELE-COACHING NETWORK IS "BREAKING GROWTH BARRIERS" AND I WANT TO GIVE YOU A TASTE OF WHAT WE WILL COVER.
This resource will give you a jumpstart on the Tele-Coaching Network before it begins on August 30.
The Senior Pastor Tele-Coaching Network is a proven, 12-month process to take you and your church to the next level.
You can learn all about coaching and apply online at www.ChurchLeaderInsights.com/telecoaching.
Again, to download your NO COST Breaking Growth Barriers resource, simply visit:
http://www.churchleaderinsights.com/index.php/free-stuff/growth-barriers-giveaway
Looking forward to a great fall ministry season together,
Nelson
P.S. Do you know of another Senior Pastor who might want or need this FREE Resource? Please forward this email to them!
Here's the link again:
http://www.churchleaderinsights.com/index.php/free-stuff/growth-barriers-giveaway
Hurry – the giveaway ends this Friday, July 27!
And, feel free to share this link with your fellow Senior Pastors via Facebook, Twitter or email. This FREE resource is for Senior Pastors Only.
Can I share one of my life's disappointments?
It's hearing from church leaders who are just one or two small changes away from seeing tremendous Kingdom results in their church.
Over the years I've seen that some of the smallest tweaks to your systems can bring tremendous peaks in terms of your church's effectiveness.
Whether it's sending handwritten notes to first time guests (assimilation), planning ahead in their preaching calendar (worship planning) or printing custom offering envelopes and putting them in each week's program (stewardship), whatever it is – they're a couple of changes away from a breakthrough, but they just can't see it.
Disillusionment rears its ugly head and the passion for ministry begins to wane.
As disappointing as it is to see this in pastors, it also motivates me – because I know that I can help!
What changes are you holding off on right now that have the potential to increase your church's Kingdom impact?
One of the reasons my Coaching Networks have been so effective is that it provides Pastors with proven systems knowledge AND the accountability (the nudge) to put that knowledge into practice.
We're only a little over one month away from my next Senior Pastor Tele-Coaching Network (it begins on August 30) and it may be a good fit for you.
Plus, if you Apply before next Tuesday, July 31, you'll save $600.00 and receive over $645.00 in additional Bonus Resources!
For more information and to download your application, go to:
www.ChurchLeaderInsights.com/telecoaching
Choose today to break free of whatever is holding you back and prepare to see your church grow and reach your maximum kingdom potential!
Nelson
P.S. – Don't delay – this network will fill up. I still have a few spots left but you need to apply now to take advantage of the early bird pricing and bonuses:
Click here to learn more and apply online today for my new Senior Pastor Tele-Coaching Network!
Victory awaits him who has everything in order – luck people call it.
Defeat is certain for him who has neglected to take the necessary precautions on time: this is called bad luck
– Roald Amundsen, Led an expedition to the South Pole in 1911.
Those of us who are teaching pastors tend to be quite protective of our preaching – sometimes to the point that it hinders us from having the impact we should.
One area I'm rarely asked about, but I see as an issue over and over again in churches is that the people on Sunday mornings just aren't tuned in – they aren't listening to what the pastor is teaching.
And I'm going to give you one sure-fire, God-honoring technique to make sure people will listen to what you have to say…
Preach what the Bible says about the real issues your people are facing!
The truth is, there's not a single issue being faced by your people right now that God's word is silent about.
For example, one of our most frequent prayer requests at The Journey is always about relationships (both for singles and marrieds).
Of course we pray for every request that gets shared, but as a pastor I couldn't help but feel a little heartbroken that my people were suffering in an area that scripture has so much to say about.
So a few months back, I took advantage of one of the greatest discipleship tools at my disposal – the Sunday morning stage – to equip my people with God's truth about relationships.
We taught a four week series called "Undressed: Uncovering the Secrets of Sex, Self-Image and Successful Relationships," and the results were tremendous – we saw:
New believers each week
All relationships are affected when our primary relationship with Christ is right. Without an evangelistic focus, we still saw people beginning that relationship each week of this series.
Marriages experiencing renewed passion
Dozens of married couples renewed their vows during our on-stage vow renewal. Many of these couples expressed thanks that they now had the tools to honor God with their marriage.
Singles deepening their commitments
Each week, I heard from singles in our church, thanking us for tackling these issues and sharing how their lives and choices were changing by implementing God's principles for dating.
And much, much more!
In fact, the results and feedback was so powerful, I had the team at Church Leader Insights pull together everything we did and we just released it this week to you.
You can pick up this complete sermon series – including audio files, message notes, transcripts, graphics, connection cards, memory verse cards AND the information you need to conduct your own Marriage Vow Renewal ceremony during the series.
Click here now to read more and secure your copy of "Undressed: Uncovering the Secrets of Sex, Self-Image and Successful Relationships"
PLUS – Pick up this series before tomorrow (Friday) at 11:59pm Eastern and receive over $90.00 in Additional Bonuses!
Jason Hatley here . . . Pastor of Worship Arts at The Journey and Founder of www.WorshipLeaderInsights.com with a word of CAUTION! Uttering these five words is certain to bring disaster to your services and your team. It will create unnecessary stress, and without a doubt lead to confusion and missed opportunities.


It may even be bad for the environment and make puppies sick.
OK – so maybe those last two are a stretch (ha!), but I believe the other side-effects will definitely happen if you say these five dangerous words.
What are they? I hesitate to put them in writing, but for your sake, let me share them. They are:
"Let's just wait until Sunday."
Not what you were expecting? Well let me explain!
Have you ever said those words before? When asked how the song will end or what the lighting cue will be, you say, "Let's just wait to Sunday. We'll decide then."
Or, when faced with the opportunity to talk to your Pastor about how he would like the teaching slides arranged, or what he will say to cue the worship team to begin that final song of commitment you say, "I'll just ask him Sunday."
I can tell you this with confidence . . . nothing good ever comes from putting off until Sunday what can be done today.
I'm sure you agree: Sunday has enough stress of it's own.
Whether portable or in a permanent facility, you and I are leading systems on Sunday morning that have narrow margins, rely on many different people to arrive on time and do their job well, and we have limited time to accomplish it all. After all, that first service is going to begin on time whether we are ready or not!
Yet so many times we put things off until Sunday that could be easily handled today. A conversation with the sound engineer about a small change, a correction to the slides for a song, a change to the music . . . all could be handled with little effort during the week, but for some reason we wait until Sunday.
Sunday has an amazing compounding effect. Here's what I mean . . .
A small issue that could be handled in 10 minutes on Thursday, under the pressure of Sunday, becomes a much more time-intensive or even stressful task.
A small change to the music communicated to your band before Sunday is no big deal. But under the pressure and time constraints of Sunday it takes twice as long to make the change and all of a sudden your team (no matter how great your musicians are) now have a little hesitancy as to exactly what to do in the set.
And why is that?
Like I said . . . Sunday has enough stress of it's own. It doesn't need us to add more unnecessary stress to it!
So – what can you do to avoid these tense moments on Sunday. Here are 3 quick things:
#1 – Create a check-list for Sunday. Write down EVERYTHING you need to say, do, or communicate for Sunday and make sure you do it each week.
#2 – Create systems to meet or have conversations with key people before Sunday. Take care of small things while they are still small. We call this a Production Meeting at The Journey and I detail exactly what happens and how it works in our Planning Worship Services for Life Transformation resource.
#3 – Talk with your pastor about any specifics BEFORE Sunday. I don't just discuss the Worship Order with our Lead Pastor, Nelson, once during the week. We carry on an on-going conversation throughout the week to make sure that there is nothing left to chance heading into Sunday.
The Truth is this: SUNDAY MATTERS!
We get far too few of them, so we have to make them all count.
This week, refuse to say, "Let's just wait until Sunday."
Instead say, "What can I do today to make Sunday the best it can be?"
Now those are ministry words to live by!
Your partner in ministry,

PS -A Worship Planning process that creates life-transforming moments, minimizes missed opportunities, helps you plan your services weeks (even months) in advance, and reduces your stress along the way is a game-changer for your church.
Without it you suffer under the tyranny of the week-to-week mentality . . . never quite sure how to relieve the stress and get ahead.
But with the right system, you can break free from the stress and start planning powerful, life-transforming worship services. That's exactly what the Planning Worship Services for Life Transformation workshop will help you do!  Check it out here.
Failure is not a single, cataclysmic event. You don't fail overnight.
Instead, failure is a few errors in judgement, repeated every day.
Jim Rohn, American Entrepreneur, Author and Motivational Speaker
More Free Stuff...
Search The Blog
Looking for a particular subject? Please enter the keywords in below and press the search button to find what you are looking for...
---
Free E-Newsletter Sign-up
Nelson's Monthly E-Newsletter
The Church Leader Insights bi-weekly publication sent via email focuses on effective leadership, church growth, church planting, evangelism and much more.
---
Blog Categories
---
---