---
Between now and this Friday, July 27, I'd like to give you one of my bestselling "Breaking Growth Barriers" resources absolutely FREE ($29.95 Value)!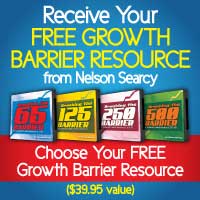 As a fellow Senior Pastor, I realize that reaching more people and growing a church can be overwhelming. Combine that with the fact that churches all seem to face specific barriers along the way that threaten their ability to reach more people for Christ, and it's a recipe for frustration.
Not reaching new people week after week, month after month, even year after year is disheartening to even the most Kingdom-minded pastors!
I want to you break through your current growth barrier this fall! Select from one of four resources this week (choose the resource that is one step above your current weekly ADULT attendance):
Breaking the 65 Barrier
Breaking the 125 Barrier
Breaking the 250 Barrier
Breaking the 500 Barrier
To choose your FREE resource, click the link below:
http://www.churchleaderinsights.com/index.php/free-stuff/growth-barriers-giveaway
Go ahead and download yours today- it ends this Friday, July 27!
Here's why I'm doing this… basically three reasons:
1- I WANT TO HELP YOU BREAK YOUR NEXT GROWTH BARRIER THIS FALL.
I've seen a tremendous response to recent webinars, live events and new resources, and I'm sensing that more senior pastors are ready to go to lead their churches to the next level than ever before.
2- I'D LIKE YOU TO JOIN ME FOR A FREE "BREAKING THE TOP 3 GROWTH BARRIERS" WEBINAR NEXT WEEK.
I'll be leading these webinars next Tuesday, Wednesday and Thursday, to help you identify and break each of the three most common barriers churches face in trying to reach more people. You'll have an opportunity to sign up immediately as you download your FREE resource.
3- A KEY THEME OF MY NEW SENIOR PASTOR TELE-COACHING NETWORK IS "BREAKING GROWTH BARRIERS" AND I WANT TO GIVE YOU A TASTE OF WHAT WE WILL COVER.
This resource will give you a jumpstart on the Tele-Coaching Network before it begins on August 30.
The Senior Pastor Tele-Coaching Network is a proven, 12-month process to take you and your church to the next level.
You can learn all about coaching and apply online at www.ChurchLeaderInsights.com/telecoaching.
Again, to download your NO COST Breaking Growth Barriers resource, simply visit:
http://www.churchleaderinsights.com/index.php/free-stuff/growth-barriers-giveaway
Looking forward to a great fall ministry season together,
Nelson
P.S. Do you know of another Senior Pastor who might want or need this FREE Resource? Please forward this email to them!
Here's the link again:
http://www.churchleaderinsights.com/index.php/free-stuff/growth-barriers-giveaway
Hurry – the giveaway ends this Friday, July 27!
And, feel free to share this link with your fellow Senior Pastors via Facebook, Twitter or email. This FREE resource is for Senior Pastors Only.
Posted On: July 24, 2012
0 Comments
Add Comment
More Free Stuff...
Search The Blog
Looking for a particular subject? Please enter the keywords in below and press the search button to find what you are looking for...
---
Free E-Newsletter Sign-up
Nelson's Monthly E-Newsletter
The Church Leader Insights bi-weekly publication sent via email focuses on effective leadership, church growth, church planting, evangelism and much more.
---
Blog Categories
---
---