---
Roy Mansfield here - Pastor of Spiritual Development at Northstar Church in Panama City, Florida, former Director of Training for Church Leader Insights and regular guest contributor to Nelson's blog…
When I was younger… when I didn't have kids… when I had less responsibility… when I… [insert pathetic excuse of your choice here] I was the self proclaimed "King of Romance."  I have put quotations around this phrase because no one outside of the complex inner workings of my own brain actually made this proclamation.
Because I live with my wife and 2 teenage daughters the "Lifetime" logo shows up in the lower right hand corner of my television screen a lot more often than that of "ESPN." As a result I have the opportunity to observe a lot of (poorly acted) "romance."
I have noticed a pattern in the kind of romance that wins the girl in these movies. Here's an example:
Girl: I just don't think this can work out between us
Guy: [sweat forms on brow] uhh…  ummm… grunt… [clears throat]… [gagging sound]…
[As girl walks toward door] Guy: You have 6 kinds of smiles.
Girl: What?
Guy: You have 6 kinds of smiles.  One when you're laughing at something funny.  One when you're with your friends. (continue 4 more times with slight variation)
Girls throws herself into the guys arms (in slow motion of course), they kiss passionately and live happily every after.
Far be it from me to compare the Lifetime channel with The Bible, but giving this laser focused attention to someone is quite Biblical:
"Be devoted to one another in brotherly love; give preference to one another in honor" – Romans 10:12
In the original Greek, the word we translate "preference" in this verse means to "think first."
We honor people when we give them our attention and "think first" of them.  In addition to being a great way to "win the girl" it's also an excellent leadership principle.
When I served on Nelson's staff he once overheard me mention I had always wanted to go on a hot air balloon ride. He later gave me a hot air balloon ride for my wife and I as a birthday gift.
As you can imagine this was an extremely meaningful gift.  He accomplished exactly what Romans 10:12 described.  I felt extremely honored.
Why don't you select someone you lead that you would like to honor?  
For the next 7 days be very attentive to what they say and do, looking for something that you could turn into an opportunity to show them honor.
It will take some discipline to actively "not merely look out for your own personal interests, but also for the interests of others" (Philippians 2:4), but it will be well worth the investment.
- Roy Mansfield
www.growingtogether.cc
Posted On: August 30, 2012
Summer is in its final throes across the U.S.  That means autumn is fast approaching, bringing it with it one of the greatest opportunities you have all year to reach the people of your community with a Big Day!
A big day is an all-out push toward a single Sunday for the purpose of breaking the next growth barrier and setting an attendance record, in order to reach as many people as possible for Jesus.
And one of the best times for such a day occurs about a month after school starts back – so time is of the essence, but you can still conduct a powerful, life-changing Big Day at your church this fall.
I go into great detail in my book Ignite and The Ignite Seminar as to HOW (the step-by-step process) to prepare for a Big Day, but today I want to focus on WHY you should not neglect this opportunity.
Here are the top four reasons for you to plan and conduct a Big Day this fall:
1. To reach new people

The biggest reason is to cooperate with God in reaching the most people possible for the kingdom while we still can. You can't just stick to the status quo and assume that your people will be filled with a passion to reach others for Jesus.  The vision for a big day begins with a heart to reach new people before God's final big day.

2. To make the devil mad

Every once in a while it's good to do something that will irk Satan. If he's not bothered by what you are doing, you must not be doing much against his cause. Or as a pastor/mentor of mine once advised me, 'If you haven't met the devil head on lately, maybe its because you are moving in the same direction!'

3. To grow the Christians in your church

When you share your vision for reaching a new level through a big day, you will find people more than willing to give extra time and energy to the cause. You will spur them on to greater spiritual growth by giving them the opportunity to take part in something bigger than themselves.

4. To build momentum in your church

Big days build momentum by uniting your people in a common goal, attracting buzz from the community, and propelling you to the next level of growth.
So Are You Convinced Yet?  
Set the date today and begin doing everything you can to plan, prepare and conduct a Big Day to reach the people in your community like never before – and set the tone for an amazing season of ministry.
For more information on the how and why behind "Big Days," click here.
P.S. I'd like to help you plan and prepare for all of your Big Days next year – as well as provide you with the training and tools you need to upgrade your church's systems for greater health and growth.
My brand new Tele-Coaching Network for Senior Pastors begins THIS Thursday, August 30, and I still have a few more spots for pastors like you (who are serious about reaching people for Christ).
Posted On: August 28, 2012
After coaching over 1,200 Senior Pastors since 2006, I take great pleasure in seeing how God is using those pastors and their leadership to impact His Kingdom.
One such pastor is Gabe Kolstad, a multi-time Advanced Coaching Alumni and Senior Pastor of Westside Community Church in Beaverton, Oregon. I've asked him to share a series of posts in the coming weeks about what he's learned in leading a healthy, growing turnaround church.
Enjoy:
Guest Post – One Powerful Question for Making Changes In Your Church

Gabe Kolstad here, and I'm excited to be part of Nelson's blog for the next few weeks.  I've learned so much by connecting with him and the CLI family and it's a privilege to be part of it.

In my experience leading a turnaround church over the past 5 years, I've had my fair share of wounds and scars as a result of making changes that I knew were necessary, but weren't always popular.  As I've discovered, we can get better at making changes by understanding which changes need to come first, and what makes change effective.

I'm talking today about asking a very simple but powerful question when it comes to the subject of change in our churches.  The truth is, doctors ask it, mechanics ask it, and technicians of all kinds ask it.  But for some reason pastors are notorious for not asking this important question – one of the most basic questions for improving any situation.

The question is, "Where does it hurt?"  

As a pastor I agree that this can seem like a simplistic approach.  It should be harder than that, right?  But the truth is that God gives us pain so we'll know when something is wrong.  Think about it.  What if your hand DIDN'T hurt when you touched a hot stove?  You could do some serious damage before making a course correction.

Apparently God has given pain as a gift in order to save us from even more dangerous pain.  

So what needs to change in your church?  Most likely the thing that hurts the most.

The area where you feel the most pain is a great place to turn your attention in order to improve the health of your church, make a bigger difference, and bring God glory.

If you're like me you'll have more than one answer to that question.  You might say "finances" or "conflict" or "staffing" or "time management" or "planning" "facilities" or some variation of those issues.

In that case save yourself even more pain and take this advice: Address the pain that will cost you the least, create the quickest win, and bring the greatest return on resources.  In other words, make the smartest change first.  After all, the Church belongs to Jesus and we are His managers.

 When I was just getting ready to change positions at our church 5 years ago (from Associate Pastor to Lead Pastor), the answer to our pain question was, SYSTEMS!  We were in pain because we had to constantly reinvent every process in our entire church all the time.

I'm thankful for the wisdom I've gained and the strategies I've learned from Nelson to introduce systems for a healthier church.  With systems in place we have had the energy to address the other hurts in our church so we can become all that God has in mind.

 So…where does it hurt?

Over the next few weeks we'll be taking a look at some proven and practical tips for leading changes in your church that will lead to health, growth, and Kingdom impact.  Stay tuned!

Gabe
P.S. If you answer the "Where does it hurt?" question like Gabe – the lack of healthy church systems – I (Nelson) would like to help you.
My new Senior Pastor Tele-Coaching Network starts THIS Thursday, August 30, and over the next 12 months, I'll teach you and help you implement each of the 8 systems of a healthy church.
Posted On: August 27, 2012

"You're the same today as you'll be in five years except for the people you meet and the books you read."
- Charlie "Tremendous" Jones, Author & Motivational Speaker
Posted On: August 25, 2012
There is nothing more exciting to me than celebrating Baptism!  I love the imagery, the public profession of faith and the tangible picture of lives transformed by Jesus.
That's why just last week I led a series of brand new webinars called "7 Ways to Increase Your Baptisms" (more on that below – including how you can watch a free recording).
And that's also why I enjoy hearing about how God is blessing Baptism at churches all over the Church Leader Insights family.
Here's an email I got just recently from Mike McGown – one of my Advanced Coaching Alumni and Senior Pastor of Parkway Fellowship near Houston, Texas:
Hey Nelson!

Thought you might want to know that I preached an entire message on baptism yesterday at church and offered a chance for people to be baptized immediately after each of the services.

We baptized 56 people yesterday, including 4 first-time guests!  Additionally, we had 35 sign up for baptism for the next week and an additional 15 scheduled for baptism on the afternoon of 8/26.

Total of 106 people that will be baptized in 3 weeks!

That doesn't include the 29 children (5th grade and under) that will be taking a baptism class next Sunday.  Those that are ready will be added to the list to be baptized on 8/26 or the month after.

Thanks,

Mike
Thanks for sharing Mike – 106 Baptisms in 3 weeks… Go God!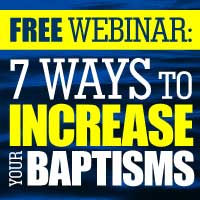 P.S. Are you ready to Baptize more people at your church too?
For the next week, you can watch the Free Recording of my NEW Webinar, "7 Ways to Increase Your Baptisms" at your convenience.
You'll learn:
Proven, practical tips to raise the value of Baptism, church-wide.
How to promote upcoming Baptism opportunities to the right people in the right ways.
How to follow up with those who have signed up to ensure their participation at Baptism.
How to use your previous Baptisms to promote the next celebration.
And much more!
Click Here to Watch the Baptism Webinar Recording On-Demand Now
Posted On: August 23, 2012
My brand new Senior Pastor Tele-Coaching Network starts next Thursday (August 30) and I still have room for a few more pastors – that's got me thinking about what makes someone a good fit for the network…
Pastors apply for the network because they're serious about reaching more people for Christ, making a bigger Kingdom impact, and realizing more of their potential (as individual leaders and as a church).
For example – here's an email I got recently from Mark Snead, a member of my Tele-Coaching Network and Senior Pastor of Greater Life Church in Nampa, Idaho about his experience:
Hey Nelson,

I wanted to give you this testimony about our Church.

At the end of 2010, My wife and I read several books on first time guests, including "Fusion". We began implementing the assimilation process and almost immediately saw the effects. We had a good majority of our first time guests return. We didn't start growing immediately but you could sense we were gaining emotional and spiritual momentum.

We started 2011 averaging about 53 people per Sunday. We ended the year averaging about 61. We also took your advice about "what gets measured." The first quarter of this year we averaged 63.1, with a total of 21 first time guests and 10 second time guests. By April, we were averaging 74.6 with 8.2 first time guests and 4.7 second time guests.

Last Sunday we had 91 people with 2 first time guests and 4 second time guests.

Implementing what you wrote in "Fusion", planning and organizing our annual preaching calendar, promoting Big Days and Easter, all have had an effect on our attendance. Our attendance is averaging 50% higher than the beginning of 2011. We have had at least 68 first time guests and 32 second time guests… Almost as many first time guests as all of 2011.

We really do appreciate all of your help and guidance.

God Bless,

Mark Snead
Greater Life Church
Great stuff Mark! I look forward to hearing how God continues to use the network to grow and strengthen your church.
How about you?  Are you looking for some help and guidance to lead your church more effectively?
My new Senior Pastor Tele-Coaching Network starts NEXT WEEK – Thursday, August 30 – and I still have space for a few more pastors like you.
For more information and to Apply Now, visit:
Posted On: August 22, 2012

"If it is a mist in the pulpit, it is a fog in the pew."
- Howard Hendricks, Professor, Dallas Theological Seminary
Posted On: August 18, 2012
"The earthly form of Christ is the form that died on the cross. The image of God is the image of Christ crucified. It is to this image that the life of the disciples must be conformed; in other words, they must be conformed to his death (Phil 3.10, Rom 6.4).
The Christian life is a life of crucifixion (Gal 2.19) In baptism the form of Christ's death is impressed upon his own. They are dead to the flesh and to sin, they are dead to the world, and the world is dead to them (Gal 6.14).
Anybody living in the strength of Christ's baptism lives in the strength of Christ's death."
- Dietrich Bonhoeffer, The Cost of Discipleship
P.S. Did you miss my "7 Ways to Increase Your Baptisms" Webinars this week? Click the link below to watch the webinar recording instantly (at your convenience):
http://www.churchleaderinsights.com/index.php/free-stuff/increase-baptisms-replay
Posted On: August 16, 2012
"A man who knows that he is saved by believing in Christ does not, when he is baptized, lift his baptism into a saving ordinance. In fact, he is the very best protester against that mistake, because he holds that he has no right to be baptized until he is saved."
- Charles Spurgeon
"Baptism separates the tire kickers from the car buyers."
- Max Lucado
"We may never be martyrs but we can die to self, to sin, to the world, to our plans and ambitions. That is the significance of baptism; we died with Christ and rose to new life"
- Vance Havner
"Baptism is faith in action."
- Watchman Nee
P.S. Today's your Last Chance to join me for the FREE "7 Ways to Increase Your Baptisms" Webinar – Sign up now for 11am or 2pm Eastern Today at:
http://www.churchleaderinsights.com/index.php/free-stuff/increase-baptisms-webinar
Posted On: August 15, 2012
"Our justification from sins takes place at the point of saving faith, not at the point of water baptism, which usually occurs later.
But if a person is already justified and has sins forgiven eternally at the point of saving faith, then baptism is not necessary for forgiveness of sins nor for the bestowal of new spiritual life.
Baptism, then, is not necessary for salvation. But it is necessary if we are to be obedient to Christ, for he commanded baptism for all who believe in him."
- Wayne A. Grudem, Bible Doctrine
P.S. I'm leading a FREE Baptism webinar 5 times this week – "7 Ways to Increase Your Baptisms" – and I'd like to invite you join me (first ones are today).  Let me help you baptize more people with this brand new webinar! Sign up now at:
http://www.churchleaderinsights.com/index.php/free-stuff/increase-baptisms-webinar
Posted On: August 14, 2012
More Free Stuff...
Search The Blog
Looking for a particular subject? Please enter the keywords in below and press the search button to find what you are looking for...
---
Free E-Newsletter Sign-up
Nelson's Monthly E-Newsletter
The Church Leader Insights bi-weekly publication sent via email focuses on effective leadership, church growth, church planting, evangelism and much more.
---
Blog Categories
---
---