---
There is nothing more exciting to me than celebrating Baptism!  I love the imagery, the public profession of faith and the tangible picture of lives transformed by Jesus.
That's why just last week I led a series of brand new webinars called "7 Ways to Increase Your Baptisms" (more on that below – including how you can watch a free recording).
And that's also why I enjoy hearing about how God is blessing Baptism at churches all over the Church Leader Insights family.
Here's an email I got just recently from Mike McGown – one of my Advanced Coaching Alumni and Senior Pastor of Parkway Fellowship near Houston, Texas:
Hey Nelson!

Thought you might want to know that I preached an entire message on baptism yesterday at church and offered a chance for people to be baptized immediately after each of the services.

We baptized 56 people yesterday, including 4 first-time guests!  Additionally, we had 35 sign up for baptism for the next week and an additional 15 scheduled for baptism on the afternoon of 8/26.

Total of 106 people that will be baptized in 3 weeks!

That doesn't include the 29 children (5th grade and under) that will be taking a baptism class next Sunday.  Those that are ready will be added to the list to be baptized on 8/26 or the month after.

Thanks,

Mike
Thanks for sharing Mike – 106 Baptisms in 3 weeks… Go God!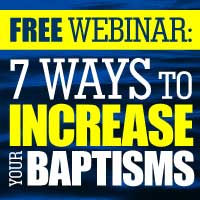 P.S. Are you ready to Baptize more people at your church too?
For the next week, you can watch the Free Recording of my NEW Webinar, "7 Ways to Increase Your Baptisms" at your convenience.
You'll learn:
Proven, practical tips to raise the value of Baptism, church-wide.
How to promote upcoming Baptism opportunities to the right people in the right ways.
How to follow up with those who have signed up to ensure their participation at Baptism.
How to use your previous Baptisms to promote the next celebration.
And much more!
Click Here to Watch the Baptism Webinar Recording On-Demand Now
Posted On: August 23, 2012
0 Comments
Add Comment
More Free Stuff...
Search The Blog
Looking for a particular subject? Please enter the keywords in below and press the search button to find what you are looking for...
---
Free E-Newsletter Sign-up
Nelson's Monthly E-Newsletter
The Church Leader Insights bi-weekly publication sent via email focuses on effective leadership, church growth, church planting, evangelism and much more.
---
Blog Categories
---
---