---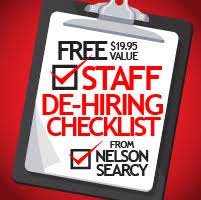 One of the most difficult situations you'll ever face in leading a church staff is when someone resigns.
I've learned from my own personal experience at The Journey that whether it's a "good" resignation or a "not so good" one, it's almost always emotional.
And it's easy to miss important steps in the process if you're not prepared ahead of time.
At The Journey, we've developed a "staff resignation checklist" that we use to make sure nothing is forgotten in the transition that could come back to hurt the church, the remaining staff or the outgoing staffer.
There's no need for you to make the same mistakes I've made, so…
TODAY I'd like to give you a FREE Download of The Journey's "Staff Resignation Checklist," to insure that you're ready to respond when you have to deal with a staff member leaving:
http://www.churchleaderinsights.com/index.php/free-stuff/free-resignation-checklist
No one likes to deal with this sort of thing – it hurts on multiple levels! But by downloading this simple document, reviewing it and saving a copy for future reference, you'll prepare yourself and protect your church should the time come.
And don't let the fact that it's short (and painfully practical) keep you from seeing the benefit. Miss any step on the checklist and you'll regret it later (the consequences can be painful and costly to you and your church).
I don't want you to be caught unprepared, so take a moment now to grab your copy – it only takes a few seconds to download.
Your Partner in Ministry,
Nelson
P.S. When you download your checklist, you'll also have an opportunity to sign up for a FREE "Top 3 Staffing Mistakes Webinar" that I'm leading several times over the next couple of weeks.
I'll share with you the three most common mistakes Senior Pastors make in the area of staffing, and how you can avoid them.
Wouldn't you rather learn from my mistakes instead of having to make them all yourself
Here's the link again:
http://www.churchleaderinsights.com/index.php/free-stuff/free-resignation-checklist
Posted On: October 16, 2012
0 Comments
Add Comment
More Free Stuff...
Receive Nelson Searcy's FREE "Healthy Systems, Healthy Church" E-book ($23.95 value)!
Just complete the form below and you will receive your free copy:
God designed all the parts of the body - both the church body and the physical body - to work together,
allowing us to fulfill God's purposes and plans on this earth. And both of those respective bodies function best through well-developed systems.
Nelson Searcy's revised Healthy Systems, Healthy Church E-Book has been updated to include diagnostic questions for you to determine the current health of your church's systems and practical help as you lead your church to greater health and effectiveness. Just complete the form above to receive your FREE copy!
---
Search The Blog
Looking for a particular subject? Please enter the keywords in below and press the search button to find what you are looking for...
---
Blog Categories
---
---