---
What if I told you that your church could double its attendance on Easter Sunday, March 31?
You and I both know that your church's greatest opportunity to invite your community to attend each year is Easter and it's less than one month away – so I want to give you my BRAND NEW Easter resource AND over $1,155.00 in Bonuses for Only $99!
See, since 2006, I have had the privilege of coaching over 1,100 pastors in my coaching networks to double their Easter impact – both in Easter Sunday attendance and through effective follow-up after the Big Day.
And during this time, I've developed a list of 25 proven ideas (that we've used at The Journey and I've seen work in all these alumni churches).
Now, for the first time, I've compiled all 25 of these practical, easy to implement, but often overlooked ways to double your Easter attendance into one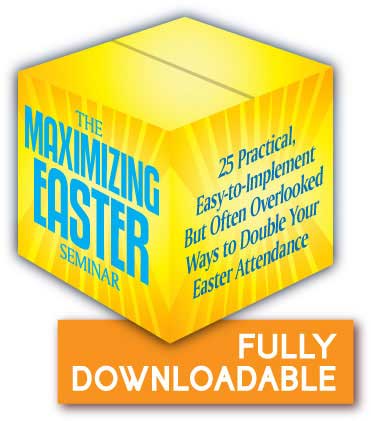 comprehensive, three-hour resource, The Maximizing Easter Seminar (a $299.95 value).
But since time is of the essence to make the most of THIS Easter (less than a month away), I'm giving you an added incentive to secure your copy and get started ASAP:
Order "The Maximizing Easter Seminar" this week (Today or Tomorrow) for only $99 ($200.00 savings) AND you'll receive over $1,155.00 in Bonuses – see the P.S. below for a full list of your bonuses.
In addition to your savings and your bonuses, you'll receive scores of sample files, documents, promotional pieces and the complete Journey Church Easter Checklist, and (most importantly) you'll learn:
The first – and most accessible – action you can take to double your Easter attendance.
How your faith will dynamically affect how you plan, prepare and implement your Easter plans.
The three times when people in your community are most likely to attend church.
Why and how you can educate your community (and your people) on when Easter falls on the calendar.
How to raise the intensity of your promotion as Easter approaches.
The unmatched opportunity Easter provides to try new things.
What to do (and what NOT to do) with your Easter preaching plans to celebrate the resurrection and help attendees grow spiritually.
How to ask for commitment from first time guests to return again.
The essential elements of a successful Easter service (and why "normal" is a good thing).
Why Easter Sunday is NOT the right time to bring in guest speakers and musicians.
How to utilize your post-Easter calendar to re-engage your Easter guests.
Who to expect in attendance the week after Easter.
Why your new sermon series shouldn't get top billing in your Easter promotion.
How much of your annual promotional budget to invest in Easter (and why).
How to mobilize your leaders to pray, prepare and invite others in advance.
How to incorporate prayer and fasting, church-wide, in preparation for Easter.
The tools and timing of how to mobilize everyone in your church to invite friends.
Why your personal Easter invite list (or lack thereof) could be limiting your attendance potential.
How to promote your Easter Sunday service(s) without scaring away the unchurched in your community.
The "principle of spiritual readiness" and how to insure that you're ready for whomever God chooses to send on Easter.
The 100%, non-negotiable requirement for post-Easter follow-up.
How to give your Easter attendees a reason "why" to share their information with you.
How a maximized Easter will help your church grow in the fall.
The final step of celebration you should include in each year's Easter plan.
…and much more!
Sounds like a lot, right? It is, so I've gone through and broken down each idea in such a way that you can easily implement it in your church.
PLUS, you'll receive sample documents and files that will help you see how we prepare at The Journey to maximize Easter!
And as part of your bonuses, you'll receive a FREE month in my Renegade Pastors Network – where I can personally walk you through planning and implementing your best Easter ever, including answering your specific, "how can I do this in my church" questions.
Here's the truth:
Most pastors and churches fail to maximize Easter because they just do what they've always done and hope for better results. That's the "average" approach to Easter – and you're anything but average.
Don't let this be an "average" Easter – secure your copy of "The Maximizing Easter Seminar" today or tomorrow for only $99 and receive all your bonuses ($1,155.00+ value).
Here's the link to secure your copy now:
www.ChurchLeaderInsights.com/easter
But don't put this off – Easter is on its way and this $99 opportunity expires tomorrow (Friday, March 1).
Here's to the greatest Easter yet,
Nelson
P.S. Download The Maximizing Easter Seminar today or tomorrow for just $99 (regularly $299.95) and you'll receive the following bonuses (over $1,155.00 value):
| | | | |
| --- | --- | --- | --- |
| FREE first month of my Renegade Pastors Network – including Immediate Bonuses ($912.20 Value) | Starting A Second Service ($29.95 Value) | The Big Day ($29.95 Value) | The Top 5 Evangelistic Outreach Tools ($19.95 Value) |
| Maximizing Easter E-Book ($23.95 Value) | The Power of a Combined Service ($19.95 Value) | Maximizing Easter Podcast ($19.95 Value) | The Evangelism Seminar ($99.95 Value) |
Secure your copy of The Maximizing Easter Seminar today or tomorrow at:
www.ChurchLeaderInsights.com/easter
Hurry – $99 opportunity + bonuses expire tomorrow (Friday, March 1)
Posted On: February 28, 2013
0 Comments
Add Comment
More Free Stuff...
Receive Nelson Searcy's FREE "Healthy Systems, Healthy Church" E-book ($23.95 value)!
Just complete the form below and you will receive your free copy:
God designed all the parts of the body - both the church body and the physical body - to work together,
allowing us to fulfill God's purposes and plans on this earth. And both of those respective bodies function best through well-developed systems.
Nelson Searcy's revised Healthy Systems, Healthy Church E-Book has been updated to include diagnostic questions for you to determine the current health of your church's systems and practical help as you lead your church to greater health and effectiveness. Just complete the form above to receive your FREE copy!
---
Search The Blog
Looking for a particular subject? Please enter the keywords in below and press the search button to find what you are looking for...
---
Blog Categories
---
---