---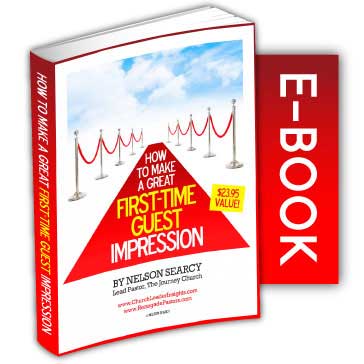 You won't get a second chance.  Seven minutes is all the time you have to make a positive first impression on the first-time guests who walk through your doors.
In the first seven minutes of their experience with your church, your guests will decide whether or not they're going to come back.  That's before a single worship song is sung and before a single word of teaching is uttered.
Maybe that seems unfair to you but, fair or not, it's true. Blame it on the power of the God-given subconscious mind.
Obviously, your guests aren't making a well-thought-out decision based on the integrity of the preaching (they haven't heard it yet), the character of the church staff (they've never met them), or the clarity of your doctrine (what's doctrine?).   They're not weighing the pros and cons of your worship style and theological viewpoints.
Instead, they are taking in clues about your church's atmosphere and people's friendliness on a much more rudimentary level.  Their subconscious minds are working overtime to evaluate their compatibility with this new environment.
So the question becomes: How can you, as a church leader, take advantage of this reality?  That is, how can you identify and strengthen what's actually being judged? What factors and feelings play into a guest's first impression? How much control can you have over doing things in a way that will make the experience a positive one?
To truly get a glimpse of the power of your church's first impression on a guest, you need to step to the other side and look at the experience from a first-time guest's point of view.
I want to show you how.  In my brand new FREE e-book, How to Make a Great First-Time Guest Impression, I'm going to show you step by step how to put your first-time guests' experience into perspective and how you can improve it!  Let me show you how to really make those first 7 minutes count!
Click here to download your FREE copy of my brand new e-book, How to Make a Great First-Time Guest Impression!
Your partner in ministry,
Nelson
P.S. Discover the three most common mistakes churches make in connecting new people AND how you can avoid them!
Join me for The Top 3 Assimilation Mistakes Webinar this week.  In this FREE one-hour webinar, you will discover the three most common mistakes churches make in connecting new people AND how you can avoid them!
Click here to register for the date and time most convenient for you!
Posted On: August 13, 2013
0 Comments
Add Comment
More Free Stuff...
Receive Nelson Searcy's FREE "Healthy Systems, Healthy Church" E-book ($23.95 value)!
Just complete the form below and you will receive your free copy:
God designed all the parts of the body - both the church body and the physical body - to work together,
allowing us to fulfill God's purposes and plans on this earth. And both of those respective bodies function best through well-developed systems.
Nelson Searcy's revised Healthy Systems, Healthy Church E-Book has been updated to include diagnostic questions for you to determine the current health of your church's systems and practical help as you lead your church to greater health and effectiveness. Just complete the form above to receive your FREE copy!
---
Search The Blog
Looking for a particular subject? Please enter the keywords in below and press the search button to find what you are looking for...
---
Blog Categories
---
---