---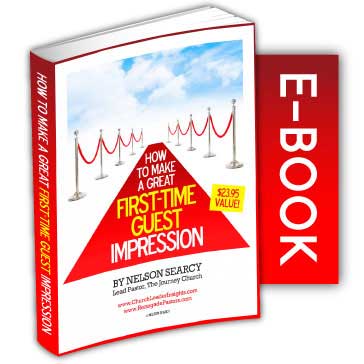 The pre-service is your first opportunity to interact with everyone who sets foot on your church's property – from first-time guests to long-time members – but its purpose and influence is particularly important for first-timers.
Think of it this way: Your pre-service mission, if you choose to accept it, is to do everything you can to take your guest's guard down (and even put a smile on his face) before the service begins.
There are four primary ways you can influence your guests during the pre-service.  By controlling how they are:
Greeted
Directed
Treated
Seated
Creating an environment that makes your first-time guests feel both welcomed and respected is key to winning a return visit and beginning the process of assimilating them well.
When God entrusts you with first-time guests, you face an incredible responsibility. One of the best ways to acknowledge your guests as the gifts they are is by having a pre-service in place that will far exceed their expectations and create that elusive positive first impression.
You'll excite them to want to visit your church again and again, so that they can ultimately learn about the excellence, graciousness, hospitality and generosity of the One after whom you are modeling everything you do.
To learn more about how to Greet, Direct, Treat, and Seat your first time guests, click here to pick up a FREE copy of my brand new e-book, How to Make a Great First-Time Guest Impression. 
Your partner in ministry,
Nelson
P.S. Discover the three most common mistakes churches make in connecting new people AND how you can avoid them!
Join me for The Top 3 Assimilation Mistakes Webinar this week.  In this FREE one-hour webinar, you will discover the three most common mistakes churches make in connecting new people AND how you can avoid them!
Click here to register for the date and time most convenient for you!
Posted On: August 14, 2013
0 Comments
Add Comment
More Free Stuff...
Receive Nelson Searcy's FREE "Healthy Systems, Healthy Church" E-book ($23.95 value)!
Just complete the form below and you will receive your free copy:
God designed all the parts of the body - both the church body and the physical body - to work together,
allowing us to fulfill God's purposes and plans on this earth. And both of those respective bodies function best through well-developed systems.
Nelson Searcy's revised Healthy Systems, Healthy Church E-Book has been updated to include diagnostic questions for you to determine the current health of your church's systems and practical help as you lead your church to greater health and effectiveness. Just complete the form above to receive your FREE copy!
---
Search The Blog
Looking for a particular subject? Please enter the keywords in below and press the search button to find what you are looking for...
---
Blog Categories
---
---