---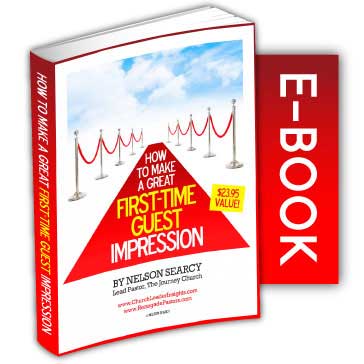 Memorize the next sentence and make it your mantra:
Everything speaks to a first-time guest…. Everything.
From the moment a guest sets foot on your property, he tunes in to receive the message your church is sending.
You have an obligation to strive for excellence. You don't have to be perfect, you just  have to do the very best you can with what you've got – which is the definition of Godly excellence.
The thinking behind "Greeted, Directed, Treated and Seated" may be a paradigm shift for you. Until this point, your plan for first-time guests may have been simply to get them through the door and make your impression with the service itself. While that sounds good in theory, research has shown that you don't have that luxury.
By the time your service starts, your guests have already made judgments about your environment, interacted with people who may or may not have rubbed them the right way, figured out how to navigate your hallways, and found themselves a seat…more than enough experience with your church for a gut-level impression to have firmly formed.
And once the first impression has been made, you can do very little in the service itself to change it. If they have already formed a negative impression, that impression becomes the lens through which they view everything else over the next hour or so.
Conversely, if you create a "raving fan" in the pre-service, they will engage in the rest of your service with a heightened enthusiasm, which leaves them more open to hearing from God.
With a strong pre-service in place, seven minutes is all you need to show your guests just how much you care about them and want them back!
Let me show you how to fully integrate the principles of "Greated, Directed, Treated, and Seated" into your assimilation system.
Click here to download a FREE copy of my new e-book, "How to Make a Great First-Time Guest Impression!" 
Your partner in ministry,
Nelson
P.S. Discover the three most common mistakes churches make in connecting new people AND how you can avoid them!
Join me for The Top 3 Assimilation Mistakes Webinar this week.  In this FREE one-hour webinar, you will discover the three most common mistakes churches make in connecting new people AND how you can avoid them!
Click here to register for the date and time most convenient for you!
Posted On: August 15, 2013
0 Comments
Add Comment
More Free Stuff...
Receive Nelson Searcy's FREE "Healthy Systems, Healthy Church" E-book ($23.95 value)!
Just complete the form below and you will receive your free copy:
God designed all the parts of the body - both the church body and the physical body - to work together,
allowing us to fulfill God's purposes and plans on this earth. And both of those respective bodies function best through well-developed systems.
Nelson Searcy's revised Healthy Systems, Healthy Church E-Book has been updated to include diagnostic questions for you to determine the current health of your church's systems and practical help as you lead your church to greater health and effectiveness. Just complete the form above to receive your FREE copy!
---
Search The Blog
Looking for a particular subject? Please enter the keywords in below and press the search button to find what you are looking for...
---
Blog Categories
---
---