---
Category: Worship Planning
Jason Hatley here – Pastor of Worship Arts at The Journey and Founder of Worship Leader Insights.
Recently, I was asked to speak to a group of pastors in Orlando and while I was there, I was invited to go on a "behind-the-scenes" tour of Walt Disney World.
Needless to say… I was excited!  Sure it was going to be fun, but the real reason I love experiences like this is because I believe that God has ministry lessons for you wherever you are, if you're looking for them.
My ears were open and my eyes were peeled.  But even I was surprised by how applicable these THREE BIG leadership lessons are to what you and I do every week in leading our churches and Worship Ministries.  (I'll cover the first one today).
Here it is:
#1 – OVER-MANAGE THE DETAILS
That is… don't assume.  Go above and beyond to ensure that every detail that can be planned and examined is… well… planned and examined.
Let me explain.
Early in our tour, we found ourselves backstage at one of Disney's "audio-animatronic" shows. It was early that morning before the show opened to the public.  If you've been there before, you know that these robots that depict American Presidents and other historical figures are incredibly life-like.
But they're not human… they're robots.  They run on a computer program and do the exact same thing in the exact same way at the exact same time every day (sounds like some churches I've been to – ha!).
The point is… they don't have to rehearse because they always do the same show.
Yet there I stood early that morning, watching as a robot show that has played almost identically for over 30 years went through it's daily morning test run.
No one was there to see it, but the engineers told our group, "We do this test run every morning because we want to make sure that the show that our guests see today is the very best it can be."
To some it may seem like a waste of time, but these guys were so committed to excellence that they went above and beyond, looking for anything that might keep these robots from performing at their best.
Now – in our churches we don't really use the terms "show" and "performance", but the principle is right on.
Over-manage the details.
When it comes to your worship service this Sunday…
Don't assume that all the individuals on your team know they're serving. Confirm them by phone or email to ensure it.
Don't assume that your band knows how you want to do the song at rehearsal. Send them some notes early in the week to inform them.
Don't assume that the video and lighting transitions will happen at the right time. Take some time to practice those in your cue-to-cue Sunday morning (more on this idea next week).
Don't assume that the broken piece of equipment from last week will work fine this week. Have it repaired and test it before Sunday.
Charles Swindoll says: "The difference between something good and something great is attention to detail."
Let's not settle for a "good worship experience" when, with attention to some key details, we can provide a "life-transforming worship experience".  God has already promised that He'll do His part. Now let's do ours!
Be fanatical about the details. Lead your team to care about the details.
Doing so (I believe) is an act of worship.
Your partner in ministry,
Jason
P.S. Learn more about how to build healthy systems for your church to grow and reach more people on the FREE "Introduction to Church Systems" Webinar with Nelson.
Jason Hatley here . . . Pastor of Worship Arts at The Journey and Founder of Worship Leader Insights.
Have you ever noticed how, when leading worship, you and your team can be totally immersed in the moment, but when you look around the congregation looks like they're stuck in line at the grocery store?
Arms crossed. Faces stiff. iPhone out. Heart disengaged.
I'm sure that's never happened to you, right?
Why can you and I be so "in the moment", and the congregation be so "out of it"?
The reason is because the congregation doesn't experience the worship set the way you and I do.
They aren't hearing what we hear (or should I say feeling what we feel).
We're actually playing the music, feeling the connection with other musicians, onstage and amplified.  In short . . . we're fully invested.  Whereas the congregation can oftentimes feel like bystanders, simply observing what's happening onstage.
If they could somehow "plug" into us like a power cord into an outlet so they feel what we feel, this divide wouldn't exist.  But we all know that's not the way it works. And our job is to not only experience worship ourselves, but to lead them to do the same.
For the last two weeks we've been talking about how you can create powerful moments in your Christmas worship sets, and the best way to do that is to answer these questions:
What do I want them to know?
What do I want them to feel?
What do I want them to do?
In this series, we've already talked about "know" and "do", so the question for today is:
"HOW DO I HELP THEM FEEL WHAT I FEEL?"
It's a matter of planning.  I know — it sounds strange to say that when we're talking about "feeling", but go with me on this…
Great moments in worship don't have to be accidental.  They can be planned and discovered in advance.
With the right spoken transition, the right lighting or the right stage change (just to name a few), your worship set can go from unremarkable to irresistible.  Here's how:
#1 – Be true to the feeling of the song.  If you're singing a rockin' opening worship song, and you want your congregation to move, clap and sing, then you can't stand onstage like a knot on a log.  You have to move, clap and sing as well (only bigger).  As live music producer Tom Jackson says, "Don't sing rock songs if you aren't going to rock."

#2 – Set the stage for the emotion you want to create.  Two weeks ago we sang a quiet acoustic version of "He Leadeth Me".  So to set the stage, we brought down the lights, simplified the arrangement (2 guitars and vocals), and sat on stools.  By changing they way we presented the song, we were able to help the congregation experience the same quiet emotion we were feeling as we performed it.
#3 – Provide context.  You shouldn't do this for every song (too much talking does not make for a powerful worship set).  But when appropriate use scripture or a short story to create context for a song.
A couple of Sundays ago, we did a message on finding peace this Christmas, and our team did a stirring version "I Heard the Bells on Christmas Day" right in the middle of the message. The song alone could have stood by itself, but to help deepen the connection of the congregation to the moment, our pastor briefly told the story of how Henry Wadsworth Longfellow wrote that poem during the Civil War, and how on Christmas Day the fighting would stop and the soldiers (even across battle lines) would declare peace for one day and celebrate Christmas together before fighting resumed the next day.
Just a little bit of context helped it go from "a nice song" to a worship experience that the congregation will remember next time they hear that song while Christmas shopping.
Each week you and I should put ourselves into the shoes of those in our church and ask, "If I were in the congregation, how would I want the worship leader to draw me into the moment of worship?"
Here's to helping your congregation engage this Christmas!
Jason
P.S. Christmas isn't the only time of year you want to create great moments in your worship service. You can create life transformational moments EVERY Sunday with the Planning Worship Services for Life Transformation Workshop.  Download your copy today.
Posted On: December 14, 2012
Jason Hatley here – Pastor of Worship Arts at The Journey and Founder of Worship Leader Insights.
You've heard me say it before — our goal in worship on Sunday isn't to sing songs, but to create life-transforming moments (thanks to Tom Jackson for introducing me to this principle).
This is especially true as we're preparing music for the Christmas season. But oftentimes, the temptation is to give Christmas music the "same old treatment" that it received last year.
Doing the same arrangements of the same songs on the same Sundays we did them last year.
But the story of Christmas is powerful and life-transforming. And the music of Christmas can be as well, if we'll answer these 3 questions as we plan:
1 – WHAT'S THE PURPOSE OF THIS SONG?
Every song in your worship set has a purpose.
Some are "openers" that are designed to be fun or engage the audience from the very beginning (these are typically songs that people in the congregation know from "outside" of church).
At Christmas this may be something like starting with "Rockin' Around the Christmas Tree" or "Run Run Rudolph" (both songs that we've opened with in the past — and really have no theological content whatsoever). But they're fun. They're engaging. And best of all, they're familiar.
These are songs that the congregation is hearing when they shop at the mall. And the next time they are at the mall and hear that song, I want them to think, "The last time I heard this song was when I was at church."
That's the purpose of those types of songs for us… to help people make a connection in their everyday life back to their experience at church and be reminded of what they experienced that day. Call it "reclaiming" if you will.
But these aren't the only songs we do, and we don't do them every Sunday.
Oftentimes we open with a pure "call to worship". These songs are designed to get the congregation up on their feet and singing with a lot of energy. While the song may be new to a few people, these are ALWAYS songs that we've sung before (I at least want our regulars to know it).
We do a new song nearly every Sunday, but we NEVER start with a new song. I don't want to alienate the entire congregation with the first phrase that comes out of my mouth.
So we sing a familiar song here… one that most of the congregation knows (and loves to sing). And when they do, it immediately engages them in worship, and in turn that helps our First Time Guests relax and feel comfortable engaging, too.
So, as I've been finalizing our worship services for this Christmas I've been looking for songs that have the right feel for "calling" everyone together in our context — high energy, guitar-driven Christmas songs.
Other songs serve as a "transition" song that take you from high energy to a more focused and quiet moment. Still others are worship songs that can be re-cast as Christmas songs.
For example, on our first Sunday after Thanksgiving we're doing two Christmas songs, but we're also doing 2 songs that aren't "officially" Christmas songs, but because they're lyrics tie in, they take on a new life as Christmas songs in that moment.
You get the picture.
Remember - Great worship sets are built by prayerfully putting the right songs in the right place for the story that you want to tell on Sunday.

Next week we'll pick up with question #2. In the meantime, take some time to ask yourself:
1) Do each of the songs that I choose for a Sunday service have a purpose?
2) Are we just "singing songs" on Sunday, or am I actively looking for the moments in each worship set?
3) What are my values for music planning?
Understanding the purpose of the song can help you decide the best way to use it… and how to create a moment during it.
Your partner in ministry,
Jason
P.S. Are you ready to start creating moments EVERY Sunday?
My resource, Leading with Authority in Rehearsal, will teach you how to locate the moments of life transformation in your worship order and make the most of the opportunities you have to lead your congregation in worship every week.
Posted On: December 05, 2012
You're invited to join me this week on one of 8 free webinars I'm leading called "Planning Your 2013 Preaching Calendar."
After coaching more than 1,100 pastors over the last few years, I've learned that one of the best tools for reducing your stress, maximizing creativity, honoring God and working with the natural patterns of your people is planning your preaching calendar months in advance.
With that in mind, I am committed to doing everything I can to help you plan out what you're going to preach in 2013.
My bestselling "Planning a One Year Preaching Calendar" resource lays out the principles of how to plan your preaching a year in advance, but next week I want to go a step further!
That's why next week I'm doing this series of FREE WEBINARS for pastors called "Planning Your 2013 Preaching Calendar," where I will literally walk you (via a simple online webinar connection) through the 2013 calendar during the course of our 75-minutes together and help you plan what you're going to preach over the next year.
You can register now at this link:
http://www.churchleaderinsights.com/pcwebinar
This is NOT the same general training that I teach in the 1 hour preaching calendar resource…
Instead, I will help you APPLY the preaching calendar "principles" to the unique makeup of the 2013 calendar.
In each of these webinars, I will walk you through:
* When, specifically, to plan your 2013 Big Days (and when not to plan them).
* The pitfalls and possibilities built into the 2013 calendar
* How to make the most of people's natural seasonal patterns.
* The best times in 2013 for each of the 3 different types of sermon series (attraction, growth & balance).
* How to make Easter in 2013 more effective than ever at your church.
* Which days you can expect fewer people and how to best use those days.
* Plus much more!
I don't remember being more excited about any of the webinars we've done than I am about these!
Church Leader Insights exists to help you "maximize your ministry" and this webinar is my virtual opportunity to sit down across the table from you (or at least by computer) and walk you through this planning process.
Register now for one of 8 convenient times on the following days:
TOMORROW (Tuesday, November 13):
11:00am Eastern
2:00pm Eastern
7:00pm Eastern
WEDNESDAY, November 14:
11:00am Eastern
2:00pm Eastern
7:00pm Eastern
THURSDAY, November 15:
11:00am Eastern
2:00pm Eastern
http://www.churchleaderinsights.com/pcwebinar
 Thanks for your continued support of Church Leader Insights and I can't wait to talk to later this week!
If you have any questions or prefer to register by phone, simply call 1-800-264-5129.
Remember, all you need is a computer with internet access to join me on one of these webinars. Oh, and did I mention that each one is FREE?
Your partner in ministry,
Nelson
P.S. Do you know any other pastors who would benefit from one of these webinars?
Please forward this invite to them — I'd love for them to join us!
Here's the address to sign up again:
Posted On: November 12, 2012
I consider it an honor and a tremendous blessing that God has allowed us the opportunity to invest in church leaders each and every day through the ministry of Church Leader Insights.
With several thousand pastors in the Church Leader Insights family, you might imagine that I get to hear from a lot of them (and I really enjoy hearing stories of how God is at work in your church too!).
But with all the hundreds of messages I get, there are several themes that seem to pop up over and over again.
Two of the most common (definitely in the top 5) issues I hear about from pastors are:
How to deal with (or cut down) the stress of leading our church?
What can I do to increase the impact of what we're doing at my church?
Of course, there's no single "magic bullet" that will answer these two questions, but I have found that there's one powerful tool that you can put in place now that will help you reduce your weekly stress AND make better use of the opportunities placed before you over the next year.
That one tool?
An annual Preaching Calendar!
Yep – by planning what you're going to preach on months in advance, you can break free from the pressure and stress of having to plan messages from week to week.
Plus, you can fully engage each of the unique possibilities and avoid each of the pitfalls that occur in the coming months.
Planning your preaching calendar also allows you and your team to be more creative, by allowing more lead time for different elements in each Sunday's service.
And finally, in developing this calendar you'll be able to better leverage opportunities like baptism, membership classes, seasonal outreach events and more – for maximum Kingdom effectiveness!
In short, if you asked me where to start right now to insure that your church makes a bigger difference for Christ in 2013, I'd be hard pressed to find a better starting point than planning an annual preaching calendar.
So, here's how I want to help you in this process: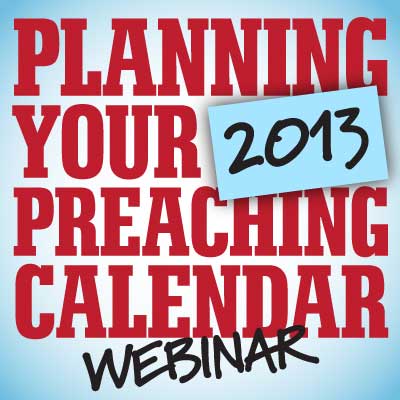 I'd like to invite you to join me NEXT WEEK for one of 8 identical FREE Webinars, called "Planning Your 2013 Preaching Calendar"
Each webinar is 75 minutes long, and in it, I'll walk you month-by-month through my personal 2013 preaching calendar (we plan ours as a team each year), pointing out each of the pitfalls and possibilities that the 2013 calendar provides.
Again, the webinar is FREE, but it's one of the most popular online training opportunities I lead each year, so space is limited.
Click Here to Reserve Your Spot Now for the FREE "Planning Your 2013 Preaching Calendar" Webinar
Posted On: November 07, 2012
Jason Hatley here – Worship Arts Pastor at The Journey and Founder of Worship Leader Insights – with some insights for you as we head into the holiday season…
Last November, my wife and I went to do a little shopping the Tuesday before Thanksgiving. When we walked into the store Bing Crosby's White Christmas was blaring over the sound system.
Don't get me wrong… I love the song, but 2 days before Thanksgiving strikes me as a bit too early. After all, I don't want to skip over the Thanksgiving Day meal. Am I alone on that one?
I know why the department store did it. Because they sell more merchandise when Bing is crooning. But, for you and I, that's not why we play Christmas music.
We do it to celebrate the birth of our Savior. And this time of year, a question I always get from worship leaders and pastors alike is, "How soon is too soon to start singing Christmas music in my church?"
As you might imagine . . . I have a little system for that here at The Journey
So, in the spirit of giving, here is my guide for introducing and selecting music for the Christmas Season:
#1 – INTRODUCE AT LEAST ONE CHRISTMAS SONG THE SUNDAY AFTER THANKSGIVING.
As soon as Santa Claus makes his entrance at the Thanksgiving Day parade, people find themselves in the Christmas spirit.
But also from a church history perspective, that Sunday typically marks the first Sunday in Advent. That's why the first Sunday after Thanksgiving is a perfect time to introduce Christmas music.
But, you don't want to jump immediately to making ALL of your music Christmas music. In fact, you want to slowly add it to your service. That's why I suggest that on this first Sunday, you just do one Christmas song, maybe two depending on how much music you include in your service. And remember rule #2 . . .
#2 – PLAN CREATIVELY FOR HOW YOU WILL WEAVE CHRISTMAS MUSIC INTO THE FLOW OF YOUR SERVICE.
A great way to keep Christmas music fresh each year is to ensure that the music fits into the flow of your existing worship service. If you just carve out 12 minutes at the beginning to sing Christmas songs, yes you will scratch the itch, but the power of the music can be lost. So consider these two options:
Integrate Christmas songs with other worship songs you are singing. As I mentioned earlier, you don't have to move exclusively to Christmas music at the beginning of December. Rather, weave a Christmas song or two into the fabric of your worship set, especially early in December.

For example, you may sing 2 upbeat worship songs that don't necessarily connect to the Christmas season, and then make a transition to a slower song. In the middle of that slower song, work in the refrain "O Come Let Us Adore Him".

By seamlessly adding in Christmas music, you help your congregation connect with the power of these songs in their every-day lives, and not just a specific time of year.
Be on the look-out for new versions of the Christmas classics each year. You may love that upbeat, feel-good version of "Joy to the World", but you may also want to find a new way to make that song meaningful this Christmas. Look for a slowed down, acoustic version.

OR, do what I do . . . I may plan a couple different versions of the same Christmas song during the same season.  What was a celebration song last Sunday could become a quiet commitment song this Sunday. Your congregation will love this fresh approach and the song will be meaningful in new ways when you do this.
Turn current worship songs into Christmas songs. Songs like "Here I am to Worship" (Tim Hughes), "O Praise Him" (David Crowder Band), and "Jesus Messiah" (Chris Tomlin) can double as Christmas songs when placed in the right set with more traditional Christmas songs, or set up by you as the pastor or worship leader.
By planning creatively, you can help people experience a fresh experience of Christmas without just drudging through the same ol' renditions of Christmas carols.
#3 – AS YOU DRAW CLOSER TO CHRISTMAS, INCREASE THE NUMBER OF CHRISTMAS SONGS IN YOUR WORSHIP SET.
The second Sunday of December I would probably do a 50/50 split of Christmas music and current worship music. Then 75/25 the next week. By doing so, you are raising the anticipation of what's to come – and that's exactly what Advent is about.
Then the Sunday leading up to Christmas we would do all Christmas music PLUS look to incorporate other elements to keep it fresh. You can only sing "Silent Night" so many times before it starts to lose it's appeal. So look for opportunities to add creative elements to your worship set.
Ask one of your team members to read a portion of the Christmas story in the middle of the worship set. Include a testimony, video, personal story about Christmas, or even dance in the Christmas worship set.
There are plenty of ideas (I outline even more in my new Planning Powerful Christmas Services Special Report – download it FREE here).
#4 – WRAP UP CHRISTMAS MUSIC BY THE FIRST SUNDAY AFTER CHRISTMAS
Ever notice how on Christmas Eve, no matter how long radio stations have been playing Christmas music, that's still all you want to listen to? But for some reason on December 26, you're ready to put it to rest until next year. The same is true for Christmas music in your church.
Again, depending on what day Christmas falls, you should plan to wrap up Christmas music by the following Sunday.
Here's my rule of thumb:
If Christmas falls between Thursday – Friday, we will sing some Christmas songs that Sunday.
If Christmas is on Saturday or Sunday, it will be 100% Christmas songs!
If Christmas falls between Monday – Wednesday, it can be a little strange to continue singing Christmas music several days after Christmas has past. After all, the Advent season does end on Christmas Day.
So, as you plan your music for Christmas think about how you can begin introducing these great seasonal songs into your worship services, AND how you can keep them fresh!
Your partner in ministry,
Jason
Download your Free "Planning Powerful Christmas Services" special report here.

I wrote this report after planning a decade of Christmas services with our team here at The Journey and having received so many questions about this topic in my coaching networks. I have captured some the most important lessons we've learned in the process and put them in this special report for you.

In this Special Report, you will discover:
Three MUST KNOW Christmas planning principles
How to involve your volunteer team in the Christmas planning process
How to overcome the desire for "opulence" and strive for "excellence"
The basic ingredients for powerful Christmas services . . . and how to add in additional creative elements
How to select music for the Christmas season
When to schedule volunteers and/or hired musicians for your Christmas services
And much more!
Christmas services can be some of the most memorable, and life-transforming services you do all year. But not if they are put together last minute, without a spark of creativity to capture the wonder of Christmas.

Whether you are preparing for the advent season, producing your own Christmas production, or need some ideas for your Christmas Eve service, don't let another year go by just doing the same thing you did last year.

This special report can you help you get started in planning your Christmas services and ensure that this year's Christmas services are all that they can be.

Download your Free Planning Powerful Christmas Services special report here.

And if the special report is helpful for you, be sure to forward this email, TWEET, or Facebook this link for some other worship leaders you know would enjoy this limited time free report.
www.worshipleaderinsights.com
www.jasonhatley.wordpress.com
Posted On: November 06, 2012
Jason Hatley here… Pastor of Worship Arts @ The Journey and Founder of www.WorshipLeaderInsights.com.
Just a couple of Friday nights ago I had the great pleasure of hosting the New Season Kick-off for the Fall season of our Worship Arts Team.
New Season Kick-off is twice-a-year event for everyone on our Worship Arts Team.
We come together before the start of a new season to:
Communicate the vision and values of our team,
Commit to the expectations of our team,
Celebrate the preceding season
Define the Development process for each person serving on on our team.
It's a fun event… but it's also critical to the health and growth of our Worship Arts Team.
In fact, I have hosted over 20 of these events in the last 10 years of ministry at The Journey.
The reason is simple . . .
Agreements prevent Disagreements.
Here's what I mean:
I've found that most problems on a Worship Team are a result of confusion. Over a value, expectation, rehearsal standard . . .  you name it.
Oftentimes, however, the problem doesn't lie in the team member, but in you and I as the leader.
They don't know what you haven't clearly communicated.
For example, if becoming a Church Member is important for your team (like it is for mine), then do the members of your team know that?
Do they understand the importance, expectation and timeline for becoming a Church Member?
Do they know that if they decide not to become a member that will hinder their ability to serve on the team (i.e. – they'll have to take a break until they do become a member)?
For most of us . . .  the answer is "I don't know".
A member of your team can only be held accountable for those things that you have clearly communicated AND gotten agreement on.
For some worship leaders, clearly communicating values and expectations is the problem. You may have considered some values and expectations, but haven't written them down in a way that you can clearly share them with your team. Remember – they can't read your mind!
For others, you may have clarity on your values and expectations and may even communicate them to your team, but you haven't gotten agreement with everyone on them.
For example, everyone knows it's important to show up prepared and on time for rehearsal, but some people still never do.
It's both clear communication and team member agreement that are needed.
And that's what New Season Kick-off does for our team. Sure it's a lot of fun getting together with our team, and sure it's an important time to share vision and inspire them for the next season of ministry, but it is imperative that we regularly communicate and get agreement on the values and expectations of our team so our team members know how to succeed!
In my How to Double Your Worship Team in a Day seminar, I go in-depth about exactly how to plan and hold your own New Season Kick-off (and I even give you my notes and an mp3 of me teaching it to our team at The Journey).
But if you haven't yet had a chance to download that resource, let me share with you a few quick pointers for how to get started:
#1 – Make it a requirement for your entire team (not just the new people). It doesn't matter if they have been once or ten times, it's a requirement for everyone.
#2 – Treat it like Spring Training. Go over the basics, remind your team why you do what you do and help them understand how to succeed on the team.
#3 – Provide a written covenant for them to sign. One of the best ways to get agreement on what it means to serve on your team is to provide a covenant for your team members to sign. By doing so they are saying, "I'm going to do my best to live out these commitments this season."
(By the way – I give you our Worship Arts Team Covenant in the How To Double Your Worship Team resource, too!).
Hold this training at least twice a year and watch as the commitment of your team members goes up, while your disagreements and problems go down.
Your partner in ministry,
Jason
P.S. There's a lot more to the New Season Kick-off Strategy than I can write here.
You can learn all the nuts and bolts in my How to Double Your Worship Team in a Day resource.
Posted On: October 31, 2012
Jason Hatley here – Worship Arts Pastor at The Journey Church and Founder of Worship Leader Insights…
I'll shoot straight with you . . . I don't like it when someone tells me that I'm making a mistake.
Call it foolish pride I suppose. Can you relate?
After all, no one's perfect and I know I make mistakes (just ask my wife and she'll tell you all about it
.
But, usually after I get over my bruised ego and damaged pride and I realize that the person telling me about a mistake I'm making really has my best interest at heart, my grumblings are replaced with gratitude. After all, I've been in ministry long enough to know that I don't know it all and I need people to help along the way.
What if I told you that you and your worship leader are making a BIG mistake in your worship planning that was keeping you from:
    Creating more powerful experiences in your weekly worship service
    Relieving some unnecessary (and unhealthy) stress in your ministry and personal life
    Involving more volunteers in the creative process for planning your services
    Developing the kind of worship planning relationship that you would like to have with your worship leader
Even if you didn't like me telling you that, after the initial shock wore off would you be willing to sit down with me to talk about these issues and some strategic lessons I've learned to overcome them in over a decade of ministry with my Lead Pastor Nelson Searcy at The Journey Church?
That's exactly what I would like to do on the FREE Top 3 Worship Planning Mistakes webinar available TODAY and TOMORROW (Sept. 26-27, 2012).
Chances are I haven't had the opportunity to attend your church, but after having coached over 200 churches, and taught and resourced thousands more in the last 6 years, I've found that there are 3 common mistakes in the worship planning process AND that most pastors and worship leaders are making at least one of them (if not all three).
Plus – I've made some of these same mistakes in the past, too (I told you I'm not perfect – ha!)
In this FREE 75-minute webinar, I want to help you not only identify these 3 mistakes, but I also want to give you some proven practices for how you can overcome them.
I know your time is valuable and I believe this webinar could be a HUGE help to your worship planning process. So what do you say . . . will you join me?
And will you invite your worship leader to join us as well?  What I want to share with you is for BOTH the Pastor and the Worship Leader.
There are 4 WEBINARS to choose from (and there are daytime and evening options).  As you can see, I want to give you every opportunity to be a part of this free training. Here are the dates:
TODAY - Wednesday, September 26 @ 2:00pm OR 7:00pm (your local time)
We're just hours away from this one, so click here to register now.
OR . . .
TOMORROW - Thursday, September 27 @ 2:00pm and 7:00pm (your local time)
Click here to register for Thursday, September 27.
Here's what I want to talk with you about in our time together:
    How to identify the TOP 3 MISTAKES that are keeping you from planning the worship services you want to have in your church.
    How to work together with your Pastor / Worship Leader to create powerful worship experiences every week.
    How to break the week-to-week mindset and begin creating "WOW" moments in worship
    How to overcome procrastination and eliminate the stress of last minute planning
    And much more!
It's easy to be involved . . .
#1 – Register for the webinar that works best for your schedule by clicking on one of the links below. It will take about 30 seconds to complete the registration form on my website.
#2 – You will receive a confirmation email from me with a link to where the webinar will be hosted.
#3 – All you will need for the webinar is a computer. You will be on the webinar with a group of other Pastors and Worship Pastors from around the country. On this webinar, you will listen and be able to see my notes right from your computer screen. Pretty cool!
And did I mention . . .  The Top 3 Worship Planning Mistakes webinar is designed for both Worship Pastors and Sr. Pastors.
Space is limited so please, register today at the link below:
www.worshipleaderinsights.com/webinars/top3
I hope to see you there!
Your partner in ministry,
Jason
P.S. How do you know if this webinar is for you? Just take this quick quiz:
* Do you ever feel stress in planning your worship services?
* Do you struggle to plan worship services more than one week ahead?
* Do you feel like you are missing out on God's best for your service because it comes together at the last minute?
* Do you ever feel under-prepared for Sunday?
* Do you feel like you would do a better job preparing for Sunday if you just had the time?
If you answered Yes to any of those questions, then this webinar is for you!
Just click here to register today:  www.worshipleaderinsights.com/webinars/top3
P.P.S. My new Worship Pastor Tele-Coaching network begins in less than 30 days and I would love the opportunity to personally invest in your worship leader. I recently received this personal note from a worship leader who completed the network:
"I would not be exaggerating to say that in my case this network has been life/ministry transforming. In this past year the Worship arts Department has grown more than in the last 7 years combined. This network really helped to de-stress my life and increase my effectiveness as the Worship Pastor."
To find out how your worship leader can be a part of my NEW Tele-Coaching network that begins Friday, October 12, check out www.worshipleaderinsights.com/coaching.
Posted On: September 26, 2012
Christianity Today recently ran an excerpt from my worship planning book, Engage, on its website, and I wanted to share it with you today:
Why Thursday Deadlines Make for Better Sundays at Church
Deciding details early coordinates efforts and avoids last-minute problems.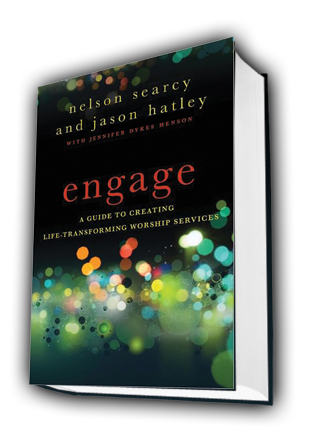 The first church I pastored was a small Baptist church in Charlotte, North Carolina. I was a 21-year-old kid. The night they voted to call me as pastor, a whopping fifteen people were in attendance. Later I learned the plan that night had been either to vote me in or to vote to merge with the church down the street. They went with me, but I'm still not sure they made the right decision.
Fortunately, God began to bless that little church and it started to grow. After a few long, hard seasons, we were averaging almost 100 people per week. Since attendance was so "high" every Sunday, I went to the deacon board with a proposal: we needed to hire a part- time minister of music. They reluctantly agreed.
After a few interesting interviews, I found a woman who fit the bill perfectly. Her name was Laura. Laura was an incredible singer, and her husband played the piano to boot—I got a two-for-one deal! Now, with the three of us on the platform, God began blessing our church even more. But things were far from perfect.
Sunday morning would roll around, and Laura and I would both show up at church. Some Sundays the music would be focused on God's love, but my message would be an examination of God's wrath. Laura and I would meet at the altar after the service and shake our heads in frustration.
Some Sundays we'd get to church and the music would be all about God's wrath (yes, there are a few in the Baptist hymnal), but my sermon would be on the sweetness of God's love. Once again, my new minister of music and I would meet at the altar, shake our heads, and sigh in frustration.
But there were some Sundays—great, glorious, powerful Sundays—when the music would be about God's love and my sermon would be about God's love. Harmony! Bliss! Laura and I would meet at the altar and dance a little jig of celebration over how the Spirit had moved. (Good thing this didn't happen too often since we were in a Baptist church.)
After a few magnificent, "coincidental" Sundays when the music and the message matched, we came up with an idea. What if I would call Laura on Wednesday and tell her what I was planning to preach the following Sunday? Revolutionary, right? (Remember, I was only 21. More advanced planning strategies had not yet penetrated my youthful cerebral cortex.)
So Laura and I established a weekly phone call, during which I would explain my sermon topic so that she could select music and choir anthems accordingly. More and more often, we saw the Spirit move in our services.
Thinking back on this early stab at creating powerful worship services makes me shudder, not just because my preaching was so bad (it was!), but also because I often blamed the Spirit for what was clearly a systems issue.
My defunct worship planning was hindering God's Spirit from working at the highest level. I pointed a frustrated finger at the Spirit when I should have been pointing a finger at my own poor planning.
Here's what I've since learned: the Holy Spirit is present in all our churches every Sunday, desiring to engage our hearts and change lives for the sake of Jesus Christ. Our worship planning systems will either complement or hinder the Spirit's work.
The choice is ours: we can either cooperate with the Spirit or block his blessing.
At [my current church,] we have decided never to leave anything associated with the Sunday service to chance. In fact, we have a rule called the Thursday midnight rule. By midnight on Thursday, we are totally prepared for Sunday—down to every last detail. We don't want to run into any unexpected problems on Sunday morning.
By Thursday at midnight, everything is printed and ready to go, so we don't run the risk of last-minute printing issues. All the equipment for the worship team is packed and loaded in the van to take to our portable venue. We've learned not to wait to do anything that can be done in advance—even if it is just bringing an extra microphone wire to the stage.
Leave nothing to chance. God honors preparedness.
Over the years, the only staff members I've had to let go—and there haven't been many—were ones who didn't love Sundays. Sunday is our game day. It is the reason we do what we do as church leaders. It's what we spend the week preparing for.
We can never afford to phone it in. We can never afford to tweak last week's worship order and go another round. We are called to a higher purpose.
This Sunday could be the Sunday someone who hasn't been to church in thirty years walks through your doors.
This Sunday could be the Sunday God wants to use you to work a miracle in someone's life!
Posted On: September 06, 2012
Those of us who are teaching pastors tend to be quite protective of our preaching – sometimes to the point that it hinders us from having the impact we should.
One area I'm rarely asked about, but I see as an issue over and over again in churches is that the people on Sunday mornings just aren't tuned in – they aren't listening to what the pastor is teaching.
And I'm going to give you one sure-fire, God-honoring technique to make sure people will listen to what you have to say…
Preach what the Bible says about the real issues your people are facing!
The truth is, there's not a single issue being faced by your people right now that God's word is silent about.
For example, one of our most frequent prayer requests at The Journey is always about relationships (both for singles and marrieds).
Of course we pray for every request that gets shared, but as a pastor I couldn't help but feel a little heartbroken that my people were suffering in an area that scripture has so much to say about.
So a few months back, I took advantage of one of the greatest discipleship tools at my disposal – the Sunday morning stage – to equip my people with God's truth about relationships.
We taught a four week series called "Undressed: Uncovering the Secrets of Sex, Self-Image and Successful Relationships," and the results were tremendous – we saw:
New believers each week
All relationships are affected when our primary relationship with Christ is right. Without an evangelistic focus, we still saw people beginning that relationship each week of this series.
Marriages experiencing renewed passion
Dozens of married couples renewed their vows during our on-stage vow renewal. Many of these couples expressed thanks that they now had the tools to honor God with their marriage.
Singles deepening their commitments
Each week, I heard from singles in our church, thanking us for tackling these issues and sharing how their lives and choices were changing by implementing God's principles for dating.
And much, much more!
In fact, the results and feedback was so powerful, I had the team at Church Leader Insights pull together everything we did and we just released it this week to you.
You can pick up this complete sermon series – including audio files, message notes, transcripts, graphics, connection cards, memory verse cards AND the information you need to conduct your own Marriage Vow Renewal ceremony during the series.
Click here now to read more and secure your copy of "Undressed: Uncovering the Secrets of Sex, Self-Image and Successful Relationships"
PLUS – Pick up this series before tomorrow (Friday) at 11:59pm Eastern and receive over $90.00 in Additional Bonuses!
More Free Stuff...
Search The Blog
Looking for a particular subject? Please enter the keywords in below and press the search button to find what you are looking for...
---
Free E-Newsletter Sign-up
Nelson's Monthly E-Newsletter
The Church Leader Insights bi-weekly publication sent via email focuses on effective leadership, church growth, church planting, evangelism and much more.
---
Blog Categories
---
---