---
Summer is one of the best times of the year to reach out to the community around you.  The weather and the relaxed mindset open doors that stay closed during other months – literally.  Everyone is out and about.
Your potential attenders are throwing Frisbees in the park, making small talk at baseball games and mingling on the closest beach.  You have unprecedented opportunities to make connections with people you may never see in another season. So plan some creative outreach.  The possibilities are endless.
At The Journey, we try to be as creative as possible when it comes to summer outreach.  At least once a week, all summer long, we will have groups doing Servant Evangelism in local parks.  This simply means that they hand passersby a cold bottle of water and a postcard invitation to the church.  It's a great way to provide people with something that meets a need (cold water on a hot day) and some information about the Journey.  On top of Servant Evangelism, we've been known to do everything from dog parties for dogs and their owners to neighborhood block parties to big barbeques.
In the summer, people are much more open to doing something that doesn't fit with their normal routine.  They are more willing to attend an event that sounds like fun, even if they may not know anyone there.  If you set up something that interests people in your community, they will come.
If you aren't sure what to do, try piggy-backing on an event that people in your area will be attending anyway.  For example, if everyone in your area goes downtown to watch fireworks on July 4th, use that to your advantage.  Why not set up a July 4th fireworks outing through your church and encourage your attenders to invite their friends?  If they are going anyway, why shouldn't they go with you?
Learn how your church can maximize the opportunities of summer.
Download your FREE Maximizing Summer E-book here: 
Summer means many things.  We get longer days, luminous weather, leisurely vacations…. and lastly  church growth.  Okay, maybe that last one seems a little out of place.  As church leaders, we all know that summer is the worst time of the year for church growth, right?
When the temperature rises, we stare down a slump that's as inevitable as a breaking wave.  We've been taught by those who have gone before us that summer is a time to strap in and make the best of what we've got, while look forward to the tide's turning in the fall… but what if that thinking is all wrong?  What if it is actually possible to grow our churches through the summer?
Since it's launch in 2002, The Journey Church in New York City has seen growth each and every summer.  How?  By discovering what it takes to use the tricky months of June, July, and August to our advantage.  If you know how to maximize summertime, you can continue to be effective throughout the season and set yourself up for a huge growth spurt in the fall.
The key is to keep your attendance consistent when our regulars head out for their vacations by using the summer to reach new attenders.  While you may not see actual numerical increase over the summer, you will see consistency and you will set yourself up for a strong start when school is back in session.
So, the onset of warmer weather means that you have a decision to make.  You have two options before you pack away those jackets and sweats: You can either choose to plant in the summer or beg in the fall.
We recommend planting, planting, and planting some more.   Plant the seeds of the gospel in the the summer sun by making an intentional decision to be creative in three important areas:
Creative with Outreach
Creative with Message
Creative with Small Groups
Learn how your church can maximize the opportunities of summer.
Download your FREE Maximizing Summer E-book here:  
www.churchleaderinsights.com/summer
Posted On: April 27, 2013
We've all heard this line from a frustrated pastor (or ourselves):
"We would be growing if we could just close the back door."
The first step in closing the back door and keeping more first time guests is eliminating the mistakes you're making now in assimilating new people!
After coaching over 1,200 Senior Pastors – of all types, church sizes, denominations, worship styles and geographic locations – I've identified the 3 most common mistakes churches make over and over when it comes to helping new people get connected.
I want to share these mistakes with you in a new, FREE webinar I'm doing called "The Top 3 Assimilation Mistakes and How to Avoid Them."
www.ChurchLeaderInsights.com/AssimMistakes
In this 75-minute free webinar, I'll walk you through each of these three most common mistakes and what you can do this week to correct them.
Will you join me for one of these FREE webinars Today, Tomorrow or Thursday?
(same webinar – 9 different times for your convenience):
TODAY, 11:00am – 12:15pm Eastern OR
TODAY, 2:00pm – 3:15pm Eastern OR
TODAY, 7:00pm – 8:15pm Eastern OR
TOMORROW, 11:00am – 12:15pm Eastern OR
TOMORROW, 2:00pm – 3:15pm Eastern OR
TOMORROW, 7:00pm – 8:15pm Eastern OR
Thursday, 11:00am – 12:15pm Eastern OR
Thursday, 2:00pm – 3:15pm Eastern OR
Thursday, 7:00pm – 8:15pm Eastern
Here's what you can expect to learn:
The #1 reason you're unable to follow up with first-time guests and what you can do about it this Sunday!
How you can WOW guests into coming back as a second-time guest
The mistake every church makes and how you can avoid it
Plus much more
It is FREE to participate but I do need you to Sign Up & Reserve Your Spot here:
http://www.churchleaderinsights.com/index.php/free-stuff/top-3-assimilation-mistakes
Space is limited on each webinar!
I hope to see you on the webinar this week!
Nelson
P.S. People have asked me why I offer these Free Webinars and the truth is, I'm passionate about training, equipping and coaching you for maximum Kingdom impact in your church and community.
Here's the link again to let me help you identify and avoid these Assimilation mistakes:
http://www.churchleaderinsights.com/index.php/free-stuff/top-3-assimilation-mistakes
Posted On: April 23, 2013

"Leadership is the capacity to translate vision into reality."
— Warren Bennis, Author and Organizational Consultant
Posted On: April 20, 2013
This is Dr. Donald E. Ross – one of Nelson's Advanced Coaching Alumni, Renegade Pastor and Lead Pastor of Creekside Church in the Seattle, Washington Area – and I want to share with you some thoughts about an issue each of us faces in leadership… ambiguity:
Every leader wants clarity, and so do those following him when launching a new ministry initiative.  The truth is, nothing new ever starts out with complete clarity.  We all lead in ambiguity and confusion, at least initially.  New initiatives start out "formless" as you'll read below.
In the beginning God created the heavens and the earth.  Now the earth was formless and empty, darkness was over the surface of the deep, and the Spirit of God was hovering over the waters. And God said, "Let there be light…"  Gen. 1:1-3
Even God's initiatives start in ambiguity.  If God starts something new, and it's formless, why would we think we could start a new ministry or outreach and have perfect clarity?
Everything new starts out messy, confusing and with high degrees of ambiguity. As a leader, we're just going to have to get comfortable with that idea, or never start anything new.
I'm not saying we should leave a ministry in ambiguity or without direction, just that it starts that way.  We then need to do all we can to move from ambiguity to clarity, as God does in Genesis 1.
The reason being willing to start messy and without complete clarity is so important, is many leaders won't launch an initiative without a precise process and outcome in mind.  This means nothing new happens, vision is not articulated and fear rules the day.
A follow up principle is that action forward will bring clarity.  Joshua 3 tells us the story of the priests carrying the ark and moving into the water of Jordan before it separated for Israel to cross.
Simply starting with your idea or initiative will give you some degree of precision.  Just get started and move forward and watch something new emerge as you solve problems and move towards your goal.
There is another kind of leader too, the kind who is always starting something new and moving forward without the fortitude to finish the process.  This leader leaves a host of unfinished projects in their wake, and other become reluctant to follow them.
That kind of leader is just as dangerous to a church as the kind who will never start anything new until every detail is worked out. Jesus talks to us in Luke 14 about counting the cost of a new project in advance, and deciding to follow through.
So there is a clear balance to leading a church into a new initiative.  Plan as much as you can, but don't wait until every detail is clearly worked out.  Get the big picture and get comfortable with initial ambiguity; knowing clarity will come as you move forward.
Of course, all this presupposes you have actually talked with Jesus about your intuitive, so I guess the first question is simply, "Is this your idea or His?"  If you can't answer that question, that's a clue to the source of your lack of clarity… I'm just saying.
For information on the Turn-Around Church Coaching Network, see www.turnaroundchurch.org
Posted On: April 18, 2013
In all the excitement of Easter last month, I don't want you to miss out on one of the best possible "bounce back" opportunities for your Easter guests… MOTHER'S DAY (Sunday, May 12)!
Historically, Mother's Day has been a natural draw because mothers want to attend church with their family – even those who rarely (if ever) attend.
At The Journey and in my 1,100+ coaching alumni churches, we've discovered several keys to leverage that natural draw to make Mother's Day a high-impact opportunity to reach the people of your community and get your Easter first time guests to return.
So I'm challenging you to make Mother's Day a BIG DAY at your church, just like I teach in my 3-hour resource, "The Ignite Seminar."
Today thru Monday, I'm giving you "The Ignite Seminar: How to Spark Immediate Growth in Your Church" for 50% Off (regularly $99.95 – Yours for $49)!
I want to help you implement a proven, step-by-step plan to create immediate growth by harnessing the power of a Big Day – and mobilizing your church for evangelism.
And TIME IS OF THE ESSENCE if you want to cooperate with God for maximum impact on Mother's Day (and again throughout the year)!
This three hour seminar will teach the proven principles that I've identified, honed and tested over the last decade – it's been called "the ultimate how-to training for pastors who want to bring more first time guests through the doors and reach more people for Jesus!"
Because Big Days are most effective when you're leveraging an existing draw (back to school, Easter, first of the new year) – Mother's Day is a great time for you to put these principles into practice.
In this practical, easy-to-implement resource you will learn:
How to DOUBLE your church in a day (it can be done!)
How to immediately raise the evangelism effectiveness of your church
How to mobilize your congregation to reach their friends
How to spark growth in a stalled church
How to keep momentum year after year in a growing church
How to excite your people, even if they've not been motivated in the past
How to influence your leaders to reach out to the community
How to plan and implement a proven BIG DAY process
…and much more!
This resource contains three hours of audio training, a listener's guide, sample files, documents and graphics! You'll receive everything you need to start implementing these important principles immediately.
All of that for HALF OFF – only $49 through Monday (because I don't want you to miss out on the opportunity that Mother's Day provides):
Click Here – Secure The Ignite Seminar for Only $49 (reg. $99.95)
Available ONLY through Monday, April 22
And that's not all!
As a fellow pastor, I realize that there are several factors – in your church and in your personal life – that go into successfully reaching your community and honoring God. So I have an added opportunity for you…
Secure The Ignite Seminar for only $49 today and you will get a FREE month of membership in my new Renegade Pastors Network.
While Ignite will help you lead your church to plan and implement a Big Day to reach more people, this network will help you grow personally, professionally and pastorally.
It's designed to help you achieve personal growth, ministry-life balance and accomplish great things for God's Kingdom.
In the network, you'll have access to monthly leadership calls, author interviews, monthly book summaries, and much, much more!
I'd like to give you a free test drive of what membership in the Renegade Pastors Network is all about:
Click Here to Pick Up The Ignite Seminar for Only $49 AND Get a FREE Month in the Renegade Pastors Network – Today thru Monday
But hurry – this opportunity only runs through Monday, April 22!
I hope you'll let me help you reach more people on Mother's Day and accomplish all that God wants to accomplish through you and your ministry.
Your partner in ministry,
Nelson
P.S. I've only shared this 50% Off opportunity on The Ignite Seminar with a limited number of pastors like you, but if you know of someone else who might find it beneficial, feel free to share this link:
http://www.churchleaderinsights.com/index.php/specials/ignite-25
It's only available today through Monday, April 22!
Posted On: April 16, 2013
Regardless of your church's denomination, style or size, there's one thing that you and I have in common…
Every one of us deals with criticism from time to time.
Criticism is a reality for those of us called into church leadership.
You may have had 50 compliments about Sunday's message, but that ONE critical comment is the only one you remember come Monday morning (can I get an Amen?).
If you're not careful, criticism will bring damaging effects to you, your ministry and all the key relationships in your life (with God, your spouse & family, and those who call your church home).

Since I know this is a pain we all feel, I recently compiled what I've been learning about how to handle criticism in a healthy and God-honoring way, and I want to share that with you…
Download my BRAND NEW "How to Face Criticism" Mini-Book ($23.95 value) Yours FREE through Thursday:
www.ChurchLeaderInsights.com/Criticism
I hope you'll go ahead and download your copy today and print it out to read this week, because we all fit into one of these three categories of leaders…
Those who have faced criticism in the past.
Those who are currently facing criticism.
Those who will face criticism soon.
The point is – grab it ASAP because I can only make this mini-book available for free 'til Thursday.
I know that God will use it to help you process critical feedback in a healthy way and focus on what He's called you to do.
Let me know if you have any questions.
Your partner in ministry,
Nelson
P.S. If you find this mini-book helpful (or think you will), please post this link on your Facebook, Twitter, Pinterest, Google+ or blog - as long as your friends get it thru my link, its free:
Grab your FREE "How to Face Criticism" Mini-Book here:
Posted On: April 09, 2013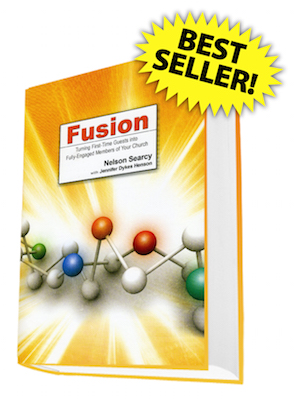 As the excitement of Easter Sunday wanes, don't miss out on the lasting spiritual fruit – upgrade your Assimilation System to be sure you're doing all you can to follow up with your Easter guests and help them get connected to your church.
Today and Tomorrow, I'm giving away a FREE copy of the executive summary of my bestselling book,"Fusion: Turning First Time Guests into Fully Engaged Members of Your Church."
This book has helped tens of thousands of churches to implement a proven system to help people move from first time guests at your church all the way through to fully engaged membership!
This summary will give you a glimpse of what your Assimilation System is all about and get you in the mindset to make sure no one falls through the cracks at your church.
Grab your FREE 8-page executive summary of "Fusion" here:
http://www.churchleaderinsights.com/fusionsummary
Get your FREE download ASAP – it's only available through end of day tomorrow (Thursday)
Your partner in ministry,
Nelson
P.S. If you find this summary helpful (or think you will), please post the link above on your Facebook, Twitter, Pinterest, Google+ or blog – as long as your friends get it thru my link, its free!
P.P.S. In conjunction with this free download, I'm leading series of free webinars on Assimilation, called "The Top 3 Assimilation Mistakes" – you can register for those when you download the summary.
Nothing impacts the growth and health of your church quicker than improvements to your assimilation system!
Posted On: April 03, 2013
I'm excited about this week and the Easter impact our churches will make this Sunday. For weeks, you, I and thousands of pastors all over the U.S. and beyond have been planning and preparing for the best Easter Sunday ever!
Now, I want to further partner with you through our Church Leader Insights Annual Easter Sale - giving you over 62 of my proven, practical training resources at up to 50% OFF savings, all designed to help you and your church make more disciples.
The sale starts today and runs for ONE WEEK ONLY (through next Tuesday, April 2)!
This only happens once a year and don't want you to miss out on the BIG EASTER SAVINGS!
As I mentioned, this sale includes some of my bestselling seminars, like:
Plus, sermon series to help you fill in your preaching calendar:
And dozens of single audio training resources, including:
Click here to view all the EASTER SALE resources now!
Take advantage of this special opportunity to SAVE this Easter
And that's not all!
In my desire to partner with you for church growth and personal growth long after Easter is behind us, I'm giving you a special opportunity during this sale to join my new Renegade Pastors Network and receive your first month FREE!
As you checkout with your Easter Sale resources, be sure to consider taking advantage of this one-time Renegade Pastors opportunity.
Know of my prayers for all the churches in the CLI family this week!
Your Partner in Ministry,
Nelson
P.S. Just so you don't forget with the busy-ness of this week, I encourage you to take a moment now to secure your Easter Sale resources:
Click here to choose from over 60 resources ON SALE NOW!
Sale ends next Tuesday, April 2
Posted On: March 26, 2013
More Free Stuff...
Search The Blog
Looking for a particular subject? Please enter the keywords in below and press the search button to find what you are looking for...
---
Free E-Newsletter Sign-up
Nelson's Monthly E-Newsletter
The Church Leader Insights bi-weekly publication sent via email focuses on effective leadership, church growth, church planting, evangelism and much more.
---
Blog Categories
---
---