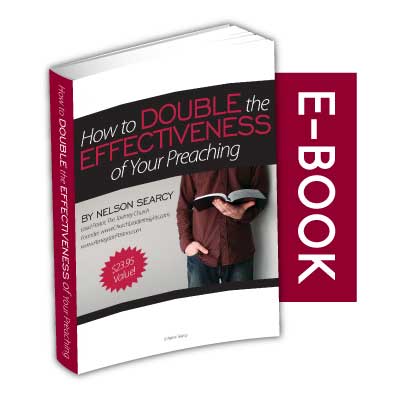 FREE E-book - This Week Only!
Get Nelson Searcy's FREE Double the Effectiveness of Your Preaching E-book! ($29.95 value!)
Discover the nine simple steps to double - or even quadruple - the effectiveness of your preaching!
YES! Please send me my FREE copy of Nelson's Double the Effectiveness of Your Preaching E-book.
Scroll through and complete the form below to get your FREE copy!
---

Preaching is personal but we are all works in progress! There is always room for improvement - and without an intentional effort to improve your preaching, you run the risk of spending week after week preparing and delivering messages that could easily be forgotten.
Numerous studies over the years have shown that people forget the majority of the information they hear from a communicator within 24 hours! Chances are, every message you work so hard to prepare and then deliver with such eloquence is all but forgotten by the time your listeners have their Monday morning cup of coffee. But you don't really have time to worry about the teaching that has faded into oblivion; you are too busy preparing for next week, right?
Standing up to preach God's word is a tremendous responsibility - not to be held lightly. As a teaching pastor, shouldn't you do everything you can to be sure that you're a good steward of every opportunity?
In Nelson Searcy's new Double the Effectiveness of Your Preaching E-Book - yours FREE TODAY, you will learn a proven method to increase your effectiveness exponentially and give yourself more confidence each time you preach.
In this FREE E-Book, you will discover:
How you can honor God by striving for excellence in your preaching
One key addition to your sermon prep to dramatically increase your impact
How to minimize your post-preaching frustration ("I should have said...")
The secret rule used by actors that applies to preachers as well
How to solicit and utilize constructive feedback before you preach
Step-by-step, how to implement a message run-through each week
And much more!
Simply complete the form below to request your FREE copy!
---
Meet Dr. Nelson Searcy

Nelson Searcy is an experienced church growth strategist, pastor, church planter and coach, serving in ministry for more than 25 years and consulting with churches around the world. As founder of Church Leader Insights and the Renegade Pastors Network, he has personally trained more than 50,000 church leaders in over 45 denominations through live events, seminars and monthly coaching, helping them break common growth barriers like 125, 250, 500, 1000 and beyond, all while maintaining personal life and ministry balance. For more accelerated growth, pastors also participate in Nelson's Senior Pastor, Evangelism, Stewardship, Assimilation and Advanced Coaching networks. Nelson is also the Founding and Lead Pastor of The Journey Church, with locations across New York City and in Boca Raton, FL. Nelson and his church routinely appear on lists such as "The 50 Most Influential Churches" and "The 25 Most Innovative Leaders." He is the author of over 85 church growth resources and 15+ books, including The Renegade Pastor: Abandoning Average in Your Life and Ministry and The Difference Maker: Using Your Everyday Life for Eternal Impact. Nelson is the recipient of the prestigious Donald A. McGavran Award for Outstanding Leadership in Great Commission Research. His continued mission is to help church leaders around the world cooperate with God in creating healthy, thriving churches. He divides his time between NYC and South Florida. He and his wife, Kelley, have one son, Alexander.