Assimilation Tele-Coaching

WITH TOMMY DUKE, COMMUNITY PASTOR, THE JOURNEY CHURCH
---
TAKE YOUR ASSIMILATION TO THE NEXT LEVEL!
This brand new Assimilation Tele-Coaching Network is a six month coaching network led by Tommy Duke for church leaders seeking to grow their churches specifically by improving their Assimilation System. Tommy is the Community Pastor at The Journey Church and Vice-President of Training at Church Leader Insights.

The Coaching Network will be based on the Assimilation principles identified and taught by Nelson Searcy to thousands of churches – through books, resources and live events – and it will be customized according to the specific needs of those accepted.
---
Nothing Can Create Faster Growth In Your Church than the Power of Assimilation!
Just think... keeping just two more first time guests a week would grow your church by more than 50 people over the course of this network!

This network is coaching once a month by someone who is on the front lines of implementing and improving the Assimilation System and is committed to helping you more than ever before to keep more guests!
---
This Network Will Teach You:
How to teach your entire church to see first time guests as gifts from God.
How to obtain full staff support for the assimilation system.
How to change the culture of your church to be guest friendly.
How to recruit volunteers to run your assimilation system. How to get 70 to 80% connection card completion rate each week.
How to preach and teach on Biblical hospitality.
How to integrate prayer into your assimilation system.
Managing the day to day and weekly tasks of Assimilation without causing
long-term stress or frustration.
How to promote, manage and maximize membership class.
How to use (and not use) your church software to track assimilation.
Plus more than 17 other assimilation "How To's"...
If you're ready to learn and do everything you possibly can to make sure that no one slips through the cracks at your church, this is the network for you!
---
Do You Still Have Questions? Call 1-800-264-5129
---
NO-RISK COACHING GUARANTEE: I'm so confident that you will find this Network beneficial that any time you can call my office and tell me that this network isn't benefiting your church or your leadership ability and I will refund your remaining balance. Plus, you can keep any of the resources, MP3s or seminar materials that you have received to date. Unlike some networks, you can back out of my network at any time without any obligation.

In other words, I want to remove any fear you might have in joining this network. You can try it with absolutely NO RISK!
---
About Tommy Duke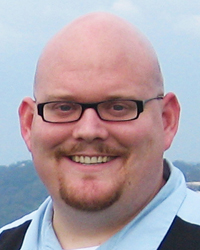 Tommy Duke is the Community Pastor and a Teaching Pastor at The Journey Church in Boca Raton, FL, the newest location of The Journey Church, started in New York City in 2002 by Nelson Searcy. Tommy leads the assimilation process at The Journey - Boca, which has welcomed over 250 new believers since launching in February 2011.
He is also the Vice President of Training for Church Leader Insights and Nelson Searcy. Tommy has worked with Nelson to coach over 50 churches through the complete assimilation system. Prior to helping start The Journey - Boca, Tommy was a church planter in Pittsburgh, PA.


What You Receive
This is a six month Tele-Coaching Network focused exclusively on Assimilation that will be conducted by phone with a webinar element - Starting Fall 2012.
Each church in the network will secure ONE spot, and then MULTIPLE people from that church can be on call - e.g., the senior pastor, the assimilation pastor, assimilation lay leader or all three (to engage all of your church's assimilation leaders in the process).
One coaching call each month - an hour and fifteen minutes of specific training from Tommy Duke.
One group Q and A call each month - a forty minute call-in time where Tommy Duke answers your 'specific-to-your-church' assimilation questions.
Over $1228.00 in FREE Assimilation resources - including some that you can't obtain anywhere else - not even through the CLI store.
Unlimited email access to Tommy and the CLI team for your assimilation questions.
FREE attendance at most CLI (live or web) training events during your network (up to $729.00 value).
Private VIP replay access to the recording of each coaching session.
NOTE: Even if you miss the exact date, you and your volunteers can listen to the network at your convenience.
Tommy will teach you everything he knows about assimilation - both the principles he's been teaching with Nelson Searcy for years AND the latest and most advanced techniques that they are developing and using at The Journey Church.
This network will help you maximize your efforts at turning guests into fully committed and participating members of your church.