TAKE YOUR ASSIMILATION TO THE NEXT LEVEL!
New 7-Month Assimilation Coaching Network with Nelson Searcy
Join Now for Only $299/Month!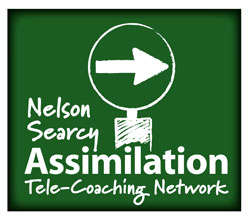 This brand new Assimilation Coaching Network will be led by Nelson Searcy and is available now, via a new on-demand, online module format (you participate at your convenience each month).
The Coaching Network will be based on the Assimilation principles identified and taught by Nelson to thousands of churches - through books, resources and live events - and will be provided in a format that you can watch at any time.
You'll receive 7 sessions over the course of this network that you can fully participate online anytime. And unlike other networks, you will receive both the audio and video - your experience will be identical, no matter when you log in.
Nothing Can Create Faster Growth In Your Church than the Power of Assimilation!
Just think... keeping just two more first time guests a week would grow your church by more than 50 people over the course of this network!
Here's what you'll receive in this new 7-month network:
Seven Monthly online sessions focused exclusively on Assimilation.
Regular Q and A calls with Nelson Searcy.
Over $1228.00 in FREE resources from Church LeaderInsights PLUS special discounts on any new resources.
Unlimited email access to Nelson Searcy and the CLI Team.
FREE attendance at CLI (live or web) training events during your network (up to $729.00 value).
Use with your entire staff or volunteers!
Private Assimilation Documents and Strategies not available elsewhere.
If you're ready to learn and do everything you possibly can to make sure that no one slips through the cracks at your church, this is the network for you.
Yes Nelson, let me in NOW. I'm ready to join the 7-Month Assimilation Coaching for only $299/month
Your credit card will be charged $299 now and subsequently every 30 days after that for the next 7 months. Only submit the form once, otherwise more than one subscription may be charged to your account. Your statement will show the charge from the Nelson Searcy Company.
Your Assimilation Coaching membership subscription is for ONE church. Please do not distribute these resources to any other church, organization, or individual. If you run a network, please contact us about network pricing. All materials are protected by federal copyright laws and cannot be distributed or reproduced without written consent.
If you have any questions about your membership, please contact Scott Whitaker at scott@churchleaderinsights.com or by calling 800-264-5129 Ext 6.
---
Nelson Searcy

Nelson Searcy is the Founding and Lead Pastor of The Journey Church. Started in 2002 in New York City, this groundbreaking church sees the majority of its growth coming from new believers and currently meets in several locations in Manhattan and Queens, as well as additional locations in San Francisco and Boca Raton, FL.
He is the author of over 75 church-growth resources and 10 books, including the BRAND NEW books "Connect: How to Double Your Number of Volunteers" and "The Greatness Principle: Finding Significance and Joy by Serving Others.
Nelson is also an experienced church planter, coach and church-growth strategist. Before to founding The Journey, he served as the Director of the Purpose Driven Community at Saddleback Church. He is also the founder of ChurchLeaderInsights.com, the Church Leader Training ministry of Nelson Searcy and The Journey Church.