TAKE YOUR CHURCH GROWTH TO THE NEXT LEVEL!
New 12-Month Senior Pastor Coaching Network with Nelson Searcy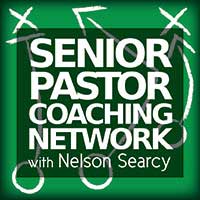 This new Online Senior Pastor Coaching Network is led by me and is available now, via a new on-demand, online module format (you participate at your convenience each month).
The Coaching Network will be based on the eight systems of a healthy church that I've identified and taught to thousands of churches - through books, resources and live events - and will be provided in a format that you can watch at any time.
You'll receive 12 sessions over the course of this network that you can fully participate online anytime. And unlike other networks, you will receive both the audio and video - your experience will be identical, no matter when you log in.
Here's what you'll receive in this brand new 12-month online network:
Twelve Monthly online sessions - hands-on coaching from me on all eight systems.
Regular Group Q and A calls to ask your specific questions.
Over $1,679.00 in FREE resources from Church Leader Insights (including all 8 systems seminars) PLUS special discounts on any new resources.
Unlimited email access to Nelson Searcy and the CLI team.
FREE attendance at CLI (live or web) training events during your network (up to $1,249.00 value)
A monthly environment where everyone is focused on a Kingdom agenda.
The chance to grow and take your church to the next level!
If you're ready to learn and do everything you possibly can to make sure that no one slips through the cracks at your church, this is the network for you.
Immediate Bonus - FREE Renegade Pastors Network Membership
FREE with Your Senior Coaching Network Membership
(Regularly $99.00/month)
Regularly $99.00/month - FREE when you join Senior Pastor Coaching by Friday
A Renegade Pastor is someone who has abandoned "average" and is pursuing God's highest and best for their life, their ministry and their church.
Your membership in this network includes:
A Monthly Leadership & Strategy Briefing call with me where you'll be challenged and guided to maximize your ministry each month
Monthly Equipping Interview Call where I interview other leading authors - past interviews include Steve Stroope, Patrick Lencioni, Bill Easum and Gary McIntosh
MP3 and CD recordings of both the briefing and interview calls each month - don't worry if you can't make the live calls, you won't miss a thing
Members-Only Online Hub where you can access your files, resources and recordings at all times
Continually Updated Renegade Pastors Documents and Directory
30% Off Discount on all Church Leader Insights resources for the duration of your membership
And much more!
EVEN MORE BONUSES - As a new member of the Renegade Pastors Network, you'll immediately receive these Bonus Resources ($813.20 Value):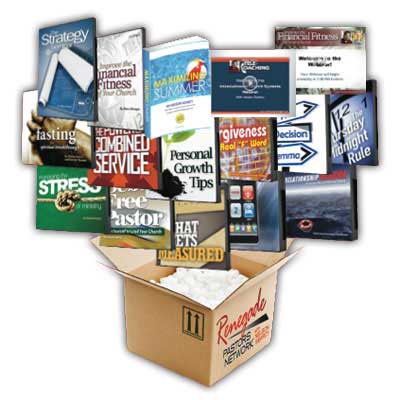 $813.20 in Immediate Bonuses - Yours FREE when you join by Friday
Improve the Financial Fitness of Your Church ($99.95 value)
The Strategy Seminar ($99.95 value)
From Stress to Rest Sermon Series ($99.95 value)
Forgiveness: The Real F Word Sermon Series ($99.95 value)
Relationship Rescue Sermon Series ($99.95 value)
Introduction to Church Systems Webinar ($49.95 value)
Improve the Financial Fitness of Your Church Webinar ($49.95 value)
Managing the Stress of Ministry ($29.95 value)
Debt-Free Pastor ($29.95 value)
Fasting For Spiritual Breakthrough ($29.95 value)
Maximizing Summer E-book ($23.95 value)
The Thursday Midnight Rule ($19.95 value)
What Gets Measured ($19.95 value)
Personal Growth Tips ($19.95 value)
The Power of a Combined Service ($19.95 value)
The Decision Dilemma ($19.95 value)
Your monthly membership in the NEW Renegade Pastors Network will help you achieve personal growth, ministry-life balance and accomplish great things for God's Kingdom.
Yes Nelson, let me in NOW for only $397 today! I'm ready to join the 12-Month Online Senior Pastor Coaching Network AND immediately receive my FREE membership in the Renegade Pastors Network ($1,188.00 value) with the $813.20 in immediate bonuses!
Your credit card will be charged $397 today and on the 1st of every month for each monthly coaching session. Only submit the form once, otherwise more than one subscription may be charged to your account. Your statement will show the charge from the Nelson Searcy Company.
Your Online 12-Month Senior Coaching Network and Renegade Pastors membership subscription is for ONE church. Please do not distribute these resources to any other church, organization, or individual. All materials are protected by federal copyright laws and cannot be distributed or reproduced without written consent.
If you have any questions about your membership, please contact Scott Whitaker at scott@churchleaderinsights.com or by calling (561) 921-8488 Ext 5.
---
Nelson Searcy

Nelson Searcy is the Founding and Lead Pastor of The Journey Church. Started in 2002 in New York City, this groundbreaking church sees the majority of its growth coming from new believers and currently meets in several locations in Manhattan and Queens, as well as additional locations in San Francisco and Boca Raton, FL.
He is the author of over 75 church-growth resources and 10 books, including the BRAND NEW books "Connect: How to Double Your Number of Volunteers" and "The Greatness Principle: Finding Significance and Joy by Serving Others.
Nelson is also an experienced church planter, coach and church-growth strategist. Before to founding The Journey, he served as the Director of the Purpose Driven Community at Saddleback Church. He is also the founder of ChurchLeaderInsights.com, the Church Leader Training ministry of Nelson Searcy and The Journey Church.