Return & Exchange Policy
---
Return & Exchange Policy
Refunds for Seminars and Conferences
We will provide a full refund for Live Event cancellations up to 31 days prior to the event. Unfortunately, we are unable to provide refunds for Live Event registrations within 31 days of the event. Feel free to contact us to learn about options to transfer your registration or to find out if a recording of the event is available.
Refunds for Resources
100% NO-HASSLE GUARANTEE: We are so certain that these resource will benefit you and your church that we will give you a 365 day no-hassle guarantee. Take your time to listen and implement the ideas in the resources your purchased and if at any time you are not fully satisfied, then you can receive a prompt and courteous refund .
Defective Resources
We will gladly replace defective items, at no additional cost to you, within 365 days of purchase. If your product has defective disks or other materials, please contact our customer service via email at info@churchleaderinsights.com or call us at 800-264-5129 for further instructions. Please note that you will need your original invoice for defective product exchanges.
If you are sending us an email for a replacement, please provide the following:
Order number
The Name of the product you are returning
Customer name
Reason for exchange
Customer email address
Ensuring your satisfaction is our top priority. If we can provide assistance with your order or shipment, please let us know at 561-921-8488 or info@churchleaderinsights.com.
Refund for Renegade Pastors Network:
Due to the monthly coaching, conference calls, welcome package, resources, newsletter, Growth Points articles, Church Growth Champion, welcome phone call made by our staff and monthly Member's Bonus kit mailing; we are unable to provide any refunds on the Renegade Pastors Network.
We provide a trial membership for every pastor with the opportunity to test-drive the network. We make every effort to ensure that the network is a fit and will benefit you and your church.
Cancellation requests can be made in the following ways:
1- Email ns@renegadepastors.com
OR
2- Call 561-921-8488 ext 5.
OR
3- Fax 561-584-5891
Your request will be processed within 2-3 business days.
Only requests made by one of the three options above will be processed.
---
Downloaded Over 46,000 Times!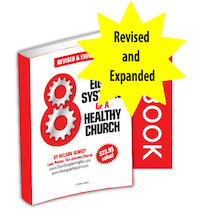 Get Nelson Searcy's "Healthy Systems, Healthy Church" E-book FREE! This FREE E-book will help you determine the current health of your church's systems and give you practical help as you lead your church to greater health and effectiveness.
---
---
"A renegade is someone who chooses the narrow way because it's the Jesus way . . . the way of life, health and growth."
This is a network for pastors who are willing to say "I don't fit in with the crowd" and I'm more concerned with fulfilling my calling from God than being cool, clever or cutting edge. Nelson invites you to join him in a two-month test drive so you can experience all the benefits of being a Renegade Pastor - at 75% off! Discover what it really means to "abandon average" in your life and ministry. 
Click below to test drive the network:
---
Featured Resource

In this new resource, Nelson reveals ALL the marketing tips, strategies and tactics he's discovered and applied from 25 years in ministry and coaching across the country! What you discover here will have a HUGE effect on your growth!