Church Leader Insights

Oops… Page Not Found.
---
You were looking for /store/cart.php?m=product_detail&p=251. The page you're looking for no longer exists or has been moved.
Check below for the page you were looking for:
Site Map
Downloaded Over 46,000 Times!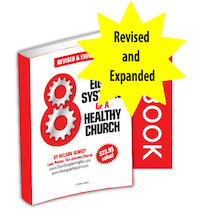 Get Nelson Searcy's "Healthy Systems, Healthy Church" E-book FREE! This FREE E-book will help you determine the current health of your church's systems and give you practical help as you lead your church to greater health and effectiveness.
---
"Be willing to let the Scripture mean what it wants to mean." – John Albert Broadus
---
Featured Resource

In this brand-new resource you will discover the secrets to a POWERFUL and FOCUSED to-do list. You'll learn how to have your staff and volunteers create their own list, and then leverage their list to make management simple again!