Ends Friday, June 18th: 10 Big Ideas Giveaway – Discover How to Break Free from Financial Stress!
Download your FREE Book Summary from Nelson Searcy: 10 Big Ideas from His Best-Selling Financial Book, The Generosity Secret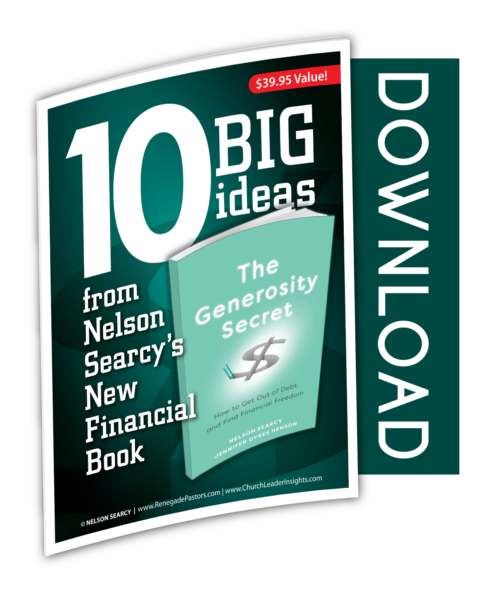 For too many of us, financial stress is a stumbling block to living the abundant life God offers. Crushing debt, living paycheck to paycheck, and constant anxiety about having enough should not be the norm for those who love God and want to honor him in every way.
Though the pandemic worsened the situation for many, you have an opportunity now to learn the powerful principles, backed by ancient truths, that can put you on the path to financial freedom.
Nelson Searcy's latest book, The Generosity Secret, is written for laypeople but as a pastor you will be able to both apply these insights in your life and teach them to your people.
This book provides a proven strategy to break free from financial stress that may be robbing you of a joy-filled life. Nelson has pulled out the Top 10 biggest ideas from the book and you can download this "cheat sheet" today for FREE!
Print these Big Ideas out — post them by your desk or anywhere you need inspiration and encouragement for living a life of generosity. In this summary, you'll discover powerful Big ideas on:
Handling money in a God-honoring way
Getting out of debt — and staying out
The 5 keys to a life of generosity
Living and giving in a fulfilling way
Finding financial freedom
Using money wisely
How to find peace and true prosperity
The spiritual impact of money management
And much more!
Add this summary to your ministry toolbox today — you'll find these Big Ideas easy to read but even easier to start applying to your life and ministry!
Scroll down to secure your free gift now.
Complete this brief survey to receive this exclusive 10 Big Ideas Summary from Nelson ($39.95 value) that you can download immediately!