NEW RESOURCE, NEW TOOLS TO MANAGE STRESS!
SAVE OVER 79%! OPPORTUNITY ENDS MONDAY!
The Stress Management Seminar:
10 Best Practices for Managing the Stress of Ministry
Are you suffering from ministry stress?
Is it impacting your work?
Your family? Your health?
Discover proven ways YOU can control your stress, instead of stress controlling your life and ministry!
Pick up this BRAND NEW resource, The Stress Management Seminar, AND over $218.00 in Bonuses for only $99 (regularly $299.95!) PLUS Receive TWO FREE MONTHS of The Renegade Pastors Network (additional $1,011.20 value!)
That's a total retail value of $1,529.15! Yours for only $99!
Sunday does come around with amazing regularity, doesn't it?
As a pastor, you face a never-ending to-do list:
There is always going to be somebody else to reach for Christ.

There is always going to be somebody else to disciple in Christ.

There is always going to be another budget issue.

There is always going to be another meeting.

There is always going to be another pastoral care visit.
As long as you are in ministry, there is always going to be something to do.
As pastors we can stay at our desks 24 hours a day, seven days a week, and it's never going to ALL get done. Our to do lists are never ending. Expectations are always expanding. The email box is always full. The phone is always ringing.
Jesus said, "In this world you will have trouble," and pastors are on the front lines. This ongoing stress can be a discouraging reality - IF you don't have a way to manage it.
If left unchecked, stress can impede your life and ministry and derail your health, relationships and emotional well-being.
Pastor and church growth strategist Nelson Searcy has been on this journey of stress management for over 30 years. He experiences the stresses of ministry first-hand – and wants to help you take control TODAY through 10 best practices that he uses in daily ministry.
You'll fully engage with this three-hour seminar as Nelson shares his secrets of stress management with practical steps and insights that you can start implementing immediately!
No matter what your current stress level is at, you'll have the tools you need to manage it effectively and have a greater impact on the Kingdom work you are called to do!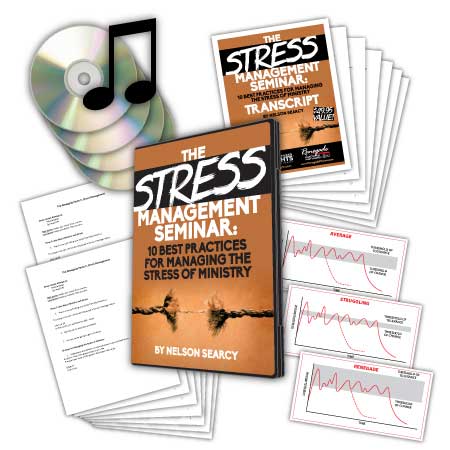 Click here to receive everything you need to manage the stress of ministry and train other pastors on staff to do the same. Secure your copy now!

PLUS - CD purchases come with free immediate download!
In this brand new resource, you will discover:
Why you DON'T work best under pressure!
How to know the difference between good and bad stress
How to channel good stress into your growth as a leader
The 3 most important time management tips to reduce stress
Scriptural references to help you manage stress
How to handle conflict and "live in peace with others"
What you can and cannot control – and how to respond accordingly
Critical roles that others play in helping you manage stress
The correlation between stress and time
4 ways to create opportunities for rest
How to truly get 60 minutes out of an hour!
Best practices for prioritizing your never-ending to-do list
How to protect and find more time for prayer and devotion
Why it's OK to talk to yourself (as long as it's the right things!)
How to break the momentum of stress – at critical moments
The ONE thing you must do daily to minimize stress
How to break free from the cycle of rushing
Where growth really happens in the midst of stress
There is no such thing as a stress-free ministry, but you can be free from the distress zone that derails that ministry! By implementing these 10 best practices for stress management, you can exponentially maximize your impact and be better positioned to fulfill the calling that God has placed on your life.
Includes:
Almost Three Hours of Training broken down into easy-to-manage segments on MP3 files. You can transfer these to your iTunes, MP3 player or listen online

CD buyers - You will also get a FREE download version so you can listen immediately!
Complete Transcript of the three-hour training that you can save onto your computer or tablet and read in more depth after going through the audio training.
Student Guide with fill-in-the-blank notes in a convenient PDF format that you can print and use to follow along, or simply view on your computer or tablet for easy reference.
A Complete Leader's Guide so that you can take this workshop and train other pastors and key leaders on your team. You'll have everything you need to lead this workshop in your church!
So as an introductory special – so you have the greatest opportunity for success in reducing your ministry stress for greater effectiveness – today you can save over 79%! The total retail value of this package is $1,529.15 – but you can download everything for only $99 TODAY!
CLICK HERE TO SAVE OVER 79% - GET YOUR BRAND NEW STRESS MANAGEMENT RESOURCE AND OVER $169.00 IN BONUSES FOR ONLY $99 (REGULARLY $299.95!) PLUS RECEIVE TWO FREE MONTHS OF THE RENEGADE PASTORS NETWORK (ADDITIONAL $1,011.20 VALUE!)
BONUS # 1
Fasting for Spiritual Breakthrough – A $39.95 Value – Yours FREE!
Fasting is one of our most powerful spiritual activities, so why is it so rarely practiced? Learn the misconceptions of fasting and how to do it effectively with Nelson Searcy. Includes the primary purpose of fasting, guidelines for beginning a fast, and the nuts and bolts of fasting.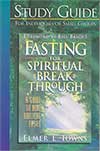 Special Bonus – Includes a Study Guide from Dr. Elmer Towns on a Guide to Nine Biblical Fasts – $29.95 value alone!
BONUS # 2
Developing a One-Year Personal Growth Plan – A $39.95 Value – Yours FREE!
Although there is nothing more important, your personal growth is too often left to chance.
In this 60-minute resource, Nelson Searcy walks you though how to develop a one-year personal growth plan that will ensure that you are a better leader at end of the year than when you began.
You will learn:
The first event to plan each year (it's not what you think)
The annual, monthly, weekly and daily priorities for personal growth
How your personal growth will affect the growth of your church
The ancient principles that will decrease your stress and increase your productivity
The four key measurements of personal growth you must know to succeed
BONUS # 3
Personal Growth Tips – A $29.95 Value – Yours FREE!
A 30+ minute primer on leadership tips from Nelson Searcy to help you grow - so you can help your church grow!
BONUS #4 Book Summaries - Over $59.95 value - yours FREE!
Seven Lessons for Leading in Crisis Summary
by Bill George

Sifted Summary
by Wayne Cordeiro

The Power of Full Engagement Summary
by Jim Loehr and Tony Schwartz
BONUS # 5
Building Emotional Health: Renegade Pastor Interview with Lance Witt – A $49.95 Value – Yours FREE!
In this resource, Nelson Searcy interviews Replenish author and pastor Lance Witt. Lance has been called a "Pastor's Pastor." He is committed to the church and passionately believes in the transformational power of Jesus through the local church. He has served for over 25 years as a local church pastor, 20 years as a senior pastor, and as an executive pastor at Saddleback Church and has helped develop and lead the 40 Days of Purpose and 40 Days of Community campaigns. He has taught national and international conferences on topics such as Small Groups, Spiritual Formation, Preaching, Leadership, and The Purpose Driven Church, consulting with churches in the U.S., Canada and Asia.
Receive TWO FREE MONTHS of the Renegade Pastors Network with any order and receive over $1011.20 in additional resources and bonuses!
Are you a Pastor who is ready to abandon "average" and is pursuing God's highest best for your life, your ministry and your church?
Join this ongoing membership program focused on the life and ministry of the pastor. Each month you'll join Nelson for a leadership and strategy briefing, and he'll help you stay a step ahead by looking at what's next on the calendar. And receive $813.20 in Free Bonus Resources when you join!
CLICK HERE TO SAVE 79% ON THIS NEW RESOURCE AND IMMEDIATELY RECEIVE TWO FREE MONTHS IN THE RENEGADE PASTORS NETWORK AND OVER $1,011.20 IN FREE RESOURCES!
Your Renegade Pastors Network is a monthly subscription MEMBERSHIP program that includes:
The Renegade Pastors LIVE MONTHLY UPDATE AND LEADERSHIP BRIEFING. At the heart of the network is a monthly update and briefing from Nelson via LIVE Conference Call. This monthly "pastor to pastor" call (which will be recorded on MP3 for your library) will be personal, practical, packed with content and slightly irreverent (but in a good way) training where Nelson will challenge you, enlighten you, equip you and guide you to maximize your next season of ministry.

With the Renegade Pastors Monthly Update and Briefing, you'll always be one step ahead in your planning and fully inspired and equipped to stay the course of the renegade lifestyle ($199.00 per month value).


Monthly Equipping Interview/Conference Call - with Nelson, one of his mentors, a noted author or ministry leader - previous interviews include Steve Stroope, Patrick Lencioni, Gary McIntosh and more. Listen live when you can, and you'll receive an MP3 recording each month ($195.00 per month value).


Two practical, nuts-and-bolts CD's sent directly to your mailbox each month. Even if you can't make the live briefing or equipping calls - we'll be sure you don't miss a thing each month.


Monthly bonus mail package to help you stay on track and ahead of the calendar. This monthly kit will be mailed to you, including recordings, transcripts, members-only opportunities, event invitations and more!


Private Call-In-Hours where you can talk directly to Nelson ($295.00 per month value).


FREE Church Growth Champions newsletter, featuring pioneers of church growth and evangelism to inspire you and your ministry

Monthly Book Summaries for the duration of your membership. Your Renegade Pastors Network membership includes a complimentary subscription to the leading executive summary service for pastors for no extra charge - that's 30 book summaries per year ($379.00 per year value).


RESTRICTED ACCESS Online Membership Site/Blog/Resources ($99.00 per month value). You'll have instant access to all your Renegade Pastor benefits, documents, recordings, etc. in your online Renegade Pastors hub.


Continually Updated RENEGADE PASTORS RESOURCE DOCUMENTS AND DIRECTORY ($399.00 per month value). If there's a document that we use at The Journey or that is shared by someone else in the network (and I think it's helpful) Nelson will share it with you.


Members-Only 30% DISCOUNT on all Church Leader Insights Resources ($245.00 value).


FREE Webinar Access to all Church Leader Insights Webinars ($197.00 per month value).


NETWORK ONLY rates on Coaching Networks and Advanced Coaching Networks ($148.00 per month value). As a member of the Renegade Pastor Network, you'll be able to upgrade to a future Senior Pastor Tele-Coaching Network or one of our other networks at the lowest possible rate.



Includes a FREE Renegade Pastors T-shirt ($19.95 value)

Lowest Event Registration Rate for all Church Leader Insights Events ($100.00 per month value), including upcoming Renegade Pastors Conferences and Church Systems Bootcamps.


$595.00 SHOPPING SPREE Gift Certificate upon completion of your sixth month in the Network ($99.00 per month value).


$813.20 in immediate FREE Resources when you join today! These resources are waiting for you in your Renegade Pastors Network Online Hub - you can start taking advantage of these resources immediately!
Receive TWO FREE MONTHS of Nelson Searcy's Renegade Pastors Network. You'll get ALL of these Renegade Pastor Network Bonus Resources immediately ($813.20 value!):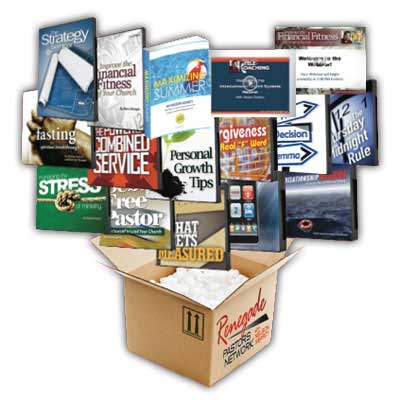 All these resources are yours free
Improve the Financial Fitness of Your Church ($99.95 value)
The Strategy Seminar ($99.95 value)
From Stress to Rest sermon series ($99.95 value)
Introduction to Church Systems Webinar ($49.95 value)
Fasting For Spiritual Breakthrough ($29.95 value)
The Thursday Midnight Rule ($19.95 value)
What Gets Measured ($19.95 value)
Personal Growth Tips ($19.95 value)
Forgiveness: The Real F Word sermon series ($99.95 value)
Relationship Rescue sermon series ($99.95 value)
Improve the Financial Fitness of Your Church webinar ($49.95 value)
Managing the Stress of Ministry ($29.95 value)
Debt-Free Pastor ($29.95 value)
The Power of a Combined Service ($19.95 value)
The Decision Dilemma ($19.95 value)
Maximizing Summer E-book ($23.95 value)
Get this BRAND NEW resource as a special introductory package – Total Retail Value of $1,529.15
Yours for only $99! Includes $1,229.20 in FREE Bonus Resources – You save over 79%!
HURRY – ENDS MONDAY!
100% NO-HASSLE, MONEY-BACK GUARANTEE
If you listen to and apply the lessons from this resource and you still do not believe you have learned fundamental principles to improve your own walk with Christ, just return it ANYTIME WITHIN THE NEXT YEAR for a full no-hassle, no questions asked refund.
After your 60 day trial of the Renegade Pastors Network, you will be billed $99 and every 30 days after that. You can cancel at any time. Only submit the form once, otherwise more than one subscription may be charged to your account. Your statement will show the charge from the Nelson Searcy Company.
Your Renegade Pastor membership subscription is for ONE church. Please do not distribute these resources to any other church, organization, or individual. If you run a network, please contact us about network pricing. All materials are protected by federal copyright laws and cannot be distributed or reproduced without written consent.
If you have any questions about your membership, please contact Scott Whitaker at scott@churchleaderinsights.com or by calling 561-921-8488 ext 5.