FREE Maximizing Summer E-Book
From Nelson Searcy
Grow Your Church This Summer - Let Nelson Searcy help you Maximize Summer!
Complete the brief survey on this page to receive your FREE "Maximizing Summer" E-Book ($23.95 value)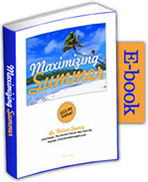 Contrary to what you may have heard, Summer is NOT the time for your church to "batten down the hatches" and pray for an early Fall...
Summer is a the time for you to lay the groundwork to bring about Kingdom growth - don't miss the opportunities that only summer provides!
This FREE Maximizing Summer E-Book from Nelson Searcy will teach you the proven principles and specific examples of what to do and what not to do during the Summer months to lead to church growth in the Fall.
Complete the brief survey on the left side of this page to receive your FREE E-Book now!
Hurry - Your Free Download Opportunity Expires this Thursday
---
FREE Webinar - "Grow Your Church This Summer"
Grow your church this Summer!
You might be surprised to learn that, while most pastors assume Summer is a time of struggle and suffering (think: the SUMMER SLUMP), it IS possible to leverage the Summer months to lead your church to greater health and growth.
Join Nelson Searcy for this FREE, 75-minute webinar to discover the proven principles to make the most of Summer, PLUS specific, practical examples of what YOU CAN DO this Summer to grow your church!
You will discover:
Why Summer is the best time to get creative in your church and try new things
How to leverage the energy of the warmer season to reach new people
The keys to engage in Servant Evangelism, and why Summer is the perfect time to do so
What to do in your small groups to get creative and help more people grow spiritually
How to plan your Summer preaching for maximum effectiveness
How your Summer plan will impact your Fall results
...and much more!