HALF OFF + OVER $1,294.05 IN BONUSES -
SPECIAL OPPORTUNITY ENDS MONDAY, APRIL 4th!
Discover the Top 6 Reasons
Why People Leave Your Church
and What You Can Do About It
HALF OFF - Nelson Searcy's Powerful Seminar -
"Why People Leave Your Church" - Just $49 (Regularly $99.95)!
Let's face it: it often hurts when someone leaves the church we lead. When it happens, we don't know what to do and what to not do. We're often left wondering if we did something wrong or if there was something we could have done differently.
In Why People Leave Your Church, Nelson Searcy will coach you to lessen the number of people who leave your church and will equip you to be content with those who do.
In this downloadable resource you will learn:
The TOP SIX REASONS people leave your church, and what you can do about it
How THREE of these reasons are impossible to correct after the fact ? but you can prevent them before they happen
How THREE of these reasons give you an opportunity for greater ministry
How to reduce the impact of all SIX reasons people leave
The BIGGEST MISTAKE you can make when someone leaves your church
How to make sure you don't lose FOCUS when someone leaves
What growing churches do differently when it comes to people leaving church
What ONE THING will kill the chances of someone ever returning
Why you should NEVER chase someone who leaves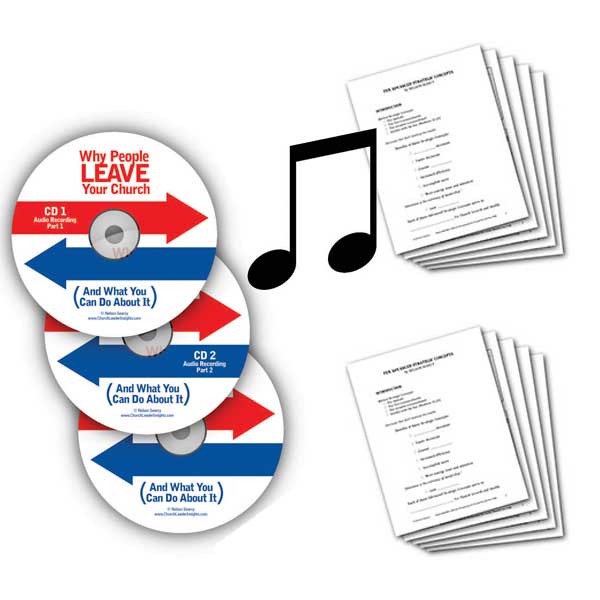 And much more! Including a 30-minute Bonus UNSCRIPTED Q-and-A with Nelson on why people leave and how it has impacted his leadership.
This resource includes:
Over two hours of Nelson teaching the six reasons people leave your church.
Six BONUS audio sessions that will take you into a deeper understanding
A complete Leader's Guide so that you can teach your staff and church leadership
A listener's guide to follow along with Nelson
The complete TRANSCRIPT of the entire seminar
PLUS - Pick up this resource now and you can receive THREE FREE MONTHS of membership in Nelson's new Renegade Pastors Network. You'll have access to monthly leadership calls, author interviews, monthly book summaries, and much, much more!
CLICK HERE TO SAVE HALF OFF AND IMMEDIATELY RECEIVE OVER $1,294.05 IN FREE BONUS RESOURCES!
BONUS #1: Top 5 Evangelism Invite Tools - $29.95 value - yours FREE!
In this downloadable resource, Nelson Searcy walks you through five tools you can use to equip your congregation to reach their friends and invite them to church! 
BONUS #2: How to Face Criticism E-Book - $23.95 value - yours FREE!
There are two types of church leaders: those who are dealing with criticism right now and those who will. Facing criticism is a fact of life for pastors, so the question isn't "will it come?" The question for us is "how will I respond?"
In this e-book, Nelson Searcy shares time-tested insights for handling criticism in a healthy and God-honoring manner.
BONUS #3: O.C. Church Leaders - $29.95 value - yours FREE!
Little things don't mean a lot...they mean everything.  In this recording of a live 'staff meeting' at The Journey Church, Nelson Searcy teaches you how to create a culture that is obsessive-compulsive when it comes to the details of welcoming guests to our church.  This is a resource you'll want to share with your entire team. 
CLICK HERE TO SAVE HALF OFF AND IMMEDIATELY RECEIVE OVER $1,294.05 IN FREE BONUS RESOURCES!
BONUS #4 THREE FREE MONTHS OF THE RENEGADE PASTORS NETWORK ($297.00 VALUE)
PLUS: FAST ACTION IMMEDIATE BONUS WHEN YOU JOIN: RECEIVE OVER $813.20 IN RENEGADE PASTOR AND CHURCH GROWTH RESOURCES!
Your membership in the Renegade Pastors Network includes:
The Renegade Pastors Network is about a comprehensive approach to life and ministry. As a member, I'll help you stay one step ahead of the calendar, make the most of your time and resources and fulfill your calling for the sake of the Kingdom.
Together we'll focus on:
Personal and Professional Growth
Church Health and Growth
Advanced Planning
Healthy Church Systems
Becoming a Better Spouse and Parent
Fulfilling Your Calling as a Minister
Stress Management and Emotional Strength
And much more!
Here are just some of the Bonus Resources that You Receive with this opportunity:
Improve the Financial Fitness of Your Church ($99.95 value)
The Strategy Seminar ($99.95 value)
From Stress to Rest sermon series ($99.95 value)
Introduction to Church Systems Webinar ($49.95 value)
The Thursday Midnight Rule ($19.95 value)
What Gets Measured ($19.95 value)
Personal Growth Tips ($19.95 value)
Forgiveness: The Real F Word sermon series ($99.95 value)
Relationship Rescue sermon series ($99.95 value)
Improve the Financial Fitness of Your Church webinar ($49.95 value)
Managing the Stress of Ministry ($29.95 value)
Debt-Free Pastor ($29.95 value)
The Power of a Combined Service ($19.95 value)
The Decision Dilemma ($19.95 value)
Maximizing Summer E-book ($23.95 value)
The Renegade Pastors Network is a monthly subscription MEMBERSHIP program that includes:
The Renegade Pastors LIVE MONTHLY UPDATE AND LEADERSHIP BRIEFING. At the heart of the network is a monthly update and briefing from Nelson via LIVE Conference Call. This monthly "pastor to pastor" call (which will be recorded on MP3 for your library) will be personal, practical, packed with content and slightly irreverent (but in a good way) training where Nelson will challenge you, enlighten you, equip you and guide you to maximize your next season of ministry.

With the Renegade Pastors Monthly Update and Briefing, you'll always be one step ahead in your planning and fully inspired and equipped to stay the course of the renegade lifestyle ($199.00 per month value).


Monthly Equipping Interview/Conference Call - with Nelson, one of his mentors, a noted author or ministry leader - previous interviews include Steve Stroope, Patrick Lencioni, Gary McIntosh and more. Listen live when you can, and you'll receive an MP3 recording each month ($195.00 per month value).


Two practical, nuts-and-bolts CD's sent directly to your mailbox each month. Even if you can't make the live briefing or equipping calls - we'll be sure you don't miss a thing each month.


Monthly bonus mail package to help you stay on track and ahead of the calendar. This monthly kit will be mailed to you, including recordings, transcripts, members-only opportunities, event invitations and more!


Private Call-In-Hours where you can talk directly to Nelson ($295.00 per month value).


FREE Church Growth Champions newsletter, featuring pioneers of church growth and evangelism to inspire you and your ministry

RESTRICTED ACCESS Online Membership Site/Blog/Resources ($99.00 per month value). You'll have instant access to all your Renegade Pastor benefits, documents, recordings, etc. in your online Renegade Pastors hub.


Continually Updated RENEGADE PASTORS RESOURCE DOCUMENTS AND DIRECTORY ($399.00 per month value). If there's a document that we use at The Journey or that is shared by someone else in the network (and I think it's helpful) Nelson will share it with you.


Members-Only 30% DISCOUNT on all Church Leader Insights Resources ($245.00 value).


FREE Webinar Access to all Church Leader Insights Webinars ($197.00 per month value).


NETWORK ONLY rates on Coaching Networks and Advanced Coaching Networks ($148.00 per month value). As a member of the Renegade Pastor Network, you'll be able to upgrade to a future Senior Pastor Tele-Coaching Network or one of our other networks at the lowest possible rate.


Lowest Event Registration Rate for all Church Leader Insights Events ($100.00 per month value), including upcoming Renegade Pastors Conferences and Church Systems Bootcamps.


$595.00 SHOPPING SPREE Gift Certificate upon completion of your sixth month in the Network ($99.00 per month value).


$813.20 in immediate FREE Resources when you join today! These resources are waiting for you in your Renegade Pastors Network Online Hub - you can start taking advantage of these resources immediately!
All these bonuses - total value of over $1,294.05 - will be immediately available to you when picking up Why People Leave Your Church!
After your 90 day trial of the Renegade Pastors Network, you will be billed $99 and every 90 days after that. You can cancel at any time. Only submit the form once, otherwise more than one subscription may be charged to your account. Your statement will show the charge from the Nelson Searcy Company.
Your Renegade Pastor membership subscription is for ONE church. Please do not distribute these resources to any other church, organization, or individual. If you run a network, please contact us about network pricing. All materials are protected by federal copyright laws and cannot be distributed or reproduced without written consent.
If you have any questions about your membership, please contact Scott Whitaker at scott@churchleaderinsights.com or by calling 561-921-8488 ext 5.