Free E-Newsletter

PLUS A FREE GIFT!
---
The Church Leader Insights Newsletter
The Church Leader Insights Newsletter is a bi-weekly email publication that delivers the latest on effective leadership, church growth, church planting, evangelism, and much more, directly to your inbox!
BONUS! Sign-up now and receive an additional FREE gift of the Healthy Systems, Healthy Church E-Book (A $23.95 Value)!
---
What you get...
The latest leadership thoughts from some of the greatest minds in the country.
Fresh approaches to healthy church growth to move beyond stale, outdated principles.
What's happening right now in church planting and evangelism.
A half-hour of free audio training each month designed especially for you.
Insights from Nelson Searcy and friends that will help grow you and your church.
All of this and more, processed and delivered to your inbox monthly, since we know you're busy.
Your Free E-Book Will Teach You: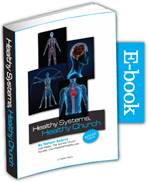 How healthy church systems honor God and save you stress, time, energy and money.
How to distinguish system problems from people problems (and why your people may not be the problem).
The 8 systems of a church (and the vital role that each system plays).
How far church systems can take your church (and what systems can't do). And much more!
---
Nelson Searcy

Nelson Searcy is the Founding and Lead Pastor of The Journey Church. Started in 2002 in New York City, this groundbreaking church sees the majority of its growth coming from new believers and currently meets in several locations in Manhattan and Queens, as well as additional locations in San Francisco and Boca Raton, FL.
He is the author of over 75 church-growth resources and 10 books, including the BRAND NEW books "Connect: How to Double Your Number of Volunteers" and "The Greatness Principle: Finding Significance and Joy by Serving Others.
Nelson is also an experienced church planter, coach and church-growth strategist. Before to founding The Journey, he served as the Director of the Purpose Driven Community at Saddleback Church. He is also the founder of ChurchLeaderInsights.com, the Church Leader Training ministry of Nelson Searcy and The Journey Church.
YES!
Sign Me Up for the Free E-Newsletter and Send me My Healthy Systems, Healthy Church E-Book!