Thanks for Requesting Your FREE Book Summary and for Registering for the Top 3 Assimilation Mistakes Webinar!
YOUR FUSION BOOK SUMMARY IS ARRIVING RIGHT NOW IN YOUR EMAIL INBOX ALONG WITH A WEBINAR REGISTRATION CONFIRMATION. IF YOU DON'T RECEIVE THEM WITHIN 25 MINUTES, PLEASE CHECK YOUR SPAM FOLDER AND IF THEY'RE STILL NOT THERE, EMAIL KIMBERLY@CHURCHLEADERINSIGHTS.COM.
We look forward to seeing you on the webinar - watch your email for confirmation details and reminders. If you have any questions about the webinar call 1-561-921-8488 ext 1.
To complement your resource, scroll down for a ONE TIME ONLY SPECIAL from Nelson Searcy (See Below).  

As a reward for picking up the resource, and since we know you're passionate about church growth, you'll find a never-before (and never-again) 75% Off opportunity to pick up The Assimilation Seminar.
Note: This resource is only available at this special rate on this webpage today.
One Time Special:
Download the The Assimilation Seminar for only $25
(that's 75% off!)
It's not enough to just attract first-time guests - you must learn how to keep them! Recorded live, this three-hour seminar on Assimilation discusses practical steps that will help you create an inviting environment for your first-time guests; one that they will want to come back to time and time again!

In this downloadable resource you will learn:

How to WOW! first-time guests by the way they are greeted, directed, treated and seated
How to effectively collect information from first-time guests
How to follow up on first-time guests so that they are prayed for and invited back
How to survey first-time guests
How to treat and follow up with second-time guests
How to move people toward baptism and membership
How to develop a customized assimilation strategy
Plus so much more!

PLUS - Pick up this resource now and you can get a FREE month of membership in Nelson's new Renegade Pastors Network. You'll have access to monthly leadership calls, author interviews, monthly book summaries, and much, much more!

YES - I'd like to secure this resource for 75% off NO - I realize this is a one-time opportunity

One Time Opportunity!
Partner with Nelson Searcy each month for personal and church growth (Renegade Pastors Network - First Month FREE with The Assimilation Seminar)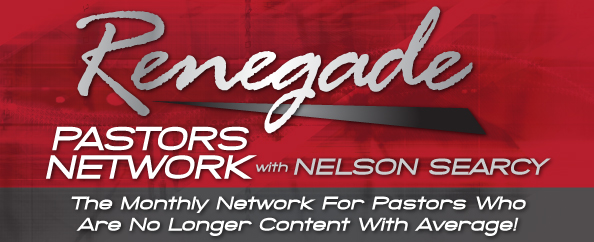 THE MOST AMAZING GIFT EVER! GET $813.20 OF NELSON SEARCY RESOURCES IMMEDIATELY UPON SIGNING UP!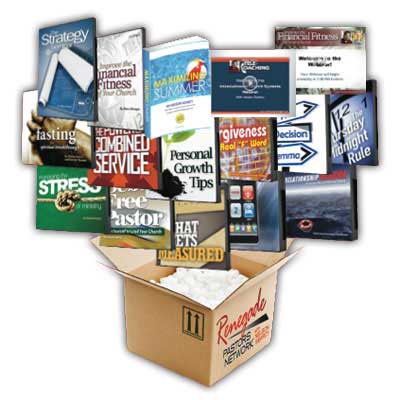 As Soon As You Join, You'll Receive the Following Resources:
Improve the Financial Fitness of Your Church ($99.95 value)
The Strategy Seminar ($99.95 value)
From Stress to Rest Sermon Series($99.95 value)
Forgiveness: The Real F Word Sermon Series ($99.95 value)
Relationship Rescue Sermon Series($99.95 value)
Introduction to Church Systems Webinar($49.95 value)Improve the Financial Fitness of Your Church Webinar ($49.95 value)
Managing the Stress of Ministry ($29.95 value)
Debt-Free Pastor ($29.95 value)
Fasting For Spiritual Breakthrough($29.95 value)
Maximizing Summer E-book ($23.95 value)
The Thursday Midnight Rule ($19.95 value)
What Gets Measured ($19.95 value)
Personal Growth Tips ($19.95 value)
The Power of a Combined Service ($19.95 value)
The Decision Dilemma ($19.95 value)
A Renegade Pastor is someone who has abandoned "average" and is pursuing God's highest best for their life, their ministry and their church. In case you haven't noticed, 'average' is BAD...
The average church is declining by 9% a year (the problem with a decline of 9% a year is that you generally don't notice it until year three and then it's too late).
The average church is behind on budget and thus unable to say 'yes' to God-sized Kingdom opportunities should God send them their way (He probably won't because it would be an injustice - think about it).
The average church is begging for money, begging for volunteers, begging for lost people to attend (begging may humble you but humility doesn't require it).
The average church is seeking a new pastor every 18 months (easier to find a new pastor than break the cycle of average).
The average church has developed systems to keep them and their pastor operating in average ways (that's why you need this network, my resources and my books - my systems are anything but 'average').
Did you go into ministry because you wanted to do 'average' things for an 'average' God at an 'average' church?
Each Nelson Searcy Coaching Network will follow the outline of the nine Growth Barriers and eight Growth Systems as taught in Nelson Searcy workshops, and will be customized according to the specific needs of those accepted.
Do you pray to play it safe or do you pray to put a dent in hell?
That's one goal of a Renegade Pastor: put a dent in hell.
So a Renegade Pastor is someone who has abandoned "average" and is pursuing God's highest best for their life, their ministry and their church.
Are you ready to pursue this together in my new Renegade Pastors Network?
A Renegade pastor is obedient, surrendered, spirit directed and passionately abandoned toward a Kingdom. So, are you ready to describe yourself as "Renegade Pastor"?
There's a strong argument to be made that Jesus was a renegade. How about you? As a Renegade Pastor, you'll join me each month to look together at the calendar - what's coming up, what you should be thinking about now and in the weeks to come, and how to stay one step ahead in your planning and preparation. As time allows, you can even chime in and ask me questions about obstacles you're facing right now.
One of the leadership lessons I've learned is that:
All leaders ask, "What happens next?"
Renegades ask, "What happens AFTER what happens next?"
You will be challenged, equipped and I will guide and encourage you in each of these focus areas:
Personal and professional growth
Church Health and Growth
Advanced Planning
Healthy Church Systems
Becoming a better spouse and parent
Fulfilling your calling as a minister
Stress Management and emotional strength
. . . And so much more
See, the Renegade Pastors Network is about far more than just church growth (although that's a big part of it)... it's about a comprehensive approach to life and ministry.
YES - I'd like to secure this resource for 75% off and get a FREE month in the Renegade Pastors Network NO - I realize this is a one-time opportunity
100% NO-HASSLE GUARANTEE: We are so certain that these resource will benefit you and your church that we will give you a 365 day no-hassle guarantee. Take your time to listen and implement the ideas in the resources your purchased and if at any time you are not fully satisfied, then you can receive a prompt and courteous refund.
---
Meet Dr. Nelson Searcy

Nelson Searcy is an experienced church growth strategist, pastor, church planter and coach, serving in ministry for more than 25 years and consulting with churches around the world. As founder of Church Leader Insights and the Renegade Pastors Network, he has personally trained more than 50,000 church leaders in over 45 denominations through live events, seminars and monthly coaching, helping them break common growth barriers like 125, 250, 500, 1000 and beyond, all while maintaining personal life and ministry balance. For more accelerated growth, pastors also participate in Nelson's Senior Pastor, Evangelism, Stewardship, Assimilation and Advanced Coaching networks. Nelson is also the Founding and Lead Pastor of The Journey Church, with locations across New York City and in Boca Raton, FL. Nelson and his church routinely appear on lists such as "The 50 Most Influential Churches" and "The 25 Most Innovative Leaders." He is the author of over 85 church growth resources and 15+ books, including The Renegade Pastor: Abandoning Average in Your Life and Ministry and The Difference Maker: Using Your Everyday Life for Eternal Impact. Nelson is the recipient of the prestigious Donald A. McGavran Award for Outstanding Leadership in Great Commission Research. His continued mission is to help church leaders around the world cooperate with God in creating healthy, thriving churches. He divides his time between NYC and South Florida. He and his wife, Kelley, have one son, Alexander.