X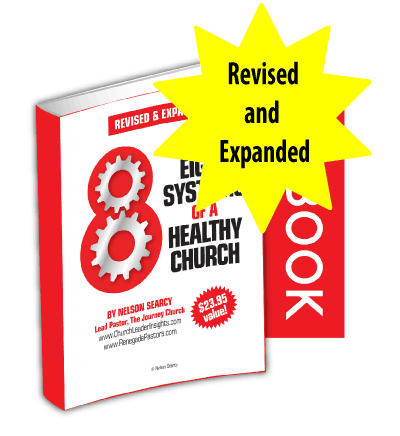 By Nelson Searcy
Nelson Searcy,
Senior Pastor of The Journey Church
Founder of Church Leader Insights
Receive Your Free "Healthy Systems, Healthy Church"
E-book ($23.95 value)
God designed all the parts of the body - both the church body and the physical body - to work together and function best through well-developed systems. A healthy church depends on eight systems operating at maximum performance. In fact, a well-designed S.Y.S.T.E.M. can Save You Stress, Time, Energy and Money.
Today you can pick up Nelson Searcy's revised and expanded 8 Systems of a Healthy Church E-Book - a $23.95, yours for FREE! In this e-book you will get an understanding of all eight systems with practical insights that you can use to start making changes in your church for maximum health and growth this year!
---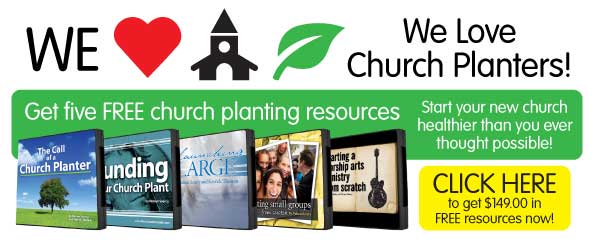 ---

In honor of Dr. Gary McIntosh's new biography of Donald McGavran, here's today's Monday moment: "Nothing focuses effort like setting a goal. As Christians seek to do effective evangelism, they need to set membership goals. Goal setting focuses their efforts on the main task.." - Donald McGavran Secure your copy of the book at 40% […]
---
---
Why Average is Dangerous - and How to Move from Mediocrity to Meaning in Your Life and Ministry!
Test Drive the Renegade Pastors Network for Only $1.00 for the First 60 Days!
PLUS Get $1,011.20 in free bonuses by joining now
Let Nelson Searcy help you maximize your ministry and fulfill your calling in the NEW Renegade Pastors Network!
The Renegade Pastors Network is about a comprehensive approach to life and ministry. This is a monthly membership program that will help you grow as a leader in life and ministry - to maximize your God-given potential. As a member, Nelson will help you stay one step ahead of the calendar, make the most of your time and resources and fulfill your calling for the sake of the Kingdom.
Published by Baker Books
retails at $19.95.
Together you'll focus on:
Personal and Professional Growth
Church Health and Growth
Advanced Planning
Healthy Church Systems
Becoming a Better Spouse and Parent
Fulfilling Your Calling as a Minister
Stress Management and Emotional Strength
And much more!
PLUS - you'll get a FREE copy of Nelson's hardcover book, The Renegade Pastor: Abandoning Average in Your Life and Ministry.
Click here to go Renegade for only $1.00 plus get $1,011.20 in free bonuses!
---
Downloaded Over 45,000 Times!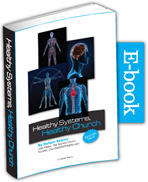 Get Nelson Searcy's "Healthy Systems, Healthy Church" E-book FREE! This FREE E-book will help you determine the current health of your church's systems and give you practical help as you lead your church to greater health and effectiveness.
---
Featured Resource

If you oversee staff or volunteers — whether you are the Senior Pastor, Executive Pastor, Worship Pastor, Minister of Volunteers or whatever title you might carry — you owe it to the staff and volunteers you serve to pick up this resource. Listen to it. Devour it. Or, just get one or two little ideas (they may be little but they are powerful) that will help you be a better pastor.