---

Download MP3
The Fastest Way to Grow a Church - Bill Easum Interview Part 2
Join Nelson Searcy and Bill Easum for a discussion on the Homogeneous Principle and Worship Services. Recorded LIVE at a private, invitation-only event with Nelson's Renegade Pastors Coaching Network. Nelson and Bill have a very frank and open conversation on the Homogenous Principle and the impact of your weekend Worship Services.
Related Resources & Events:
Partner together with Nelson for maximum impact - personally, pastorally and in your family. This monthly network is designed for pastors who refuse to settle for average. Join today for just $1 and receive over $813.20 in Bonus Resources!
In this LIVE six-hour workshop, Nelson Searcy leads you to identify and break the nine most common growth barriers that all churches face (and keep on facing), regardless of size. Nelson will give you the tools necessary to lead your church and staff to break through and take your church to the next level.
This practical, fast-paced and easy-to-implement seminar will teach you step by step how to develop a worship planning system that improves communication, enhances creativity and honors Christ each and every Sunday.
You're invited to discover the Leadership Principles of Jesus with Nelson Searcy on a deluxe, first class tour of the Holy Land, May 22-30, 2014. This is a once-in-a-lifetime opportunity for you to experience the sights and sounds that we read and teach about in scripture first-hand, along with other pastors, your spouse, and key leaders from your church.
---

You can write a book! I'm sure that the sentence above mustered up some level of anxiety in you. That's actually a GOOD thing! Some anxiety about writing a book is good because it's a sign that you care about what you want to write. If this motivates you to devote thought and effort to your writing, your stress-induced […]
Downloaded Over 30,000 Times!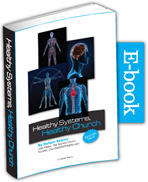 Get Nelson Searcy's "Healthy Systems, Healthy Church" E-book FREE! This FREE E-book will help you determine the current health of your church's systems and give you practical help as you lead your church to greater health and effectiveness.
---
Featured Resource

Don't miss this opportunity to both guide your people to a life of blessing AND kick-start your stewardship system to do greater things for God's kingdom!
Discover how to double the number of tithers in your church with Nelson's Proven System.
---
As Featured On