Church Leader Insights

Oops… Page Not Found.
---
You were looking for /index2.php/resources/church_systems_report.phpp:/. The page you're looking for no longer exists or has been moved.
Check below for the page you were looking for:
Site Map
Downloaded Over 46,000 Times!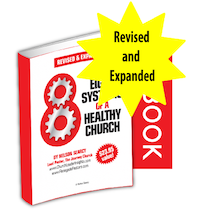 Get Nelson Searcy's "Healthy Systems, Healthy Church" E-book FREE! This FREE E-book will help you determine the current health of your church's systems and give you practical help as you lead your church to greater health and effectiveness.
---
---
Featured Resource

In this new resource, Nelson reveals ALL the marketing tips, strategies and tactics he's discovered and applied from 25 years in ministry and coaching across the country! What you discover here will have a HUGE effect on your growth!