---
Today's guest post is from Josh Evans, family pastor of the Oakleaf campus of Trinity Baptist Church in Jacksonville, FL.  
If you want your church to continue growing in today's culture, this blog post is for you.
There are tons of statistics of churches across the world that prove how difficult it is to grow a church in today's culture. We see statistics of the large number of college students leaving the church. Put these two ideas together, and the hope of growing a church is ultra slim. From what I have seen and observed, the pastor is a key component to the growth of the church. I want to share a few traits and characteristics of pastors pastoring growing churches.
They are Spirit Led – This is the most important characteristic. I have seen to many pastors who are people led. This means that their decision-making is totally up to how it will please or displease the people. Now, this is a huge part of pastoring. I recognize that, but if you allow the people to trump the spirit, do not expect your church to grow.

They are Visionaries

 – Know where you are going, pastors. If I asked you where are you headed and how are you going to get there, have an answer for that! Most pastors don't have an answer to this question, and their church is likely not growing. Be a visionary and regularly be a vision caster to the people you are leading.

They are Learners

 – Never stop learning. The best leaders of churches do not stop learning. They are constantly reading, writing, and growing themselves. Pastors, you never reach a point where you have all of the answers. You have to continue growing yourself before you can grow others. Lead yourself before you can lead others.
Click here to read the full article.
Your partner in ministry,
Nelson
P.S. - The best leaders are learners – and this applies to ministry as well. Join me in a community of pastors who are focused on abandoning average in every area of their life and ministry. It's an opportunity for you to grow as a leader and maximize your God-given potential. Click here to learn more about taking a two-month test drive for just $1.00!
Posted On: September 18, 2014
I invite you to join me in Orlando next month to discover proven marketing methods to grow your ministry – and reach more people for Christ!
By popular request, I've created a BRAND NEW 2-Day Church Marketing Workshop, Oct. 23-24, where I'll reveal for the first time ALL the marketing tips, strategies and tactics that I've discovered and applied from over 25 years in ministry and coaching across the country!
But TIME IS RUNNING OUT to participate – and I don't want you to miss out on a HUGE savings opportunity . . .
Super Early Deadline – Ends Tomorrow! This is your last chance to save $300.00 with this special rate – today through tomorrow ONLY!
Less than 40 spots left – Click here to register now to secure your spot and save $300.00 with the Super Early Bird Rate – Ends TOMORROW, Thursday, Sept. 18th! 
I assure you marketing does NOT have to be stressful. I'm going to make it much easier for you by sharing tons of checklists, strategies and samples from The Journey Church and even some from my Advanced Coaching Network.
You will walk away with a number of ready-to-implement ideas that have already been tested and proven!
Don't miss your opportunity to learn everything you need to know to jump-start your evangelism efforts with an effective marketing toolbox. In this one-time-only event, you will discover:
How to use direct mail, online marketing and billboards effectively – and where exactly social media fits in.
How to manage your marketing so it's not so overwhelming.
My rolodex of suppliers and secrets to outsourcing.
A toolkit of checklists, strategies and tons of samples from The Journey Church – all of which you can modify for use in your church!
Exactly how to measure what is working – and what's not!
How to convince your church leadership that MARKETING IS WORTH IT and what growing churches do!
Plus, I'm including special sessions on marketing for Easter and other Big Days.
Don't Miss Out! Super Early Bird Ends TOMORROW - Click here to register now and save $300.00! 
Join me for two days focused on why marketing is part of an effective Evangelism strategy - and how to attract more people to your church!
Your partner in ministry,
Nelson
P.S. Join me at this one-time-only VIP event, the 2-Day Church Marketing Workshop, Oct. 23-24 in Walt Disney World, Orlando. Last chance to Save $300.00 with the Super Early Bird Rate - thru TOMORROW only!
Don't miss your chance to be part of this unique practical training opportunity that will set the stage for exponential growth for your church!
Less than 40 spots left – Click here to register now to secure your spot and save $300.00 with the Super Early Bird Rate – Ends TOMORROW, Thursday, Sept. 18th! 
Or, if you'd rather register by phone, call my assistant, Kimberly, right now to register at 1-561-921-8488, ext. 1.
Posted On: September 17, 2014
Today's guest post about leadership and personal renewal comes to us from Bill Taylor, co-founder of Fast Company magazine and author of Practically Radical: Not-So-Crazy Ways to Transform Your Company, Shake Up Your Industry, and Challenge Yourself. 
Nearly a quarter century ago, at a gathering in Phoenix, Arizona, John W. Gardner delivered a speech that may be one of the most quietly influential speeches in the history of American business — a text that has been photocopied, passed along, underlined, and linked to by senior executives in some of the most important companies and organizations in the world. I wonder, though, how many of these leaders (and the business world more broadly) have truly embraced the lessons he shared that day.
Gardner, who died in 2002 at the age of 89, was a legendary public intellectual and civic reformer — a celebrated Stanford professor, an architect of the Great Society under Lyndon Johnson, founder of Common Cause and Independent Sector. His speech on November 10, 1990, was delivered to a meeting of McKinsey & Co., the consulting firm whose advice has shaped the fortunes of the world's richest and most powerful companies. But his focus that day was on neither money nor power. It was on what he called "Personal Renewal," the urgent need for leaders who wish to make a difference and stay effective to commit themselves to continue learning and growing. Gardner was so serious about this learning imperative, so determined that the message would get through, that he wrote the speech out in advance because he wanted "every sentence to hit its target."
What was his message? "We have to face the fact that most men and women out there in the world of work are more stale than they know, more bored than they would care to admit," he said. "Boredom is the secret ailment of large-scale organizations. Someone said to me the other day 'How can I be so bored when I'm so busy?' I said 'Let me count the ways.' Look around you. How many people whom you know well — people even younger than yourselves—are already trapped in fixed attitudes and habits?"
In these head-spinning times, even more so than when John Gardner offered his timeless advice, the challenge for leaders is not to out-hustle, out-muscle, or out-maneuver the competition. It is to out-think the competition in ways big and small, to develop a unique point of view about the future and get there before anyone else does. The best leaders I've gotten to know aren't just the boldest thinkers; they are the most insatiable learners.
Click here to read the full article.
Your partner in ministry,
Nelson
P.S. - The best leaders are learners – and this applies to ministry as well. Join me in a community of pastors who are focused on abandoning average in every area of their life and ministry. It's an opportunity for you to grow as a leader and maximize your God-given potential. Click here to learn more about taking a two-month test drive for just $1.00!
Posted On: September 16, 2014
"In times of stress, the best thing we can do for each other is to listen with our ears and our hearts and to be assured that our questions are just as important as our answers."
- Fred Rogers, American educator, minister and television host
Posted On: September 13, 2014
It's Friday and I'm in the office getting ready for Sunday. No, not two days from now (we're already set for THIS Sunday). I'm in the office getting ready for our next BIG DAY at The Journey!
A Big Day is defined as: an all-out push toward a single Sunday for the purpose of breaking the next growth barrier and setting an attendance record in order to reach as many people as possible for Jesus.
I needed to make sure you also knew about the power of a Big Day and had the opportunity to prepare one at your church too!
And fall is one of the 3 best times each year for a high impact Big Day!
I don't want you to miss this crucial opportunity.
In fact, I want to help you and as many other pastors as possible experience the power of a Big Day, so…
THIS WEEKEND ONLY I'm giving you the opportunity to download my three-hour resource, "The Ignite Seminar," for HALF OFF!
That's HALF OFF the resource that has helped hundreds of churches DOUBLE their attendance in a day using a proven Big Day process – Churches of all sizes, denominations, worship styles, and geographical locations!
By teaching you the Big Day process and connecting the dots of how it fits into your overall strategy, The Ignite Seminar will stoke the fire of Evangelism in your church as you ramp up to your own Big Day this fall – and all the other Big Days on your upcoming calendar.
Click Here to Save 50% on my Ignite Seminar – today through Monday only!
Between now and Monday, for HALF OFF you can invest in this eye-opening, step-by-step resource, that will teach you:
How to DOUBLE your church in a day (it can be done!) 


How to immediately raise the evangelism effectivenessof your church 


How to mobilize your congregation to reach their friends 


How to spark growth in a stalled church 


How to keep momentum year after year in a growing church 


How to excite your people, even if they've not been motivated in the past 


How to influence your leaders to reach out to the community 


How to plan and implement a proven BIG DAY process 


And much more!
Just to be clear, this isn't a partial "preview" version of this resource, this is very same "Ignite Seminar" that normally sells for twice this price on our website.
And you get it for HALF OFF today – just $49 (regularly $99.95) for the download. Or pick up the CD for only $69 (regularly $129.95). Available today through Monday, September 15th only!
Click Here to Pick up the Download of The Ignite Seminar for HALF OFF – only $49! 
OR
Click Here to Pick up the CD of The Ignite Seminar for HALF OFF – only $69! 
I hope you'll take advantage of this HALF OFF opportunity and learn to harness the power of the Big Day to see more lives transformed!
Oh, and have a great Sunday!
Your partner in ministry,
Nelson
Posted On: September 12, 2014
Today's guest post by Aviva Patz for Health.com offers practical answers to the question: How can we live longer and healthier?
The answer is more complicated than counting the number of candles you blew out on your last birthday cake. Your daily habits can either add or subtract years from your life—like how much you exercise, or how stressed you allow yourself to be. Read on for 14 things you can start doing today to live a longer, healthier life.
Ease your stress
Chronic stress makes us feel old—and actually ages us: In a 2012 study, Austrian researchers found that work-related tension harms DNA in our cells, speeding up the shortening of telomeres—which protect the ends of our chromosomes and which may indicate our life expectancy. Of course, it's impossible to completely obliterate stress. "What's important is how you manage it," says Thomas Perls, MD, associate professor at Boston University school of Medicine. Practice yoga, pray, meditate, relax in the shower or do whatever else chills you out.
Drop some pounds
Being obese increases the risk of diabetes, cancer and heart disease, possibly shaving up to 12 years off your life, per an analysis in the journal Obesity. But being too thin can hike your risk of osteoporosis and poor immune function. So aim to stay at a weight that's healthy for you.
Keep learning
Having more education lengthens your life span, according to a study in the journal Health Affairs, for a number of reasons. Extra schooling may help you become better informed about how to live a healthy life. And educated folks, as a group, have a higher income, which means greater access to good health care and insurance.
Connect
More and more research points to the value of having friends, and not just on Facebook. An Oxford University study found that being married makes you less likely to die of heart disease, which researchers suggest may be due to partners encouraging the other to seek early medical treatment. Same goes for friendships: Australian research showed that people with the most buddies lived 22 percent longer than those with the smallest circle. "Having positive, meaningful, intimate relationships is critical to most people's well-being," says Linda Fried, MD, dean of Columbia University's Mailman School of Public Health.
Work out often
Exercising regularly—ideally at least three days of cardio and two days of strength training a week—may help slow the aging process, Canadian doctors reported. "Being physically active is like keeping the car engine tuned," Dr. Fried says. "Even if there's decline with age, it's less severe." You were never an athlete? Don't worry: Starting to work out now can reduce your likelihood of becoming ill going forward, a 2014 study suggests.
Sleep better
For evidence that you can—and should—make slumber a priority, look no further than a 2013 study from the University of Surrey in England, which compared a group who got less than six hours of sleep a night with a group who got 8 1/2 hours. After just one week, snoozing less had altered the expression of 711 genes, including ones involved in metabolism, inflammation and immunity, which may raise the risk of conditions from heart disease to obesity.
Click here to read the full article.
Your partner in ministry,
Nelson
Posted On: September 10, 2014
Sunday does come around with amazing regularity, doesn't it?
As a pastor, you face a never-ending to-do list:
There is always going to be somebody else to reach for Christ.
There is always going to be somebody else to disciple in Christ.
There is always going to be another budget issue.
There is always going to be another meeting.
There is always going to be another pastoral care visit. 
As long as you are in ministry, there is always going to be something to do.
As pastors we can stay at our desks 24 hours a day, seven days a week, and it's never going to ALL get done. Our to-do lists are never-ending. Expectations are always expanding. The email box is always full. The phone is always ringing.
Jesus said, "In this world you will have trouble," and pastors are on the front lines. This ongoing stress can be a discouraging reality – IF you don't have a way to manage it.
If left unchecked, stress can impede your life and ministry and derail your health, relationships and emotional well-being.
I've been on this journey of stress management for over 30 years. I've experienced the stresses of ministry first-hand – and I want to help you take control TODAY through 10 best practices that I use in my daily ministry.
I invite you to discover these secrets of stress management in my brand new three-hour resource - The Stress Management Seminar: 10 Best Practices for Managing the Stress of Ministry. I'm excited to share with you practical steps and insights that you can start implementing immediately!
No matter what your current stress level is at, you'll have the tools you need to manage it effectively and have a greater impact on the Kingdom work you are called to do!
Here is a sample of what you will discover in this brand new resource:
Why you DON'T work best under pressure!
The 3 most important time management tips to reduce stress
Scriptural references to help you manage stress
How to handle conflict and "live in peace with others"
What you can and cannot control – and how to respond accordingly
Plus much, much more. It's a packed resource!
Click here to secure your brand new resource "Stress Management Seminar" for 79% off!
There is no such thing as a stress-free ministry, but you can be free from the distress zone that derails that ministry! By implementing these best practices for stress management, you can exponentially maximize your impact and be better positioned to fulfill the calling that God has placed on your life.
Your partner in ministry,
Nelson
P.S. – After Friday, September 12th, this BRAND NEW resource The Stress Management Seminar will be listed in the store for $299.95. But today you can save over 79%: You will get these 10 best practices for Managing the Stress of Ministry - plus over $218.00 in bonus resources – for just $99.00!
PLUS - CD purchases come with free immediate download! 
Click here to join me in taking control of your ministry stress TODAY and take immediate steps to start managing it effectively (plus save 79%!) 
Posted On: September 09, 2014
"The aim of marketing is to know and understand the customer so well that the product or service fits him and sells itself."
- Peter Drucker
Posted On: September 06, 2014
Today's guest post comes to us from author, seminar speaker and the world's premier bible lesson writer, Josh Hunt. Here he examines the assumption that there is a "key" to church growth.

Jim Collins has a helpful metaphor on why this assumption is wrong. He calls it the flywheel principle.
Imagine a huge flywheel. It weighs 5000 pounds. It is 2 feet thick and about 30 feet in diameter. Your task is to get the flywheel spinning. You put a shoulder to it and after two or three hours it makes one rotation. The second rotation in one hour less. The third rotation is even quicker. Each rotation of the wheel moves more and more quickly. Momentum is your friend. Jim Collins says:
Then, at some point—breakthrough! The momentum of the thing kicks in in your favor, hurling the flywheel forward, turn after turn … whoosh! … its own heavy weight working for you. You're pushing no harder than during the first rotation, but the flywheel goes faster and faster. Each turn of the flywheel builds upon work done earlier, compounding your investment of effort. A thousand times faster, then ten thousand, then a hundred thousand. The huge heavy disk flies forward, with almost unstoppable momentum.
Now, suppose someone asked, "which push of the flywheel was the key push?"
Huh?
There was no one push that made all the difference. Successful change agents know it takes 1000 tiny pushes to create a change.
People often ask, "What is 'THE KEY' to church growth?"
My answer: "THE KEY to church growth is realizing there is no one key to church growth." Changing a church to becoming a vital, vibrant, growing church is about a thousand little changes.
Click here to read this article on Josh Hunt's website.
Your partner in ministry,
Nelson
P.S. One of those thousand little changes should be implementing an Evangelism System to reach more of the unchurched in your community. That's why through Monday only, I'm offering my proven Evangelism Seminar for HALF OFF – only $49! Because this fall is the perfect time to start an evangelism campaign and involve everyone in your church in reaching their friends and neighbors!
Click here to pick up this complete, "done-for-you" three-hour seminar for just $49 – today through Monday only!
Posted On: September 05, 2014
Ministry Tips from Nelson
Remember: One day you'll present your flock to the Good Shepherd as the evidence of your work on this earth.
Accountability leads to protection. Know what you expect of volunteers and lay leaders, and hold them accountable to those expectations.
The best way to protect your people is to set up checkpoints of accountability for those climbing the ranks of leadership in your church
Protecting your flock may be your greatest responsibility as a shepherd. Take intentional steps to protect those entrusted to you.
How should you feed your flock? Teach them the Bible, lead them to pray and get them involved in small groups with other believers.
If you fail to connect your people to significant ministry, you are robbing them of the opportunity to grow.
Help every person in your flock identify and get plugged into a volunteer role where he or she can flourish and the church can benefit.
God wants all of your people to be actively engaged, serving in an area of ministry he has gifted them for.
As the shepherd of your flock, it's your responsibility to keep the evangelistic temperature of your church boiling hot.
 If anyone serves me, he must follow me; and where I am, there will my servant be also. If anyone serves me, the Father will honor him. – John 12:26
God's best to you,
Nelson
Follow @nelsonsearcy

Posted On: September 04, 2014
More Free Stuff...
Receive Nelson Searcy's FREE "Healthy Systems, Healthy Church" E-book ($23.95 value)!
Just complete the form below and you will receive your free copy:
God designed all the parts of the body - both the church body and the physical body - to work together,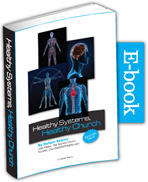 allowing us to fulfill God's purposes and plans on this earth. And both of those respective bodies function best through well-developed systems.
Nelson Searcy's revised Healthy Systems, Healthy Church E-Book has been updated to include diagnostic questions for you to determine the current health of your church's systems and practical help as you lead your church to greater health and effectiveness. Just complete the form above to receive your FREE copy!
---
Search The Blog
Looking for a particular subject? Please enter the keywords in below and press the search button to find what you are looking for...
---
Blog Categories
---
---