---
Preaching is personal, right?
I mean, we all wrestle with a little pride when it comes to our preaching skills and the impact they have each week.We adopt the "If it isn't broken, don't fix it," mindset when in reality we are ALL works in progress and have gaps and bad habits in our preaching that we're often blind to.
But if we take off our rose-colored glasses, the reality is there is always room for improvement. Without an intentional effort to improve your preaching, you run the risk of spending week after week preparing and delivering messages that could easily be forgotten.
In fact, numerous studies over the years have shown that people forget the majority of the information they hear from a communicator within 24 hours!
But we aren't delivering your average message, are we? We do what we do week in and week out to cooperate with God in creating transformed lives.
So how can we rise to this challenge more effectively?
There are specific steps you and I can take to literally double (and even triple or quadruple) the effectiveness of our preaching. And I'd like to share them with you today in my new e-book, How to Double the Effectiveness of Your Preaching ($29.95 value) – Yours FREE!
So don't put this off – you can start implementing the 9 steps outlined in this e-book THIS WEEK and see improvement as soon as this Sunday!
Click here for your FREE download now!
I hope you'll take advantage of this practical help to grow as a communicator and impact even more lives for the Kingdom.
Your partner in ministry,
Nelson
P.S. – Go even further in your preaching preparation – when you download this e-book you'll also receive a special invitation for my BRAND NEW 90-minute Planning Your 2015 Preaching Calendar webinar.
In this webinar, I will walk you, month-by-month, through the specifics of the 2015 calendar, and help you plan what you're going to preach next year. PLUS, when you show up, you will receive FOUR BONUS RESOURCES including my actual 2015 Preaching Calendar from The Journey Church!
Click here to download your FREE Double the Effectiveness of Your Preaching E-book and learn more about this special webinar opportunity!
Hurry – this FREE Preaching e-book with bonus webinar opportunity ends this Friday, October 24th!
Posted On: October 21, 2014
Posted On: October 18, 2014
Today's post comes from Focus on the Family, a global Christian ministry dedicated to helping families thrive. Recently, they've focused on helping pastors by providing biblically-based counsel through a toll-free pastor care line.
"When people face a crisis, they immediately turn to their pastors for help. But when pastors are struggling themselves, many of them feel there's nowhere to turn."
Kim Robinson, Focus on the Family board member and senior assistant to the president for the North American Mission Board, announced a new confidential outlet for advice and encouragement. "The pastor care line at Focus on the Family gives them a safe place to receive a wide range of support – from prayer to crisis counseling."
Focus President Jim Daly echoed Robinson's sentiments: "We recognize the sacrifices and hard work of Southern Baptist pastors. Many of them give up their own time to be there for their flock – giving up holidays to visit with sick people at the hospital, counseling couples through the tough times in their marriages, and helping their congregants pray through milestone decisions.
"This commitment not only takes time, but it also takes its toll on pastors – physically, emotionally and spiritually. Because they have always been there for others, it's our privilege to be there for them. Our licensed counselors are eager to provide an ear and biblically based counsel that will help and give hope."
Pastors will receive referrals for local counselors and recommendations for resources from Focus' Thriving Pastor outreach and other Southern Baptist materials. 
The toll-free pastor care line for Southern Baptist clergy can be reached at 844-PASTOR1 (844-727-8671). 
Click here to read the entire article.
Your partner in ministry,
Nelson
Posted On: October 17, 2014
Today's guest post comes from Jason Hatley, Pastor of Worship Arts at The Journey Church in Boca Raton, Florida. Jason is the Founder of WorshipLeaderInsights.com and author of two books as well as over a dozen worship leader personal and ministry growth resources
.
Last week we kicked off a new series about what has become one of the BIG issues facing worship leaders and churches today: the decline of congregational singing.
And whether or not you believe your church is experiencing this right now, the recent trends point to the fact that more and more congregations are singing "less and less".
Over the next few weeks I want to tackle THREE BIG REASONS for this decline in congregational singing.
So, let's look at the first reason your congregation isn't singing, and what you can do about it…
REASON #1: THE MUSIC IS TOO _______ HIGH!
If you've been around Worship Leader Insights you know that I am a bit of a contrarian when it comes to worship ministry leadership. I believe we can learn lessons of leadership from the world around us, and this is a lesson we can learn from politics (and Saturday Night Live).
In the 2010 New York governor's race, candidate Jimmy McMillan gained fame (and an SNL spoof) with his slogan, "The rent is too ____ high."
The same can be said for much of the worship music being led in churches these days (minus the ____ of course).  
The songs being released on worship albums and Christian radio are perfect for professional artists, but too high for your congregation to sing
. 
The average person can sing only about an octave, and cannot readily sing anything over a D.  Yet, almost all of the songs being written today push the melody to E and way beyond. While it may sound great in your voice, the men and women in your congregation are struggling to sing along in a key that simply doesn't fit them.
THE SIMPLE SOLUTION:
Since the people in your church aren't professional singers with a wide vocal range, you need to lower the key so they can sing it.
Now, I know what you're thinking… Does this mean we can never sing above a D?
I don't think so. In fact, in a high energy song you can "bump up against" E or F a few times because the congregation is singing out.  However, in slower songs where the energy is lower, it's much more difficult for the church to reach those same notes.
If you make it easier for them to sing, even if it's a little lower than you like, the congregation will respond by lifting their voices in song.
And then you're ready to tackle the 2nd reason people aren't singing in church anymore. More on that next week…

Your partner in ministry,
PS  – Recently in the Worship Leader Gold Network Monthly Leadership and Strategy Call I talked about this topic of congregational singing and taught 7 important lessons from John Wesley for how to encourage your congregation to sing. 

Gain access to that Leadership Session and instantly receive $813.20 in FREE Bonus resources when you join Worship Leader Gold TODAY!  Plus, receive additional coaching sessions, dozens of Ministry and Leadership Book summaries, and much, much more in your personalized Worship Leader Gold Hub. Click here to learn more and join today.
Posted On: October 16, 2014
Today's guest post was written by Mark Powell, Pastor of Communities at Canyon Ridge Christian Church and founder of SmallGroupResources.net. His consulting and coaching services focus on the health of small groups ministry. Are you currently wrestling with any of the strangleholds he presents below?
You know that "your ministry is perfectly designed to produce the results you are currently experiencing (Andy Stanley)."  You know the well-worn path never arrives at a new destination.  You even know Albert Einstein's definition of insanity: "Doing the same thing again and again and expecting different results."
You know all these things.  And at the same time…you're hesitant to try a new strategy (or shut down an ineffective one).  Why? You probably need to break free of a stranglehold with a death grip on your ministry.
1. The pursuit of problem-free. This delays more ministry than any other stranglehold. Remember, there are no problem-free strategies, systems or solutions. 
2. Indecision about the best way. Obviously, this stranglehold is related to #1. Still, it is motivated differently. If you find yourself stuck even after choosing the set of problems you'd rather have, you are probably dealing with indecision about the best way.
3. Fear of failure. Perhaps your culture doesn't allow courageous tries that sometimes miss the mark. I like to think that "Failure is the key to success; each mistake teaches us something."  If you only try things that are guaranteed to succeed, you'll never get far enough from the familiar to break new ground.
4. The lure of compromise. The scariest steps are often the first steps into a new idea. One of the biggest strangleholds is the last step before a new strategy takes flight. The most powerful aspects are often eliminated because it's too easy to do what's familiar.
Click here to read the full article.
Your partner in ministry,
Nelson
P.S. -  I have an opportunity for you to break free and embrace a few new strategies – my top 10 actually. I've been a long-time student (Okay, you can call it an obsession) of these kinds of ideas and strategies – and have spent hundreds of hours pouring through books, case studies and most importantly – field testing with my own ministries – to boil it all down to the 10 strategic concepts that will best help YOU and YOUR CHURCH. Pick up my new 10 Advanced Strategic Concepts resource for only $99 TODAY THROUGH FRIDAY, OCT. 17th! 
Posted On: October 15, 2014
You may be surprised to discover just how many strategic concepts that you can extract from business, philosophy, history, and even straight out of The Bible.
For example, did you know….
Praying on "the balcony" is the best way to pray over your ministry?
A single principle from a certain 14th century philosopher can help you increase efficiency in your church systems?
There's a Japanese concept – that's also really fun to say – that can show you a system for continuous improvement?
There are in fact multiple strategic concepts from The Bible that you can use to launch a strategic offense?
And yes, that you can even learn from Mongolian warrior Genghis Khan about maximizing growth in your ministry?
So . . . what exactly is a strategic concept?
Well, it's basically a powerful idea that can be summarized in just a few words. It's easy-to-understand but the depth behind it has been proven over time.
That's a key part of it – it's proven.
As church leaders, we need to have a diverse tool kit of PROVEN ideas and strategies to tackle the common challenges we face every day.
I've been a long-time student (Okay, you can call it an obsession) of these kinds of ideas and strategies – and have spent hundreds of hours pouring through books, case studies and most importantly – field testing with my own ministries – to boil it all down to the 10 strategic concepts that will best help YOU and YOUR CHURCH.
These strategic – and Biblical – concepts will guide you from where you are to where God wants you to be. I promise you they will give you more time, energy and attention – with a whole lot less stress!
I invite you today to join me on a detailed tour in my new resource, 10 Advanced Strategic Concepts, where I explain them in great detail, and specifically how you can apply each concept to your ministry. I've become something of a master at using just the right strategic concept for each situation you're in. Whether it's issues with your worship planning, systems, staffing, sermon development or volunteers – you'll have just the right tool for each particular situation so you can accomplish even greater things for the Kingdom.
Now that's something even Genghis Khan couldn't claim!
Your partner in ministry,
Nelson
P.S. -  I want to give you the greatest opportunity for success in committing to these strategic concepts – so I'm releasing this resource today for 89% off! The total retail value of this package is $1,490.90 – but you can download everything for only $99 TODAY THROUGH FRIDAY, OCT. 17th!
Posted On: October 14, 2014
"Are you not willing to pass through every ordeal if by any means you may save some?
If this be not your spirit, you had better keep to your farm and to your merchandise, for no man will ever win a soul who is not prepared to suffer everything within the compass of possibility for that soul's sake."
- Charles Spurgeon
Posted On: October 11, 2014
Today's guest post comes from Jason Hatley, Pastor of Worship Arts at The Journey Church in Boca Raton, Florida. Jason is the Founder of WorshipLeaderInsights.com and author of two books as well as over a dozen worship leader personal and ministry growth resources.
You've prayed. You're prepared. The band is fine-tuned. The sound is dialed in. You're ready to lead your congregation to lift up their voices and sing praise to God.
There's just one problem. They won't sing!

Every pastor and worship leader has been there, and according to recent trends, most of us find ourselves there almost every week in our churches.  People just don't sing like they used to.

There are plenty of reasons for this:

    •    The loss of music programs in schools
    •    The loss of singing in public (outside of the 7th inning stretch that is)
    •    The loss of singing at home (before TV and Facebook this is what families did)

In general, people just don't sing much in public anymore. Unfortunately there's probably not much you can do about those three.  But there are some things that we CAN and MUST do to help our congregations engage in congregational singing…WHAT'S THE SOLUTION? So, where do we begin to solve this puzzle?  Here are 3 things you can do to get started this week:
Honestly evaluate the worship at your church and ask, "What is keeping people from singing at our church?"
Write down every idea that comes to mind (sound, quality, leadership, song selection, etc.) and prayerfully consider what you could change to help your congregation sing.
Ask your pastor to answer this question as well (you'll probably be surprised at his insights).
Then don't miss next week's article as we talk about the first obstacle to congregational singing.  By the way… it's most likely happening in your church!

Click here to the the full article.

Your partner in ministry,
PS  – Test-drive my brand-new coaching network this month and receive complete access to the "Seven Ways to Help Your Congregation Sing (Lessons from John Wesley)" leadership talk. Click here to learn more and sign up today!
Posted On: October 10, 2014
In just two weeks we'll be launching our brand new two-day Church Marketing Workshop in Orlando.  And I wanted to give you one last opportunity to secure the best rate for this one-time-only special event!
For us pastors, marketing has a dual purpose – reaching the unchurched in our communities, and communicating with our members to take next steps. The mission is the same – when it comes to discipling more followers for Christ, marketing really matters!
Will you join me at Disney World this month to reach more people for Christ?
I'm excited to reveal for the first time ALL the marketing tips, strategies and tactics that I've discovered and applied from over 25 years in ministry and coaching across the country!
I assure you marketing does NOT have to be stressful. I'm going to make it much easier for you by sharing tons of checklists, strategies and samples from The Journey Church and even some from my Advanced Coaching Network.
You will walk away with a number of ready-to-implement ideas that have already been tested and proven!
Don't miss your opportunity to learn everything you need to know to jump-start your evangelism efforts with an effective marketing toolbox. In this one-time-only event, you will discover:
How to use direct mail, online marketing and billboards effectively – and where exactly social media fits in.
How to manage your marketing so it's not so overwhelming.
My rolodex of suppliers and secrets to outsourcing.
A toolkit of checklists, strategies and tons of samplesfrom The Journey Church – all of which you can modify for use in your church!
Exactly how to measure what is working – and what's not!
How to convince your church leadership that MARKETING IS WORTH IT and what growing churches do!
Plus, I'm including special sessions on marketing for Easter and other Big Days.
This is THE practical training event that will have the most direct impact on your growth next year.
But, I must warn you, we've had a big demand for this event and it will sell out.
Space is filling up quickly – I have less than 30 seats left!
TWO WEEKS AWAY! Less than 30 spots left – Click here to register now to secure your spot and save $300.00 with the Super Early Bird Rate – Ends Friday, Oct. 10th!  
Your partner in ministry,
Nelson
P.S. – This is the perfect event to bring your spouse (hey, it's at Walt Disney World in late October) and your team. This includes both high capacity volunteers and paid administrative staff and pastoral staff.
Right now you can register additional guests for just $249 each. Click here to save and register now!
Posted On: October 09, 2014
Today's guest post was written by Kevan Lee, Content Crafter at the social media management company, Buffer. Kevan's approach to increasing productivity is refreshingly simple and offers a better alternative to multi-tasking.
How many browser tabs do you have open right now?
While writing this post, I had 18 tabs open. I'd like to say they were all for research, although I'm pretty sure one or two slipped down a YouTube wormhole.
Does this sound familiar?
It seems like my multi-tab madness is right in line with the status quo. We all love to have multiple tabs open at once, adding more and more as we find new articles to click and sites to visit. Pretty soon, it's likely we've forgotten what we were online for in the first place.
You might say browser tabs are the new litmus test for multitasking.
The more tabs you have open, the more multitasking work you're doing, and the less likely you are to be as productive as possible. The same goes for anything else that might distract you from your main objective. Working on multiple items at once is a recipe for inefficiency. Fortunately, there are some fun new ways to experiment with the idea of single-tasking–both in your browser and beyond.
1. Try the Pomodoro Technique. Focus on a single task for 25 minutes, then take a 5 minute break. The times can be adjusted based on your ideal workflows. The idea is to focus as long as your brain will allow, then to rest up with a bit of a lull before starting again.
2. Silence your phone. Or turn it off. Or forget it at home.

3. Close your email.

4. Make a to-do list.

5. Turn off notifications from phone apps and web apps.
I'm still taking baby steps toward single-tasking, but the early results are encouraging. I've found greater productivity in keeping tabs to a minimum, doing each task fully before moving on to the next, and blocking out my day so that there are set times for different activities.
What tips have you found to stay focused on a single task? Do you think single-tasking might work for you?
Click here to read the full article.
Your partner in ministry,
Nelson
P.S. - Some great tips here to increase productivity! As pastors, we feel like we can stay at our desks 24 hours a day, seven days a week, and it's never going to ALL get done. Ministry is stressful so it's not about how you eliminate the stress – but how you MANAGE it. No matter what your current stress level is at, I have tools for you to manage it effectively and have a greater impact on the Kingdom work you are called to do! Click here to receive everything you need to manage the stress of ministry and train other pastors on staff to do the same. SAVE OVER 79% – ENDS MONDAY, OCTOBER 13th!
Posted On: October 08, 2014
More Free Stuff...
Receive Nelson Searcy's FREE "Healthy Systems, Healthy Church" E-book ($23.95 value)!
Just complete the form below and you will receive your free copy:
God designed all the parts of the body - both the church body and the physical body - to work together,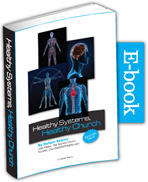 allowing us to fulfill God's purposes and plans on this earth. And both of those respective bodies function best through well-developed systems.
Nelson Searcy's revised Healthy Systems, Healthy Church E-Book has been updated to include diagnostic questions for you to determine the current health of your church's systems and practical help as you lead your church to greater health and effectiveness. Just complete the form above to receive your FREE copy!
---
Search The Blog
Looking for a particular subject? Please enter the keywords in below and press the search button to find what you are looking for...
---
Blog Categories
---
---